About this Event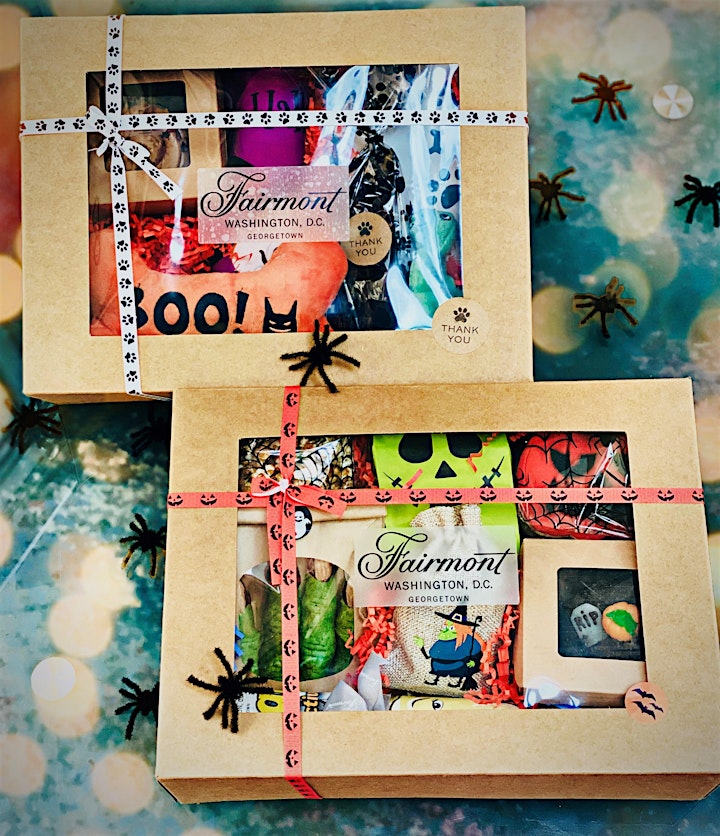 This year, Fairmont Washington, D.C., Georgetown is offering Halloween Boxes To-Go for children and canine companions. Take home your own Halloween fun from the Fairmont and be entered to win prizes for best costume.
On Friday, October 30th, families who order Halloween Boxes To-Go will drive through the hotel's driveway to the pick them up from 4:00 p.m. to 6:00 p.m. Canines and humans who are donning costumes will be entered to win overnight stays, dinners and other prizes. Georgie, Fairmont's Canine Ambassador will greet you in her own costume.
House-made treats by the hotel's Executive Pastry Chef A.J. Thalakkat and Chef Jason Rowley are spooky, tasty and pawsome for people and pooches:
Halloween To-Go for Kids ($20)
Scary Cookie
Halloween Cupcake
Salted Caramel Corn
Witches Fingers Cookies
Marshmallows
Disposable Halloween Face Mask
Foam Mask
Georgie's Coloring Book
Crayons
Howl-O-Ween To-Go for Pups ($15)
House-made Beef Jerky
Pupcake
Doggie Biscuits
Halloween Bandana
Squeak Toy
After you have placed your order, please call the hotel to schedule your pick-up time between 4:00 pm and 6:00 pm on October 30th at 202-429-2400, Orders must be placed by October 25th.
Fairmont's driveway and Halloween To-Go pick-up location is on 24th street,. You will be greeted by our Canine Ambassador Georgie. Guests in costume will have their photo taken, and will be entered to win prizes for best costume. Prizes include overnight stays, dinners and cocktails in the courtyard and lobby. Prizes will be announced at a later date via email.
Contact: Diana K. Bulger
Area Director, Public Relations
202-457-5019
diana.bulger@fairmont.com