Halloween Premiere A Thon 2021 Las Vegas
About this event
I Win TV & Radio & Moe McCoy presents
"The Halloween Premiere A Thon"
A 3 day Halloween Event.
The Tickler Oct 29th Plus Food & Costume Party
Angel Horror Film Oct 30th Plus Food & Costume Party
Frequent Visitors Oct 31st Plus Food & Costume Party
Hosted by Moe McCoy, Jayson Dixson, Andrea Tyler and Aiyana McCoy
I WIN TV & RADIO
3950 S Eastern Ave #130
Las Vegas, NV 89119
www.fireprooflix.com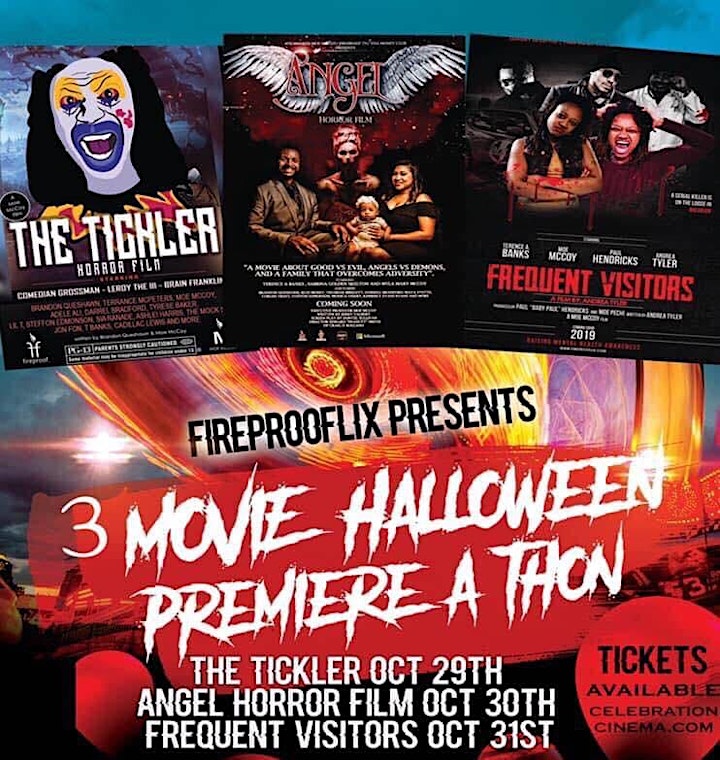 Organizer of Halloween Premiere A Thon Las Vegas
Moe McCoy – AKA Moe Money McCoy a multi-talented actor, director, artist, is known for his drive to never give up. He's a native of Grand Rapids, Michigan but currently resides in Houston, TX. He's a filmmaker, writer, producer, director, actor, model and fashion designer. Moe Money McCoy began his career as an artist in a group call the Nappy Head Assassins at 14 years of age. He wrote and produced his first album in 1999, since then he has accomplished many things in his young life. Over the past 7 years he has released approximately 9 cd/mix tapes. 2001 he established a partnership with Cash Boy to form the nationally known group Fireproof, where he laid the foundation for his career as a solo artist. While with Fireproof he sold over 30k units without a distribution contract. He has produced music that received multiple spins on Grand Rapids, MI most popular FM station 104.5. He has been featured on local tv programs and newspapers and was host of Fireproof TV on GRTV and promoted local concerts and comedy nights as well. 2006 he began touring the nation with T John E as urban representation at many colleges and universities, hosting a trivia game called Think Fast! Giving him exposure to the masses. 2007 received 8 nominations from the Grand Rapids Hip Hop Awards and won 3 including Album of the year, best radio single and best club single. 2008 received 11 nominations from the Grand Hip Hop Awards and won 5 including Best group, Best live performance, Album of the year, Best street anthem and Most hustle, and was co-director of the video that was awarded Best Video. He co-directed, edited, and starred in 2morrows Never Promised a story about a struggling rappers rise and fall. This feature films one-day showing sold out the largest theater in Grand Rapids. In addition, 2NP the soundtrack and DVD were released. (Fireproof) average tour 10 was months out of 12 and toured across the map and has shared the stage as an opening act for many such as: DJ Kid Capri, Light Weight Champion, Floyd Mayweather Jr., Mario, Steve Harvey, Gorilla Zoe, Young Jezey, Rick Ross, Young Burg, Freeway and many more. As you can see, Moe Money McCoy is no stranger to hard work. Moe McCoy because the assistant program director of WYGR 94.9 and also hosted the Fireproof Radio Show on 1410 AM as well. 
In 2014 Moe McCoy premiered a movie called #theperfectromancemovie on Xmas Day. McCoy says he has 5 films ready to go into production. His plan is to open Fireproof TV as a retail store, get The Fireproof Radio Show on XM radio, and Produce blockbuster movies for people to enjoy. His goal is to make 100 movies. Says he came to Houston to be its Tyler Perry but he wont put on a dress.