About this Event
"Incredible", "So Much Fun!", "Non-stop energy", "what an experience"..just some of the reviews from last years Exchange Club Music Bingo hosted by NuImage Entertainment, the areas leader in Music Bingo FUN! You'll be having the time of your lives AND doing good in support of the Haverhill Exchange Clubs community service efforts. Half-Time Pizza provided, a FUN Heads-and-tails contest to win a wagon of "Spirits" and 2 great prizes for each round of Music Bingo (its just like Bingo, but instead of calling numbers, we use music and song in fast paced energizing way..this is NOT your Grandmoms Bingo!!) Includes 1 free Bingo card for round 1 and each additional card just $10 to increase your chances!
And wear your favorite costume (not required) or Halloween sweater for a chance to win our best outfit prize!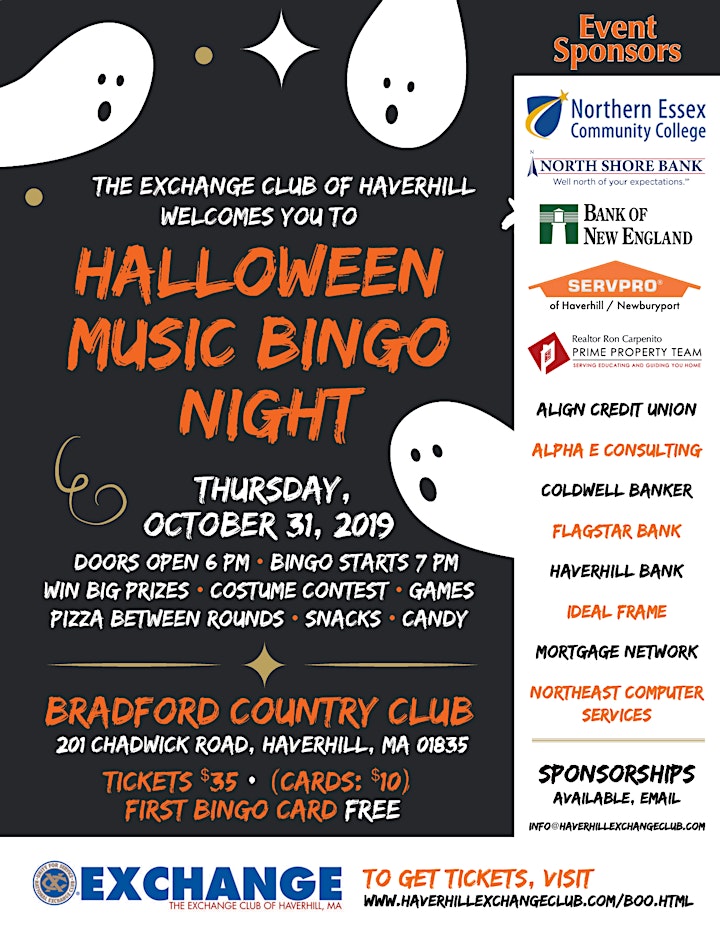 Exchange, America's Service Club, is a group of men and women working together to make our communities better places to live through programs of service in Americanism, Community Service, Youth Activities, and its national project, the Prevention of Child Abuse. We share lunch every Thursday at 12 noon at Maria's on Essex Street in Haverhill. Stop by a Thursday at lunch to see a great guest speaker, meet great people, contribute to the community, network and see if being part of the Exchange community will bring value to your life!