Description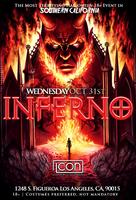 The Devils Night is upon us...
A night of terror that comes once a year and changes the landscape of all around us
Sprits, Ghouls, Ghosts, Demons are out to play...
Experience a Horror Festival...
Wednesday October 31st, 2012
*** INFERNO ***
All Hell Will Rise
Inside The Horrifying
*** ICON ***
1248 S. Figueroa Ave
18+ Deranged & Spooky
Limited Presales available $15
www.InfernoAtIcon.eventbrite.com
Gates of Death open at 930pm
Costumes are Encouraged / Not Mandatory
Wander around 2 levels and 3 rooms of carnage and blood rage as you enter the Devils lair for the biggest fright of your life!
The Rooftop Asylum where you can find zombies at playing howling into the night / The Chamber of Lost Souls where spirits flock and the / Devils Pit where fire and brimstone await those who dance
ICON will be transformed into a deadly and ghastly Halloween Haunt that will leave you speechless! 1500+ capacity with a lightning system that will take your soul away!
SoCals best DJs will be playing the Devils tunes, hypnotizing you with the best in Hip Hop, Top 40, EDM and Latin
Mistress of Death will captivate your senses with their evil beauty
This is the Biggest & Most Terrifying Event in SoCal and the Only 18+ party happening!
Don't Be Scared.... Be Very Afraid....INFERNO
For more info contact any ALIST
310.651.0599
Organizer of HALLOWEEN INFERNO at ICON 18+