This Halloween we're hitting the streets for a GHOST RIDE!
About this event
A ghost ride? .... We're getting together with skulls painted on our faces, lights on our bikes, and maybe a flare or two for dramatic effect, then hitting up the spooky industrial neighborhoods of Brooklyn & Queens. We'll be making some food and beverage stops along the way for fuel and FUN. Waters Provided by Eternal Water. Post-ride beer provided by Fat Tire.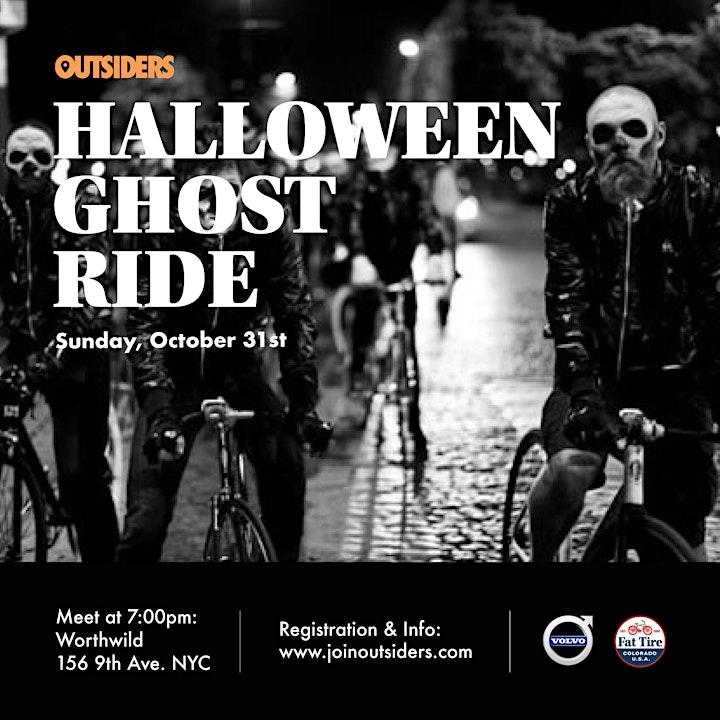 Watch the video below to better understand the vibe.
GHOSTRIDERS II x GESAFFELSTEIN from Savoir Faire on Vimeo.
NEED A BIKE?
You can rent one from our partners at Unlimited Biking. Use discount code OUTSIDER50 for 50% off your rental.
FILL OUT THE ONLINE WAIVER PRIOR TO ATTENDING
MILES: 23.5 miles (in 3-4 hours)
MEETING POINT: Worthwild 156 Ninth avenue NYC
ROUTE MAP: https://www.google.com/maps/d/edit?mid=13FXhaIQYuvGsaDqgPpoIMAwz8cTBR7j4&usp=sharing
Tickets are $15 x person which includes:
Guides Bike Ride
Water Compliments or Eternal Water
Complimentary Water, Fat Tire beer & other New Belgium Brewery Beverages
IMPORTANT DETAILS:
The Ride is BYOB, bring your own bike to ride!
Bring water and good vibes, this ride is going to be a lot of fun.
Can't wait to ride with you and scare some folks along the way!
Organizer of Halloween Ghost Ride
The Outsiders is a New York-based social club. Our mission is to bring people together and introduce the possibility of a deeper connection through outdoor experiences and travel. We work hard to keep these adventures affordable and accessible to provide more people with the opportunity to join us and experience the outdoors.
The Outsiders are made up of social butterflies, urban explorers, music lovers, outdoor enthusiasts, thrill seekers, creatives, foodies -- in essence we are New Yorkers looking for our next adventure with like-minded people.
Our adventures present a level playing field, helping individuals connect on a multitude of levels helping break that monotonous routine we fall into throughout our lives.
Welcome to The Outsiders.