About this Event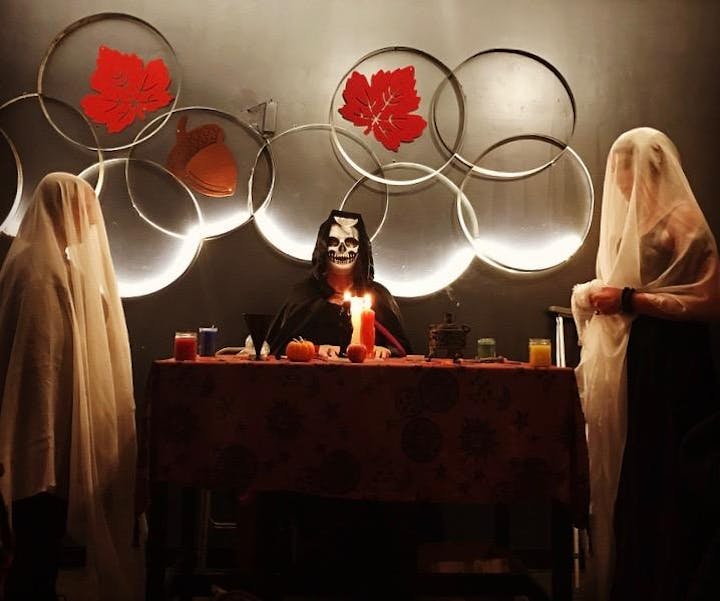 On All Hallow's Eve (Halloween) it is said the veils between the two worlds - the living and the dead - drop and the departed walk Earth for a short moment of time. Experience a sacred ritual celebration and meditation to honor your ancestors and connect to your departed loved ones. Write a note to them and place it on the Remembrance Altar. Paper and pen will be available.
Meet accomplished psychic medium and author, June Ahern. Her book, How to Talk With Spirits: Séances, Mediums, Ghost Hunts for sale at a special event price.
Enjoy Tarot and Bone readings by Shannon Fern and Nikola. Prices listed at event.
In spirit of this magical holiday, dress in your Halloween finery. Partake in A Grape in the Fog Wine Bar's array of fine wines and hors 'd' oeuvres - available for purchase.
Event: $15.00. Register Early! Limited seating. PLEASE NOTE: Tickets are Non-Refundable. Receipt of your payment will state paid thorugh PayPal to sfcoaching@yahoo.com which is June Ahern's SF Coaching business email.
Location: A Grape in the Fog Wine Bar, 400 Old Country Road, Pacifica, 94044
Readings, Book Sale and Refreshments start at 4 p.m. with a pause at 6 p.m. for the Ritual Celebration and will resume after the ceremony until 8 p.m.
Sponsored by: June Ahern, www.juneahern.com
Shannon Fern, www.facebook.com/shannonfernintuitivetarot & www.instragram.com/shannonferntarot
Beth Lemke, Proprietor, A Grape in the Fog, www.facebook.com/AGrapeinTheFog