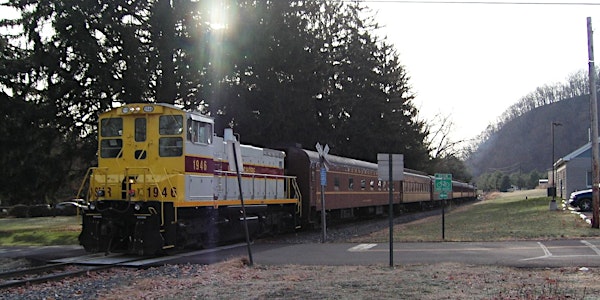 Halloween & Fall Foliage Train Rides, Bloomsburg, Pa
Enjoy a 2.5 hour train excursion from Bloomsburg to Northumberland and back.
When and where
Location
Autoneum Automotive North America 480 West 5th Street Bloomsburg, PA 17815
About this event
Downtown Bloomsburg, Inc. is offering two 2.5 hour excursion train rides. Enjoy fall foliage and Halloween entertainment all in one ride!
The 10 am ride is a child centered activity with a Halloween costume contest, music and costumed characters.
The 2 pm ride features local Bloomsburg Theatre Ensemble Emeritus actor Laurie McCants telling Pennsylvania haunted tales and seasonal music.
YOUR RECEIPT IS YOUR TICKET(S).   WE WILL HAVE A ROSTER OF TICKET BUYERS AT THE TRAIN SHOULD YOU FORGET YOUR TICKET.
 Limited number of Caboose rides available.  The Caboose seats 10-15.
WHAT IS THE COST?  10:00 AM Tickets are $15.00 for children and $20 for adults. 2:00 PM tickets are $25. Fees are not included in these prices. Tickets are non-refundable.
DO CHILDREN PAY FOR A TICKET? Everyone 12 months old or older. Children under 1 that can sit on an adult's lap are FREE!
WHERE DOES THE TRAIN DEPART FROM? All trains depart from the Autoneum parking lot at 480 W 5th St, Bloomsburg, PA 17815
WHERE CAN I PARK? FREE parking is available at the Autoneum parking lot. Arrive approximately 30 minutes before your scheduled train ride. 
ARE THE TRAIN CARS HANDICAPPED ACCESSIBLE? No, but train staff will make every attempt to assist boarding those individuals with walking difficulties.
WHERE DOES THE TRAIN TRAVEL? The train departs from Autoneum in Bloomsburg and travels west, to Northumberland and returns to Bloomsburg by the same route. The trip lasts two and a half hours.
CAN FOOD & BEVERAGE BE BROUGHT ON TRAIN? No, all food and beverages must be discarded prior to boarding. 
WHAT ACTIVITIES OCCUR ON THE TRAIN? The 10:00 am ride will have a children's costume contest in each car, costumed halloween characters and halloween music. However, costumes are not required to ride the train. At the end of the ride, all children will recieve a halloween treat. The 2:00 pm ride will have haunted tales from Bloomsburg and beyond recited by Laurie McCants, Bloomsburg Theatre Ensemble Emeritus member.
ARE PHOTOS PERMISSABLE ON THE TRAIN? Yes!
CAN YOU RENT THE CABOOSE? Yes, the cost is $300.00 and seats 10-15 passengers, depending upon ages.   The caboose is limited to one group per train ride.  
STILL HAVE QUESTIONS?   570/661-1936.
*Information collected on Eventbrite will not be sold or redistributed to other parties, although invidividuals may be contacted by Downtown Bloomsburg, Inc. or our sponsors.