Location
Faneuil Hall
Boston, MA
Sales Have Ended
Ticket sales have ended
Thanks for your interest in the Halloween Crawl. Ticket sales for this event have now ended. Please join us for the 12 Bars of Christmas on December 1st. Much more info at crawlinboston.com
Description
10/25/12 UPDATE:

Reminder, if you're selling your ticket to someone else, we'll need that info by noon today. No exceptions.

News regarding registration bars and more info coming this afternoon
10/16/12 UPDATE:
Registration Bars to be e-mailed to ticketed guests on October 25th
Full Schedule Released To Participants At Time Of Registration
19 bars in the Faneuil Hall, North Station and Financial District areas
12:30 - 7:30
10/13/12 UPDATE: We have sold out for the Halloween Crawl 2012. We are honored that 1,000 of you have decided to celebrate with us again. Tickets for the 12 Bars of X-Mas are now available.
As you can see, this will sell out, so please don't wait! Same fun, new prizes.
Cheers ! C.I.B.

The longest running, biggest and best Halloween Bar Crawl Boston has to offer.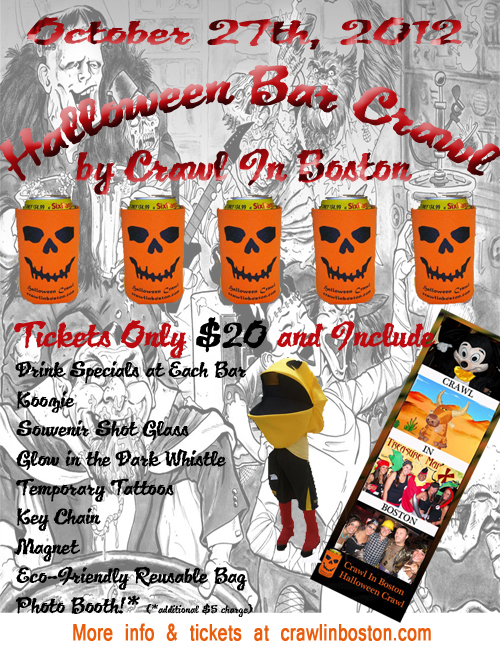 Please join Crawl in Boston on 10/27/12 to tour the Faneuil Hall area. Get your costumes ready! They get better and better every year.
Here are just some pictures from the past couple of years
We're happy to announce some big changes with Crawl In Boston. We've always strived to give you the best bar crawl experience ever. And we're looking forward to many more amazing crawls. We recently were contacted by investors very interested in our group. The loved what we did and have partnered on with us. So going forward (for the big crawls: Halloween, 12 Bars of X-Mas, Valentine's) we're going to use a new ticketing system.
In the past 18 months, we've had a lot of problems using just the facebook invite to determine how many people would be coming. By using the new system, we'll know exactly how much stuff to order and how much bar staff will be needed.
We also want to make this exclusive for our crawlers. So we've gone out and rented the bars for our private event. This way we won't have to worry about running into another party and the bar not having enough room for you. Ticketed crawlers only! That being said, we're also going to put a limit on our ticket sales. We want a ton of you to come. But we also want you all to have space to move and not have to wait 30 minutes for a beer.
Tickets to the Halloween Crawl will be $20 until 10/5/12. Price will change to $25 afterwards or until we sell out. However you always get tons of bang for your buck with Crawl In Boston. We're able to give away much more for you crawlers!
Your ticket price will include.

Drink specials at all the bars
Free food at selected bars

Koozie
Souvenir Shot Glass
Glow in the Dark Whistle
Magnet
Key Chain
Eco-Friendly Reusable Bag
Candy
Photo Booth with Take Home Souvenir Photo* (*additional $5 charge)

Tickets are non-refundable. You must arrive to register by 4:30 or your ticket may be resold.
And we still are raising money for charity with proceeds to benefit Julie's Family Charity.
Please don't wait to join this incredible event. Cheers! -C.I.B.