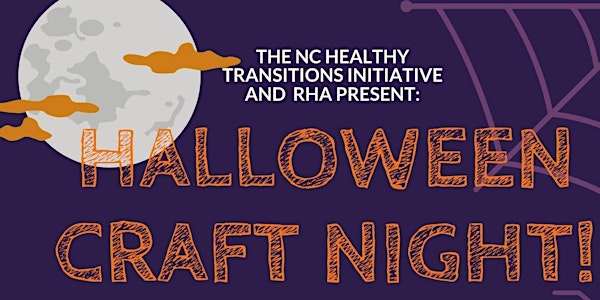 Halloween Craft Night
Join us for a fun night of Halloween-themed crafts, activities, music, and food!
About this event
The North Carolina Healthy Transitions Initiative and RHA's Partnership for Substance Free Youth in Buncombe County have teamed up to host our very first community event: Halloween Craft Night! We will have Halloween-themed crafts, music, group activities, and food for all!
This event is open to youth and young adults, ages 16-25, who reside in Buncombe and Henderson counties. You must RSVP to this event so we know how many people will be attending so we have enough supplies and food! If you have any dietary restrictions, there will be a place on the registration form for you to let us know so we can accomdoate you as much as possible.
Please note that, due to COVID-19, we will be requiring masks and social distancing protocols throughout the evening, and will send out a screener for folks to fill out prior to arriving.