Boat Burning, Fri., Oct. 29, 5:00 PM, live music, clam chowder, refreshments and more! $5 per person, 5yr & under free! Rain Date: Oct. 30
About this event
Come join us, October 29th for our 31st almost Annual Halloween Boat Burning! Enjoy a steaming bowl of clam chowder crafted by Blue Island Oyster Co., live music by Quarter Horse and so much more!
Here at the Long Island Maritime Museum we celebrate our own version of an autumn bonfire by burning a boat whose time has come.
Any of the boats we have burned since 1990 at our Halloween event have been vessels which are no longer safe to sail or restore. While it is sad to bid farewell to a boat, we also welcome the harvest of the fruits of labor of the volunteers in our Boat Shops, by raffling off a small boat built by these talented craftsmen.
We thank you for your support during the past year and invite you to join us in celebrating these events.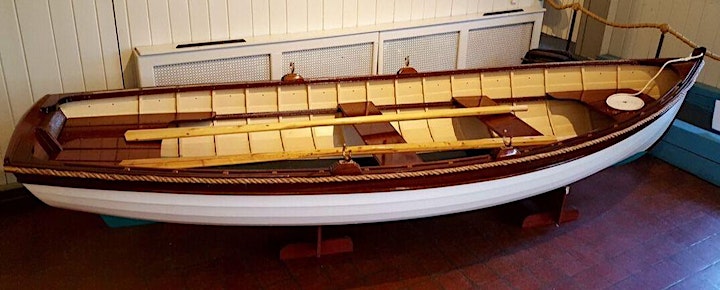 Long Island Maritime Museum
2021 Raffle Boat
This Catspaw Dinghy is Joel White's 12'8" version of the famed Herreshoff Dinghy Columbia. Crafted of Oak, Cedar & Mahogany with Hemp Rope Rub Rails. Beautifully Built by our Penney Boat Shop Volunteers. $5.00 per ticket or $20.00 for 5. Drawing: Friday October 29, 2021. Winner need not be present at drawing!
All proceeds benefit the Museum. Thank you in advance for your support!
Organizer of Halloween Boat Burning
The Long Island Maritime Museum is committed to the research, preservation and interpretation of our region's rich nautical heritage and the role of Long Island in our national maritime story. Whether it's boat building, shipwrecks, shellfish harvesting or recreational boating that captures your imagination, it's all here under our roofs, in our galleries and at our many events and programs. Kids will discover the links between the Island's maritime and natural histories. They will encounter some of the amazing creatures living in our local waters.
Learn more about the unique history of Long Island only at the Maritime Museum. For school tours, the Bay Days summer program or group tours, contact us at (631) 854-4974 or via e-mail at limm@limaritime.org.
The Museum is located on the waterfront of the former MEADOW EDGE estate of the Hard family. With a collection of over 10,000 objects, a rich archive of documents and photographs, and five historic buildings, the Museum is a treasure chest of Long Island history.