Halloween Block Party is a Sunday FUNDAY for the entire family! SHOP, NETWORK, CONTESTS, DRINKS, FOOD, BOUNCE HOUSES & MORE!
About this event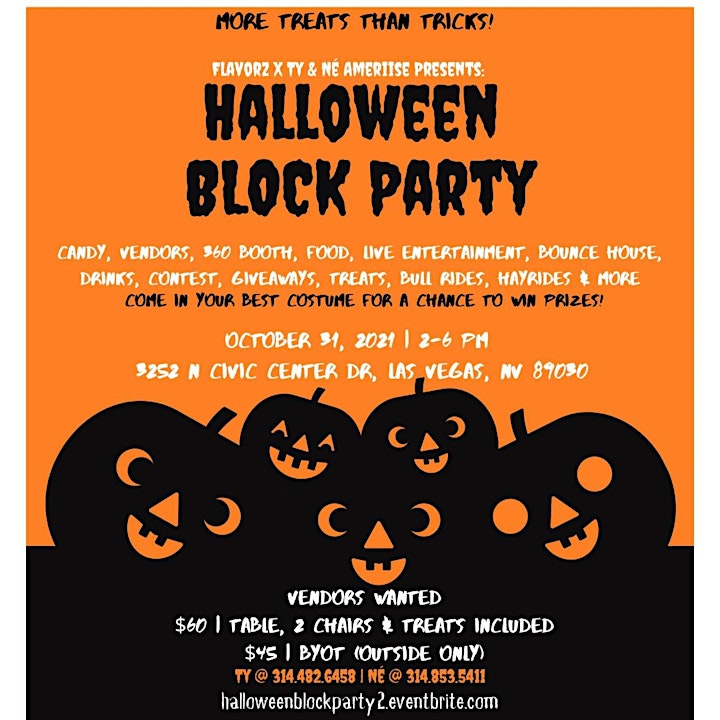 Come out & enjoy a HALLOWEEN Sunday Funday with a variety of Vendors to shop and network with, live DJ and Entertainment, Bounce Houses, Costume CONTESTS, Giveaways, Face Painting, Food, DRINKS and more!
Treats for kids at EVERY table!
FUN FOR ALL AGES!
Hosted by: Alicia AKA "Lady A"
Sponsored by
Flavorz X Ty & Né Ameriise LLC
For more info contact
Ty @ 314.482.6485 or Ne' @ 314.853.5411
IG: Flavorz.xty FB: Flavorz XTy
IG: Ne.Ameriise_ FB: Designs by Ne' Ameriise
NO REFUNDS!
Vendor Spotlight
A2Z Complete Bodycare
The Hasan Kitchen
West End
Straight Up Apparel
Hustle Creatively Designs
Delightful Delicacies
Phatz Creations
Mama Ethels Herbal Infusions
Grind Lyfe Thick Chic Apparel
Dat Chili Dude
Glam Girls
Bratitude Co.
Diva Savvy Essentials
Hood Dollz
Medusa Bitez
Lillie's Kitchen
Tipsy Sips
Divine Cuisine Catering
VENDORS SPOTS LIMITED!
$65- indoor spot with table, 1 chair and treats provided
$45- outdoor spot, bring your own table
To reserve your spot contact Ty or Ne'
Ty @ 314.482.6485 or Ne' @ 314.853.5411
IG: Flavorz.xty FB: Flavorz XTy
IG: Ne.Ameriise_ FB: Designs by Ne' Ameriise