Hallowbaloo COSTUME WORKSHOP: Mask Making!

Friday, October 16, 2015 at 5:30 PM (HST)
Event Details
Create Your Own Unique & Wonderful Mask! 
 
Workshop Director: Rose Wolfe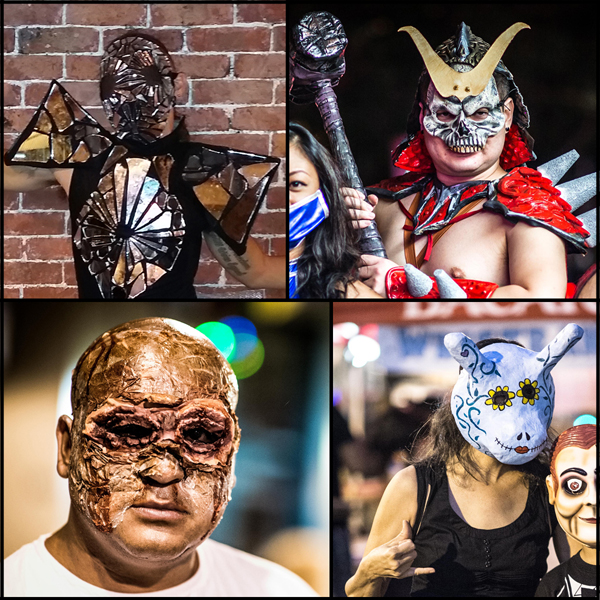 * Photo: Top Left Corner: mask created by Rose Wolfe utilizing the same approach that will be used at workshop. All other photos are from Hallowbaloo 2014 - examples of types of masks that can be created at the Hallowbaloo costume workshop (bottom left corner is a different style of mask than will be created at workshop but a similar vibe can be achieved)(photos: Joe Marquez). 
Hallowbaloo Costume Workshop: Mask Making!
Create your own wonderful & unique mask for Hallowbaloo and beyond!  Local costume designer extraordinaire, Rose Wolfe, will direct the workshop and provide materials. All you need to do is step in the door!  
DETAILS
Day 1 - Create Your Own Mask:
The instructor will demonstrate how to build a mask from scratch. A simple mask will be provided to each student to use as a "base mask" to build upon. Paper Mache will be the medium used to build creative shapes. You will learn basic techniques of texturing, molding and shaping. The process will be messy; dress to make a mess. Pizza and snacks provided. 
Day 2 - Decorate/Paint Your Mask:
With the Paper Mache now completely dry, you will paint and decorate your mask, happy fun crafty time! Another option for covering the mask is to spray glue on the mask and cover it with fabric, feathers and so much more. Crafty bits will be available. 
The instructor is happy to receive emails in advance from students and review your design ideas and creative vision. Donations of extra "crafty bits" and/or paint are welcome but not required.
All ages. Families welcome!
Workshop Director – Rose Wolfe:
Rose Wolfe is a graduate of Honolulu Community College Fashion Technology program and has been a costume designer in Honolulu for the past 5 years. She has designed for Hawaii Shakespeare Festival, Pretty Peacock Productions, and most recently for Hawaiian Mission Houses Museum's production of The Tempest. Rose is also a dancer with Iona Contemporary Dance Theatre and has assisted with costume production for almost a decade. She loves to help people develop their imaginative designs and bring their ideas to fruition.
Hallowbaloo:
The Hallowbaloo Music & Arts Festival is an annual celebration of Halloween Aloha, Honolulu's historic neighborhoods (Chinatown and the Capitol District) and art. With wildly creative costumes, a friendly atmosphere and bountiful showcases of original music and dance, Hallowbaloo caters to adults of all ages and has become the favorite night of the year for many. This year's 8th annual Hallowbaloo takes place on Halloween night, Saturday October 31, 2015 and featues Grammy Lifetime Grammy Achievement Award Winner and Rock n' Roll Hall of Famer, Booker T. Jones, performing on the front lawn of the Hawaii State Art Museum (HiSAM). Details: www.hallowbaloo.com

Mahalo to our venue partner for helping us offer this experience!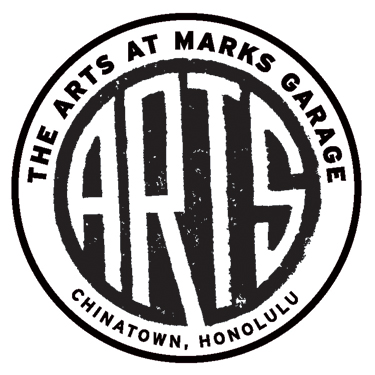 When & Where

The Arts at Marks Garage
1159 Nuuanu Avenue
Honolulu, HI 96817


Friday, October 16, 2015 at 5:30 PM (HST)
Add to my calendar
Organizer
T-Rx Entertainment, LLC
T-Rx Entertainment has been producing events in Hawai'i for over 10 years.
Each year, we produce the Hallowbaloo Music + Arts Festival in Honolulu and roots concerts around the state. Past shows include Booker T. Jones, Edward Sharpe & the Magnetic Zeros, Diplo, 
Maceo Parker,
Xavier Rudd,
 Allen Toussaint, 
Big Freedia, Nahko and Medicine for the People,
Z-Trip, Steve Gadd, Cut Chemist, Greensky Bluegrass, 
Anders Osborne,
David Lindley, Gaudi, Jake Shimabukuro, Quantic, Brett Dennen, Ozomatli, Rebirth Brass Band, Warpaint, 7 Walkers (feat. Bill Kreutzmann & Papa Mali), Luther Dickinson, Iyeoka, Blitzen Trapper, Jon Cleary (with Steve Ferrone and Reggie McBride), Delta Spirit, John Cruz, The New Mastersounds, Mad Professor, Mike Love, Old Blind Dogs, Eddie Bo, Man Man, Big Chief Monk Boudreaux, Dengue Fever, Baths, The Budos Band, Paper Diamond, The Helio Sequence, Taimane, Benzi, Ursula 1000, DJ Logic, Jeremy Sole, Eric McFadden, Larry and Jenny Keel, Dj Low Down Loretta Brown (aka Erykah Badu), Charlie Hunter with Scott Amendola, and more.
Hallowbaloo COSTUME WORKSHOP: Mask Making!