Hallowbaloo 2018: Music, Arts and Craft Beer Festival! Hawaii's largest Hal...
Description
***LIMITED AMOUNT OF CLUB HALLOWBALOO TICKETS WILL BE AVAILABLE AT THE DOOR: PRICE $40***
Street Festival 5pm-10pm
Club Hallowbaloo 7pm-2am
All ticket purchases are non-refundable. Event held rain or shine.
% of Bar Sales will be donated to Habitat for Humanit fundraiser for Volcano Relief
The 11th Annual Hallowbaloo: Costumes, Music, Food, Arts and Craft Beer Festival
Historic Downtown Honolulu, Chinatown and venues at Aloha Tower Marketplace.
SEE VIDEOS FROM PAST HALLOWBALOO EVENTS:
https://vimeo.com/240618987
https://vimeo.com/240619009
https://vimeo.com/195734992
www.hallowbaloo.com (update coming soon)
On Saturday, Oct. 27th, Honolulu's Chinatown Arts District, Aloha Tower and historic downtown transform into a spooktacular celebration of music, craft beer, food, art, entertainment and thousands of costumes starting at 5:00 pm. Join us for an evening you'll never forget! For over 10 years Hallowbaloo has brought together over 50,000 people to celebrate the arts and celebration of Halloween.
STREET FESTIVAL TICKETS SOLD ONSITE STARTING AT 5:00PM.
ARRIVE EARLY.
WILL SELL OUT QUICKLY - LIMITED # AVAILABLE.

Admission to the street festival is complimentary with any Club Hallowbaloo, or Hallowbaloo Ball (VIP) wristband. Street festival wristbands will be sold onsite on a first come, first served basis starting at 5:00pm. These wristbands provide access to the street festival ONLY. Limited # available and will sell out extremely quickly. ARRIVE EARLY TO PURCHASE. If you arrive after the street festival wristbands sell out and you do not already have a Club Hallowbaloo, Fast Pass or Hallowbaloo Ball wristband, you will be turned away. The street festival is 21 & older only unless accompanied by a parent. Free admission for keiki accompanied by parent.
The Hallowbaloo Street Festival and Hallowbaloo Ball kick off festivities at 5:00pm in China Town and surrounding and the surrounding streets. We couldn't be more excited about our return! With iconic landmarks, manicured lawns and expansive tree canopies, the area has the look and feel of a state park and serves as the perfect oasis for sharing Halloween aloha and enjoying rambunctious rhythms. At 9pm, Club Hallowbaloo revs up in Chinatown and Aloha Tower Marketplace with bodacious beats bouncing deep into the night at 10 venues.
There's Halloween cheer, entertainment, bites and beverages to suit every fancy. For families and revelers who prefer a smooth ghoulish glide, an early jaunt through Hallowbaloo's street festival, including dinner at one of its delectable pop-ups (Square Barrels, Hawaiian Fresh Farms, Istanbul Restaurant, Olay's Thai Express and more), will be hard to beat. And of course, if you're one of the many who view Hallowbaloo as the ultimate euphoric release, take a double dip of masquerade mayhem by dancing through the nearly 10,000 costumed revelers who fill our street festival grounds and Club Hallowbaloo.
Hallowbaloo hijinks happen only once a year. Get your costumes ready!
Highlights:
- Hawaii's Largest Halloween Outdoor Craft Beer experience
Purchase a VIP wristband and receive 5 craft beer tastings in our Craft Beer Street Festival arena, get our special Hallowbaloo collectors stein, includes priority access to bars with Stein and Vip entry to clubs
5 Stages of Music and entertainment (Ja Rule stage and Gordon Biersch Stage located at Aloha Tower)
*Stage 1 - Corner of Nu'uanu Ave / Pauahi St
*Stage 2 - Corner of Nu'uanu Ave / King St
*Stage 3 - Corner of Hotel St / Smith St
*Stage 4 - Aloha Tower Marketplace - Waterfront (Ja Rule in Comcert)
*Stage 5 - Aloha Tower Marketplace - Gordon Biersch
*Food Trucks - Located on Nu'uanu Ave / Hotel St
*Creaft Beer Area - Nu'uanu Ave / Pauahi St
*$1000 Costume Contest - Held at the Hotel St / Smith St stage (Sign up by 7pm)
and much much more!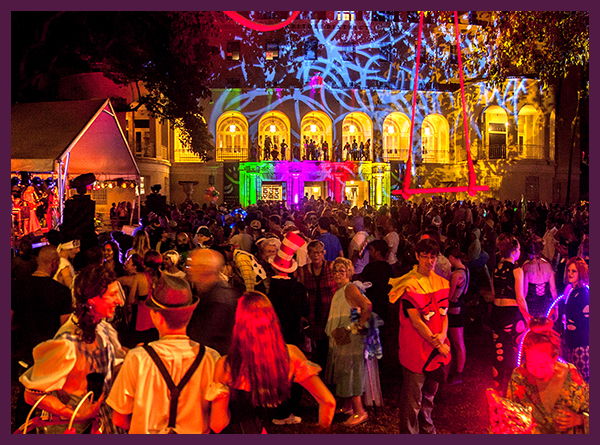 P.L.A.Y. TIME - P.ursue a L.ife of A.rt and Y.outhfulness
HALLOWBALOO STREET FESTIVAL
5:00PM - 11:00PM
Enjoy costumes, music, art and food in one of Hawaii's most beautiful venues!

ONO EATS
5:00PM – 11:00PM
Street Festival
Pop-up eateries at your beck and call with tasty treats ranging from indulgent delights to farm-to-table goodness.

CLUB HALLOWBALOO
7:00PM - 2:00AM
Chinatown & Aloha Tower Marketplace Venues
11 Clubs, One Cover 'til 2am - We've expanded! Now includes Chinatown and Aloha Tower Marketplace venues: Bar 35, Nextdoor, Sin Lounge, The Arts at Marks Garage, Encore, Scarlett, Aloha Tower Marketplace (Waterfront, Hooters, Nashville Waikiki, and Gordon Biersch) and more!
2018 FULL LINEUP T.B.A
Ja Rule, Sol Caribe Band* DJ Fee * DJ Lion of Judah !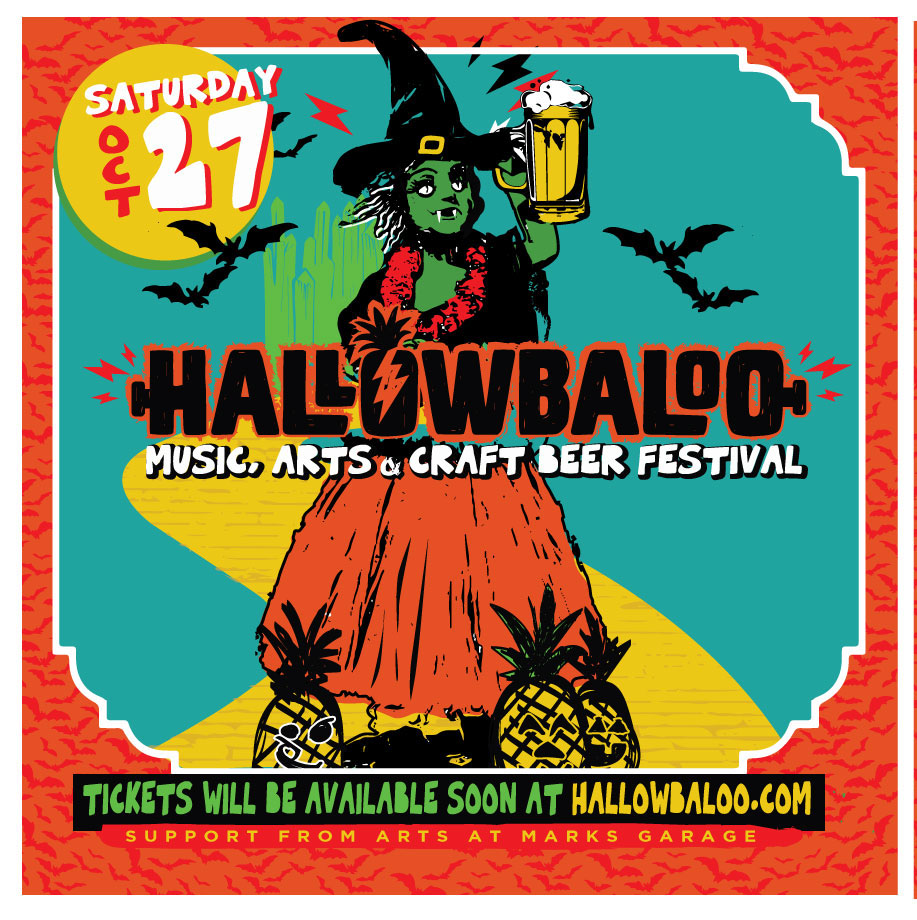 Attendees, Artists & Merchants Rave About Hallowbaloo
Chinatown Resident:
"For those who didn't make it to the "new" Hallowbaloo - if you're curious - this year's set-up was great! With multiple stages, all kinds of food and an attractive site surrounding the State Art Museum, it's a playground for grownups with great people-watching and entertainment. With Booker T as the headliner and more great music at each corner, I'm still recovering from all the dancing I did. Bravo Mark Tarone - hope you're in that location again next year! . . . A most enjoyable experience in Honolulu, and as promised, great use of an attractive, historic district. Mahalo!"
Chinatown Business Owner:
"This was my first Halloween back on the island for almost 10 years. I had never seen such a turnout...who knew how eclectic of a vibe Chinatown has provided for Hawaii. Great job!"
Island Visitor from Florida:
"Shout out to Hallowbaloo...flew in from Florida and we planned our multi-week visit to Hawaii around the festival. So glad we did, as we like to try to hang with the locals in any new place we visit. Hallowbaloo was super cool! Highlight of the time spent in Honolulu! We need this type of event in my hometown, Delray Beach - twice a year ideally. One for Halloween and another halfway to Halloween! Everyone is just plain happy while in costume! Great location, awesome revelers and overall fantastic time!"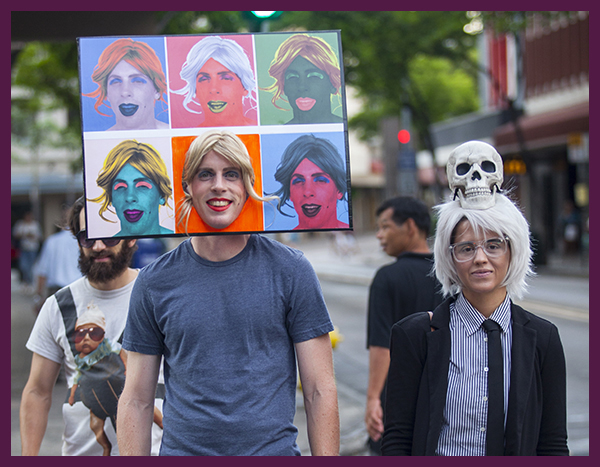 State Foundation on Culture and the Arts - Jonathan Johnson (Executive Director):
"The State Foundation on Culture and the Arts enjoyed having HiSAM [Hawaii State Art Museum] serve as the epicenter of Hallowbaloo last year and is glad it's back in 2016. It's a spooky, fun way to bring the community together while showcasing a wide range of local talent and creativity."
Kalalea Lights Dancer & Manager:
"Hallowbaloo brings the community together to celebrate life! What a wonderful opportunity to enjoy our beautiful city, local art, music, food and each other!"
The Infamous Bourbon Boys Musician & Manager:
"Hallowbaloo is a great event that crosses all forms of art and brings the community together. I love it. No other event like it in all of Hawaii."