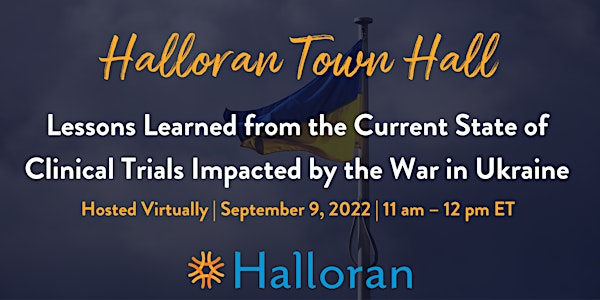 Halloran Town Hall
Lessons Learned from the Current State of Clinical Trials Impacted by the War in Ukraine
About this event
The military conflict in Ukraine and Eastern Europe is a rapidly evolving humanitarian crisis with vast geopolitical implications and continuous accounts of human suffering. Beyond the immediate humanitarian and geopolitical concerns, areas impacted by the conflict are also seeing extreme disruption to the local health care ecosystem. Clinical trials throughout Ukraine and nearby parts of Eastern Europe continue to be in peril.
Our team recently put together an article on "The Current State of Clinical Trials Impacted by the War in Ukraine," and now we invite you to join us for a virtual Town Hall on Friday, September 9th from 11 am -12 pm ET where our team will be building on their insights and welcome colleagues from Jounce Therapeutics and CSL Behring to share their experience, challenges, and recommendations in navigating the complex regulatory and operational challenges of clinical trials impacted by the war in Ukraine.
Our panelists will share the following:
The trials they operated in Ukraine and other parts of Eastern Europe
How they navigated complex regulatory and operational challenges
Important lessons learned on risk mitigation and designing resilient clinical trials
Meet the Panel:
Upon registration you will receive a calendar invite with Zoom info.
Please feel free to distribute this event and any questions, contact townhall@hallorancg.com.