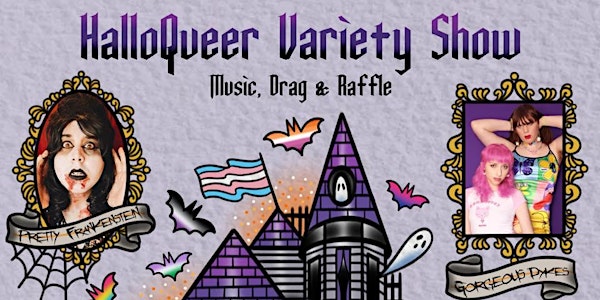 HalloQueer Variety Show
The halloqueer variety show is a trans/non-binary POC inclusive Halloween event with Drag, Music, local Art and Raffle Prizes!
When and where
Location
Studio 23 Gallery 2309 Encinal Avenue Alameda, CA 94501
About this event
THE HALLOQUEER VARIETY SHOW
is a trans/non-binary POC inclusive Halloween show that features Alameda's own Pretty Frankenstein, with special guests Gorgeous Dykes and Hennessy Williams.
This event will be full of spooky fun with live music, drag performances, and raffle prizes provided by The Fireside Lounge and other local businesses! Donations from raffle tickets will be given to Friends of Alameda Animal Shelter!
So join us in celebrating Alameda's pride by kicking it off with a spooky fun time! Costumes encouraged!
Where: studio 23,
2309 Encinal Ave, Alameda, Ca
When: Thursday, October 6th, 8pm
All Ages! Free Entry!
About the performers
Pretty Frankenstein:
Pretty Frankenstein is a genre-fusion group led by Grey Starr. She is a POC, trans artist born and raised in the Bay Area.
Their sound is inspired by the creaking floorboards of a haunted house, 1,000 bats dispersing into the night & a witch's well-used tarot deck being shuffled. (AKA The Cramps meets David Bowie's love child with Trent Reznor with a sprinkling of Yungblud.)
Pretty Frankenstein has played their way through the Bay Area; headlining Halloween shows at Yoshi's, opening for a Grammy winner at The Fillmore, generating a moshpit at 924 Gilman and fighting off Astro Zombies at Slim's (with a misfits coverband).
They have been featured on radio stations such as KPOO, KLAX, KVHS, Radio Free Brooklyn, the former Live 105 & former KFOG, and in blogs/press like East Bay Express, Madwoman Pro Music Blog, and Spooky Little Halloween Magazine
Gorgeous Dykes:
Lucy and Ana met in Los Angeles in the Spring of 2018 and began jamming together over mimosas. After Lucy whisked Ana away with her to Oakland, Gorgeous Dykes was formed that fall.
First experimenting with house and post-punk, they've since expanded their sound to be more of a fusion of house, funk and techno as they've grown as producers and composers. Ana and Lucy are both music nerds and local DJs, who are interested in fashion and artistic creative expression as well.
With aspirations to bring club music to everyone - especially those who are introverted, disabled and/or immunocompromised - they make music that celebrates being yourself and being proud of that, in hopes their songs uplift and inspire those in need and those who just want to have a good
Hennessy Williams:
Hennessy Williams is a genderqueer drag performer who loves all things vintage, goth, western, and genderfuck. They love to use drag to pay homage to their culture and also to question and challenge one's perceptions of what it means to be queer, Asian, American, and all of the above. Drag is how they express themselves artistically and also a form of healing in which they engage with their past, trauma, and identities - everything from being an abuse survivor to a former religious kid. See less