About this Event
The HALLÒ App is finally ready. Join us for this exclusive night of event. We're getting  skilled Helpers we need from the app to serve you for the night. Come celebrate and be a part of history in the making.
On The Night:
Avail Specially curated Drinks ; 1 Celebratory Drink on us.
Indulge in Hors d'oeuvres served by HALLÒ Helpers ordered via the app.
Enjoy a preview showcase from HALLÒ Helpers available in the HALLÒ App.
Network and Connect with the Founders of HALLÒ, and like-minded individuals from the community.
Get HALLÒ Exclusive Promotional Swag.
Be a part of Puerto Rico's Growing Gigs Economy
Space is limited. Only 60 tickets available. Tickets are required at the door for ALL attendees.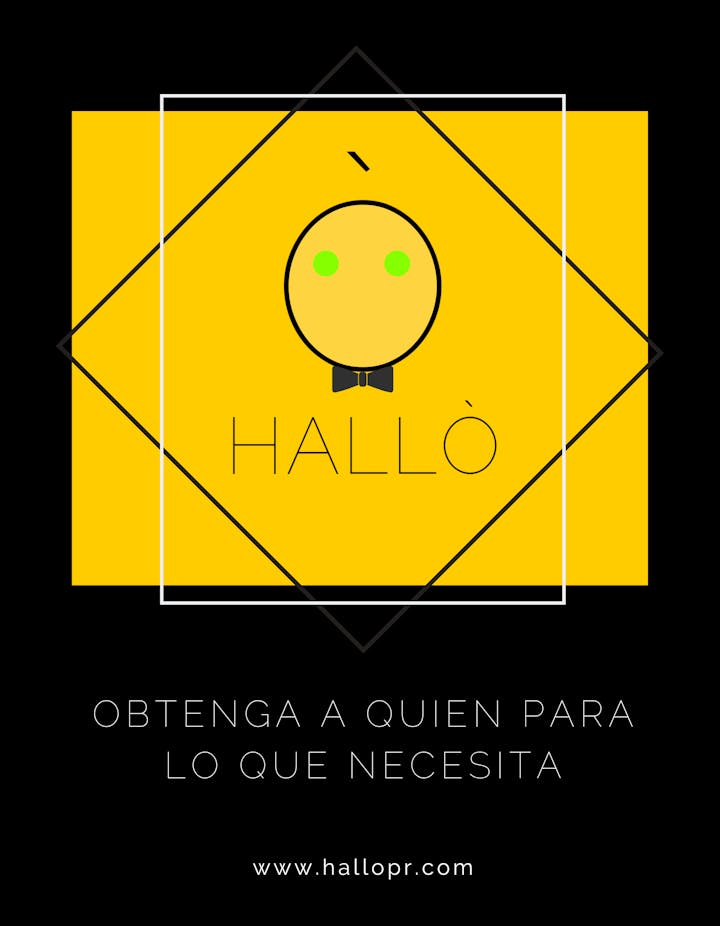 A little Intro into what HALLÒ does:
HALLÒ is an App Marketplace platform where you can instantly Select Helpers with verified skills or talents for ON DEMAND Delivery.
Now getting the right people for what you need is as easy as ordering food for delivery.
Find The Who for Whatever you need. Order them whenever, wherever. Gain more time to enjoy life in Puerto Rico. It's time to say HALLÒ to ON DEMAND "People-booking" freedom.
HALLÒ is a Puerto Rico Local Startup. Our company mission is to create a stable gig-type work economy to foster a new way for earning money for Puerto Ricans. We have employed only local-based companies for our administrative needs. Our goal is to make HALLÒ a household staple in earning extra cash in Puerto Rico and for customers looking for people to get things done.
HALLÒ is currently a bootstrapped startup. We as founders believe in the impact that this startup could bring to Puerto Rico, so we've literally "put our money where our mouths are".
WHAT CAN OUR HALLÒ HELPERS DO?
Our HALLÒ HELPERS are individuals who have verified expertise in multiple things. They range from Hair Helpers for Hair needs, Home Helpers for Home Task Needs, Pet Helpers for Pet Needs, Helpers with Cooking Skills, and so on. Any verified skill or talent can be added onto HALLÒ.
We are always adding on based on what people in Puerto Rico can do. So even if you don't find the person for what you need, keep an eye because it will be there soon!
HOW DO WE MAKE SURE THEY ARE GOOD?
In order for someone to join as a HALLÒ HELPER, we require extensive documentations for all backgrounds checks. We want to make sure that you are safe and all transactions are secure. The skills and talents that the HELPERS list on the platform must be verified. Our unique 2 way rating system allows us to keep up to date ratings by allowing customers and helpers to rate each other after every completed transaction.