Description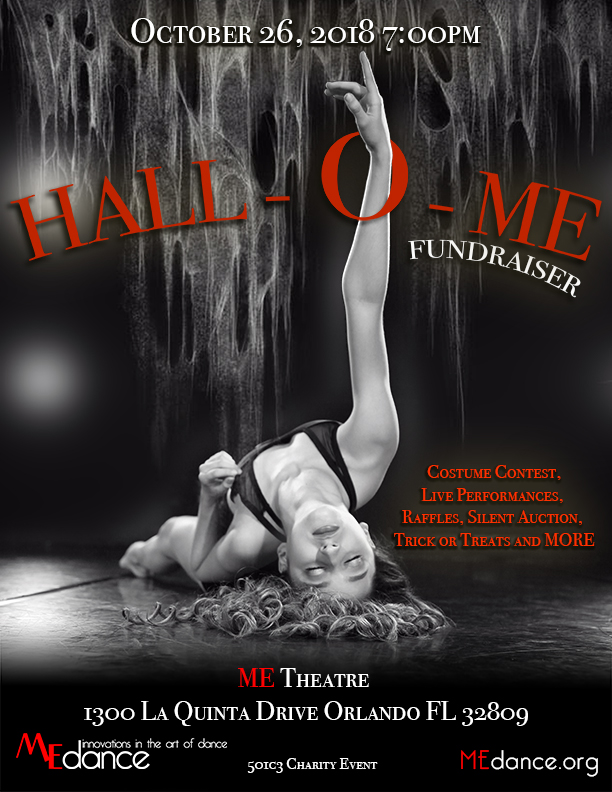 ME Dance will host our first-ever HALL-O-ME Halloween fundraiser on Friday, Oct. 26 at 7 p.m. in ME Theatre.
Bring your friends and family, and join us for a frightfully fun night of live performances, a costume contest, our raffle and silent auction, trick-or-treating and more. Tickets are now available for a $10 donation per ticket. Click here to get yours.
ME Dance is a 501c(3) charitable organization, and HALL-O-ME is part of our 2018 giving campaign, which runs now through December 31. The ongoing goal of ME Dance is to enrich the arts community by providing an outlet to feature talent in art through entertainment.
We look forward to seeing you at HALL-O-ME!

Projects:
I Dance Orlando Festival
Orlando Tap Festival
Dance Theatre of Orlando
Vincent Sanrocco Dance Company
United Ballet Theatre
Florida Dance Scholarships
Keep Orlando Dancing
ME Theatre
Your support is tax deductible. ME Dance, Inc. is a 501c3 Tax Exempt Organization.