Description
A family-friendly celebration of the awesomeness of rhythm.
Community Drum Circles to join, dance or listen to all day led by Gillian Thomas, Bazza and Joe Truss. Borrow an instrument or bring your own! All are welcome.
Live Performances by Rails End Drum Troupe "The Rhythmeers" led by Joe Truss and Randy Pielsticker and Afro-Brazilian percussionists Baque de Bamba led by Aline Morales. (sponsored by Haliburton County Folk Society)
A Parade through the park for you and your friends to join. Our theme is "Waters of the Earth". Wear something blue, or costume up at the wardrobe tent when you arrive.
Learn About Drums and Percussion at the Try It Tent and Sounds Good Zone
Makers Marketplace with Drum Makers, Artisans, Lifestyle and Wellness vendors. See list here
Djembe Door Prize Raffle You could win a TOCA Djembe donated by Long &McQuade
ONLINE TICKETS THROUGH EVENTBRITE ARE FREE There will be donation stations set up at Haliburton DrumFest - Pay What You Can (PWYC) to help keep our event accessible for all this summer and in the future!
Get Social with us! #haliburtondrumfest #comewander #myhaliburtonhighlands #railsendgallery and be sure to visit our website www.railsendgallery.com for the Festival Schedule, Musician Profiles, Vendor List and Event Sponsors.
---
Donations and Sponsorships Haliburton DrumFest depends on Donations and Sponsorships to keep our Festival accessible to all. Thank you to our many individual donors and to local sponsors: Haliburton County Folk Society (Baque de Bamba artist fees and travel); Minden Subaru (Drum Circle led by Gillian Thomas); Jigsaw Organizing Solutions (Water Bottle Refill Station display); Haliburton County Echo (County Life insert)Subway Haliburton (Volunteer Support); TJ Welding (Drum Cart); Long & McQuade and Kawartha Dairy (Draw Prizes) and Program sponsors: Dagmar Boettcher Century 21 Real Estate, Subway Haliburton, Curry Chevrolet Buick GMC, Haliburton County Tourism Department.
PLEASE CONSIDER MAKING A DRUMFEST CHARITABLE DONATION (TAX DEDUCTIBLE) HERE
---
Marketplace Vendors
Jigsaw Organizing Solutions
Earthtones Studios
Whirling Wisdom@Divine Play and Friends
Mary's Majikal Meadow
Spectrum Healing Naturopathic Healing
Drums By Phillis
The Scented Bohemian
Norvex
Immerse Yourself In Health
CBD Reservoir
---
Food Vendors
Los Abuelos Tacos and Fruit Waters
Tamarack Lodge - Korean BBQ Chicken Drumsticks w Asian Slaw on Pita and BBQ Corn on the Cob with a variety of spice rubs!
Drupati's Roti and Doubles - Authentic Trini jerk, roti and doubles
Rails End Coffee Stop - with real mugs!
Remember to bring your own refillable water bottle. This is a single use plastic free event.
---
Schedule
10 Marketplace Open
10:30 Welcome Ceremony led by John Proctor and Dani Stahle, Earthtones Studios
11:00
Drum Circle "Born to Drum" led by Gillian Thomas sponsored by Minden Subaru. All welcome.
Wardrobe/Costume Tent Open
Tai Chi Demo at the Fountain
Hands On Activities
12:00
Gather for the "Make Waves" Parade - follow the call of the drums to starting point in the park.
12:15
"Make Waves" Parade starts
1:00
Drum Circle led by Joe Truss - Join in!
2:00
The Rails End Rhythmeers Drum Troupe performance
2 :15
Baque de Bamba performance
3:15 Drum Circle Finale led by Bazza of Rhythmicity - Let's see how many drummers we can gather! All welcome!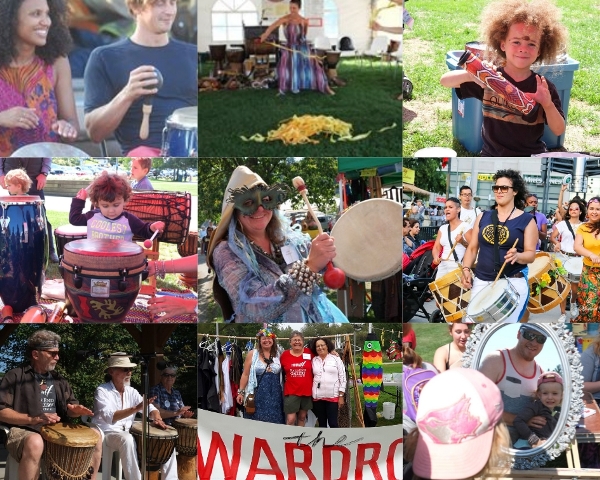 FAQs
Are there instruments available to borrow/share? Yes. We have drums and percussion instruments of all types to share - including some pretty neat home made shakers! There are drum vendors on site - check them out - you might find something special to take home!
Are there ID or minimum age requirements to enter the event? This is an all ages event.
Is this a pet friendly event? Yes. Please keep all pets leashed and be sure to pick up after your pet.
Is there WIFI on site? Yes - provided by the Municipality of Dysart et al (non-secure site)

Is there on site parking? Yes, free parking is available.
What can I bring into the event? Enthusiasm! Friends! Family!
Water bottle - we have a water refill station on site
Drums, Percussion instruments, Hula Hoops, Costumes from home (or visit our Costume area)
Picnic (food vendors also on site)
A lawn chair and/or blanket. We have plenty of drum circle seating and casual seating. BYO is the best guarantee and gives you flexibility to find a shady spot.
What can't I bring to this event? This event is in a public park - no smoking - no vaping - no alcohol - no off leash pets - no camping Municipal Bylaw in effect. We discourage single use plastics at Haliburton DrumFest.
What's the refund policy?
Online Tickets are free. Donations are non-refundable. Thank you for your support.
Do I have to bring my printed ticket to the event? Tickets are not required. We invite you to register with Eventbrite to help us plan and to let you know what's happening. Feel welcome to just show up! There will be donation stations throughout the event and at the entrance. Thank you for visiting.
---
How can I contact Haliburton DrumFest with any questions?
Please email info@railsendgallery.com or telephone 705 457 2330
Organizer of Haliburton DrumFest
Rails End Gallery is a registered Canadian Charity devoted to bringing art to life in Haliburton. We present contemporary art, craft and music by local and regional Artists and are the host of two major Festivals annually in Head Lake Park: Haliburton Art and Craft Festival and Haliburton DrumFest. To learn more please visit our website