About this event
ADVANCE: $10 // DOS: $13
DOORS: 7:30PM // SHOW: 8PM
Halfloves
Halfloves is a 5 piece indie rock band from eastern Iowa. Each member found a passion for music in different settings and styles (classical, jazz, hardcore, indie) which makes for a unique collaborative context the band continues to explore and expand.
Halfloves released self-titled debut album in 2016 which was produced by Brandon Darner (prod. of Imagine Dragons, Dave Keuning of the Killers, etc.) After follow-up single "Wrong Songs" in 2017 the band began working on sophomore album "Dazer" which was released in 2019.
Dazer was recorded at The Magic Barn, second life of famed NY studio The Magic Shop where David Bowie, Lou Reed, Bjork, Coldplay and countless other legendary acts made their music. Dazer's lead-off single "A Little Lie" saw some early success following a review from acclaimed music critic Anthony Fantano (The Needle Drop) in which he likened the sound to Radiohead. UK publication Far Out Magazine called the track "a woozy pop-noir gem".
Most recently, Halfloves released single "Do U Follow Me?", a funky upbeat summer jam that plays with social media, social pressures and the need for approval. Atwood Magazine calls it "a standout in a sea of mediocrity".
Wave Cage
Wave Cage is a jazz fusion/electronic band based out of Iowa City featuring Ryan Garmoe on trumpet, Nolan Schroeder on sax, Jarrett Purdy on keys and synths, and Chris Jensen on drums. Their debut project, The Portrait EP, was described by Little Village Magazine as "an engaging, atmospheric, beautifully produced, and humorous recording", and by the River Cities' Reader as "evoking the smooth melodies and diverse textures of early Weather Report; the ambitious, everything-but-the-kitchen-sink arrangements of groups such as Jaga Jazzist; and the more genre-agnostic trip-hop beat decisions of such projects as Thievery Corporation and Zero 7." Wave Cage's second project is set for release in the spring of 2022 with financial support provided by a grant from the Iowa Arts Council, a division of the Iowa Department of Cultural Affairs, and the National Endowment for the Arts.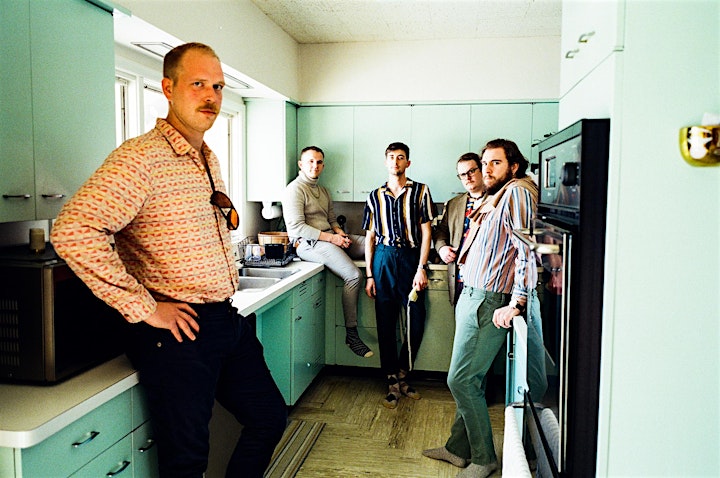 Organizer of Halfloves w/ Wave Cage