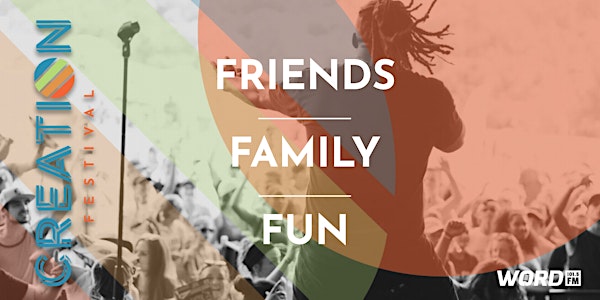 HALF-PRICE TICKETS to Creation Festival '23
Worshiping Our Creator!
By 101.5 WORD-FM/ 96.5FM & 730 AM WPIT
Location
Agape Farm 17512 Rapture Street Shirleysburg, PA 17260
About this event
IMPORTANT!
Creation '23 ticket prices increase the closer we get to the event. WORD-FM and our sister station WPIT are selling tickets at half the current ticket prices. After purchasing your half-price tickets here, you will receive a confirmation email from Eventbrite.
NOTE: This will NOT be your ticket to Creation '23! We (the station) will be mailing your admission tickets to the address you provide. We may also contact you by phone to make sure you received the electronic tickets.
LINEUP
SWITCHFOOT / WE THE KINGDOM / BIG DADDY WEAVE / MAC POWELL / MICAH TYLER / RILEY CLEMMONS / GIRL NAMED TOM / KB / KATY NICHOLE / TEDASHII / HULVEY / GABLE PRICE AND FRIENDS / JONATHAN TRAYLOR / BEN FULLER / OM-53 / RENEE / … and more!
LOCATION: Agape Farm // Shirleysburg, PA
For more information about Creation '23, go to www.creationfest.com
About the organizer