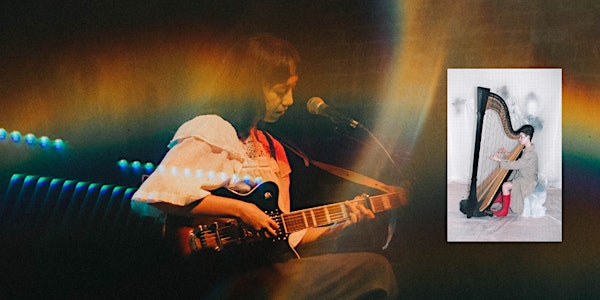 Haley Heynderickx, Sheers @ WASHINGTON HALL
Abbey Arts presents: Haley Heynderickx, Sheers live at Washington Hall
Date and time
Starts on Friday, April 21 · 7:30pm PDT
Location
Washington Hall 153 14th Avenue Seattle, WA 98122
Refund Policy
Refunds up to 7 days before event
About this event
2 hours 30 minutes

Mobile eTicket
"Haley Heynderickx's songwriting is crushingly intimate, vivid, melodically inventive, and completely unpredictable. Her debut album I Need to Start a Garden seamlessly contrasts her unconventional tunings and American-Primitive-inspired fingerpicking with enveloping sonic outbursts. Lead by her raw, immersive vocals, the Portland songwriter's music defies categorization. NPR called her "an utterly distinct and wonderfully nervy, idiosyncratic presence," while Stereogum named the album "one of the most intriguing and immersive debuts of the year."
-Artist Bio
"Heynderickx is the sort of virtuoso who puts her gifts toward making richer, more intricate, more deeply felt music"
-Stereogum
"[Haley Heynderickx's] songs alternately shimmer with playfulness and shudder with earnestness; one moment, they take a magnifying glass to bemusing, mundane details, and the next, they pose startling existential queries."
-Pitchfork
"The spacious harp textures underlying Sheers' music turn the flashy into fragile, like carefully opening a gift tied with silky ribbons of jazz harp. Sheers' songwriter Lily Breshears developed this sound over years of being a session harpist, which you can hear behind the voices of Moses Sumney, Weyes Blood, and more. Backing musicians Adriana Wagner (trombone) and Liz Harper (vocals) bloom around Breshears' crooning into heartfelt minimalism, solos peeking through.
With lyrics that often find intense nostalgia and flippancy in the same verse, Sheers sets are as relatable as they are virtuosic. Seemingly simple torch songs slowly unfold into a larger, abstract narrative built of small moments. Songs weave through romantic and platonic, new and old, disarmingly personal and distant – as if sifting through memories to find details lost to time."
-Artist Bio
This show sold out fast at Fremont Abbey so we're moving to a larger venue - the beautiful historic Washington Hall!
All tickets honored at new venue.
Please tell your friends there is more room now!
@ WASHINGTON HALL
153 14th Ave, Seattle
7p doors, 7:30p show
All ages, some seating available
Simple bar w drinks, snacks including various non-alcohol options
EVENT INFO:
Please limit phone use during the show so as to not distract other attendees from the experience.
We are an all ages venue. Kids 10 & under are free at Abbey Arts concerts & arts events unless noted.
Entering the venue indicates agreement to adhere to the Abbey Respect Policy. All are welcome.
ABBEY ARTS, SEATTLE | NONPROFIT 501C3, NON-RELIGIOUS, EST. 2005
Presenting welcoming music, arts & cultural experiences for people of all ages & incomes.
Home Venue: Fremont Abbey, 4272 Fremont Ave North, Seattle, WA 98103 / 206-414-8325
Note: All ticket sales are final unless noted. Lineup and performers are subject to change, no refunds for change of support acts.
--------------------------------------------------
See Updated Public Health Safety Info at the bottom of this page under Abbey Arts Presents. All Abbey Arts venues adhere to WA State & King County health guidelines. Thanks for helping keep our community safe!
--------------------------------------------------
About the organizer
Public Health Info:
Be sure to check your events ticketing page for any special requirements per event.
That being said, we still strongly encourage people attending to follow all safety protocols shown below and per King County Public Health.
Attendees are welcome to wear masks at their discretion, all are welcome. Please don't discriminate based on mask or no mask. Some people may opt to wear a N95 for their own protection.
Please check your specific event details before purchasing a ticket.
THESE GUIDELINES MAY CHANGE AT ANY TIME DUE TO PUBLIC HEALTH GUIDELINES
-----------MORE INFO--------------
All Abbey Arts employees & volunteers are vaccinated.
We are operating at full capacity and do not have any capacity restrictions unless otherwise noted in the event description.
We have added hand sanitizing stations and air filtration systems around our venues. We encourage you to regularly sanitize and fully wash hands when you use the restroom.
****
By entering the Venue, you and the members of your group voluntarily assume the risks of contracting COVID-19 and agree to release, waive, discharge and covenant not to sue any Artist performing or Abbey employee or company (including their owners, officers, employees, volunteers, agents and the City of Seattle), and hold these entities and persons harmless from liability regarding any and all claims relating to COVID-19 and indirectly or directly arising out of or relating to the Venue or event.
****
Individual events may have additional safety measures in place, see Ticketing pages for details.
-----------------------
ABBEY ARTS, SEATTLE:
NONPROFIT 501C3, NON-RELIGIOUS, EST. 2005
Fremont Abbey | Ballard Homestead | South Park Hall | St Mark's Capitol Hill | The Auditorium @ UHeights |  & more
Independent nonprofit, non-religious, all ages/incomes. 
Low Fee Tickets! No hidden high fees like Ticktmstr. :-)
[ Click here to subscribe to our optional text messages. ]
[The views and opinions expressed at events are those of the artists and performers and do not necessarily reflect Abbey Arts. About Page | Respect Policy.]
Refunds may be available per event settings.
No refunds due to support act changes.
Tickets for rental events may be via their website. 
Note: Entry requirements are subject to change. By purchasing tickets to this event you agree to abide by entry requirements in effect at the time of the event. Check the venue website leading up to your event for the latest protocols.