Halau i Ka Pono Showcase

Saturday, July 27, 2013 from 7:00 PM to 9:00 PM (CDT)
Event Details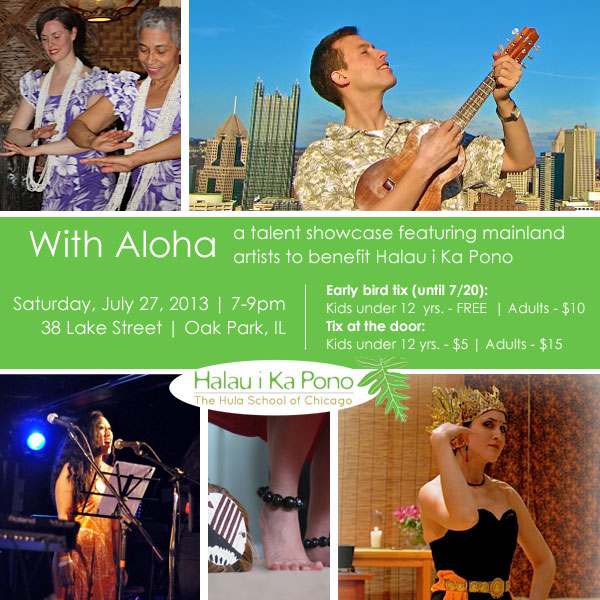 Join the Oak Park and Chicago area aloha community for an evening of hula and live music. This showcase of mainland talent features artists from the Halau i Ka Pono community. Proceeds from this event go to benefit Oak Park's sole educational resource for hula instruction - Halau i Ka Pono.

Featured performances include:
Hula kahiko (ancient) and hula auana (modern) from the dancers of Halau i Ka Pono

Mele (Hawaiian songs) sung by New York baritone, Jason Poole, (a.k.a. the Accidental Hawaiian Crooner) and Chicago mezzo, Czerina Salud

A Javanese temple dance presented by tribal dancer, Danielle Meijer

Tickets online (until 7/20):
$10 per person. Children under 12 years are free.
Tickets at the door (after 7/20):
$15 per person. $5 per child (under 12 years).

---
About Halau i Ka Pono and Kumu Hula June Kaililani Tanoue - http://www.halauikapono.org/about.htm
About Jason Poole - http://www.accidentalhawaiiancrooner.com/
About Czerina Salud - http://czerinasalud.wordpress.com/
About Danielle Meijer - http://www.alephdance.com/biography.htm
When & Where

Zen Life & Meditation Center
38 Lake St
Oak Park, IL 60302


Saturday, July 27, 2013 from 7:00 PM to 9:00 PM (CDT)
Add to my calendar
Organizer
Hula is the art of Hawaiian dance expressing all that we see, hear, taste, touch, and feel.
It is the main practice at Halau i Ka Pono, our hula school. Halau translates as "meeting house or place of learning," and i Ka Pono means "of goodness, well-being, righteousness."  Another way to say this is "place to cultivate the goodness."  The purpose is to teach indigenous Hawaiian culture and stories through the joy of dance.
Hula and healing go hand in hand.  The dance is a wonderful way to strengthen and get energy moving in the core muscles of the body.  It connects us to the grounding energy of the earth and opens us to the warm spirit of Aloha.  There are elements of mindful centering, flowing and breath-work involved in this Native Hawaiian dance form.   All ages can benefit.
June Kaililani Ryushin Tanoue, MPH is the Kumu Hula.  She started teaching hula in 2003 in New York City and Chicago.  She formally began her Halau i Ka Pono – The Hula School of Chicago™ in 2009 out of her home in Oak Park, Illinois.
June  is a fully empowered Zen Priest and Zen Teacher in the White Plum Lineage. She co-founded the Zen Life & Meditation Center of Chicago in 2004 and Zen Center of Hawaii in 1993 with her husband, Robert Joshin Althouse, Roshi.