Location
Hakone Estate and Gardens
21000 Big Basin Way
Saratoga, CA 95070
Refund policy
Contact the organizer to request a refund.
Eventbrite's fee is nonrefundable.
Remember you ancestors during Hakone Estate and Garden's First Annual Toro Nagashi. Visit www.hakone.com for more information on the event.
About this event
Toro Nagashi refers to the Japanese river lantern festivals held in summer where participants release candle -lit lanterns into the river together with their prayers for peace.
In summer, river lantern festivals (toro nagashi) are held all around Japan to commemorate the departed and pray for peace.
In Japan, it is traditional to revere one's ancestors, a principle known as sorei shinko ("reverence toward one's ancestors").
Around mid-August (mid-July in some regions), there is a holiday dedicated to the ancestors called Obon. During this time, families visit the graves of their ancestors and give special offerings to welcome their spirits, as it is believed that the ancestors' spirits return to their homes during Obon.
At the end of the Obon season, families send off the spirits of their ancestors using lights called the okuribi. The toro nagashi is a type of okuribi. It is a tradition where families thank their ancestors for visiting and protecting them by sending lanterns down the rivers or out to sea with offerings.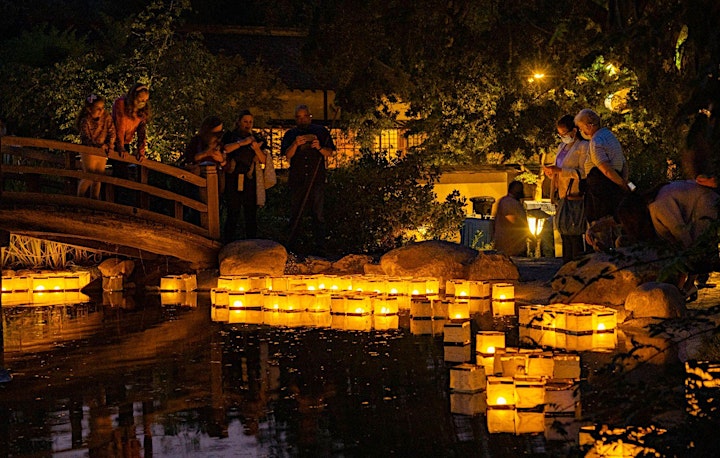 Admission to the gardens will be free, guests will pay for their toro (candle). Each toro will cost $30, and you can inscribe your own personal message on the toro.