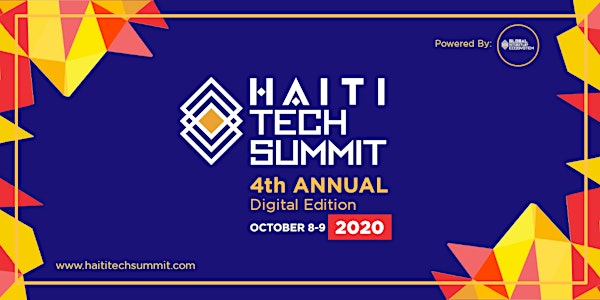 HAITI TECH SUMMIT 2020 (Virtual)
HTS 2020 Haiti Tech Summit, founded by Forbes 30 Under 30 Entrepreneur, Mother and Wife, Christine Souffrant Ntim, is a 13- year i
When and where
Location
VIRTUAL EVENT VIRTUAL EVENT Cotes des Arcadins Haiti
About this event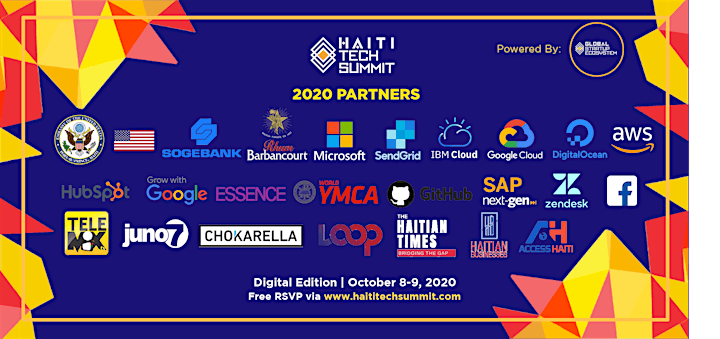 We are pleased to announce the 4th Annual Edition of Haiti Tech Summit (Digital Edition) where will bring 4,000 Digital Delegates together to not only initiate collaborations for Haiti but reposition Haiti on the global stage. This mega summit is on October 8-9, 2020.
Haiti Tech Summit is pleased to announce the 4th Edition of Haiti Tech Summit scheduled for October 8-9, 2020 virtually online powered by Global Startup Ecosystem and Sponsored by the US Embassy of Haiti and Sogebank and supported in partnership with Google Cloud, Amazon Web Services, IBM Cloud, Access Haiti, Dagmar, and more.
Haiti Tech Summit will welcome 100 global speakers and 4000 attendees for this free edition with a focus on the three pillars of ecosystem development- Entrepreneurship, Employment and Education.The theme is > 2020 World Economic Forum Great Reset- A Nation's Roadmap to A Decade of Digitization.
Since 2017, Haiti Tech Summit launched an inspiring 13 year mission to change the future of the country via technology and innovation.Deemed the "Davos of the Caribbean", Haiti Tech Summit has welcomed keynote speakers such as Jack Dorsey-founder of Twitter, President of Haiti- Jovenel Moise, Ben Horowitz- Investor in Facebook, Tom Davis- Chief Marketing Officer at Forbes Magazine, Vicky Jeudy- Actress at Netflix Orange is the New Black and 300+ speakers over the past 3 years. Each year the program generates 83 million to 150 million social media impressions with the partnership of media outlets such as Forbes, Inc Magazine, Black Enterprise, and more. Hundreds fly from all over the world to convene in Haiti to witness the largest tech conference in the Caribbean shape the tech ecosystem of the region.
Free RSVP via www.haititechsummit.com or email the team at events@globalstartupecosystem.com .