Description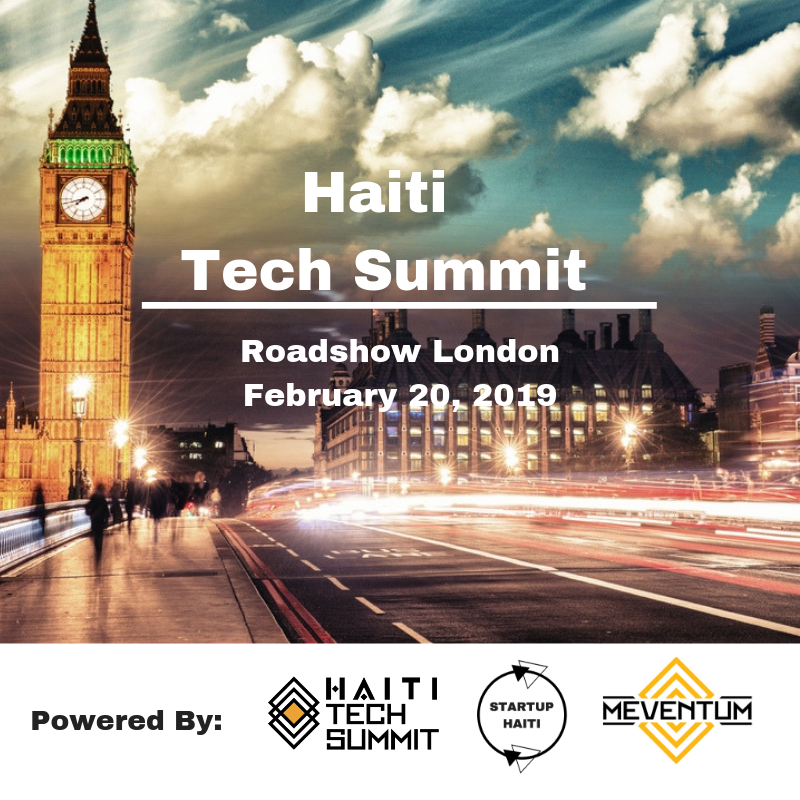 ---
The Haiti Tech Summit road show is back and we're heading to Paris, London, Montreal, New York, DC, Miami, London, Dubai and Silicon Valley. Join 100 influencers within the Haitian and Latam tech and business ecosystem! Learn how to get involved and join us on the beach in Haiti.
Agenda
6-6:30 Networking & Registration
6:30pm Opening Remarks by Haitian Embassy London Representative/ Ambassador
6:40-7pm Haiti Tech Summit 2017/2018 Recap and Impact by Founder Christine Souffrant Ntim
7:00pm Keynote remarks : What to expect for 3rd annual summit
7:45-8:00pm Networking & Photos
Location: Haitian Embassy London @ Swedenborg House in the Bloomsbury district- 20 Bloomsbury Way, London WC1A 2TH
---
Haiti Tech Summit
Deemed the "Davos of the Caribbean", Haiti Tech Summit brings together thousands of entrepreneurs, investors, celebrities and creatives under one roof together to address humanity's greatest challenges via tech and entrepreneurship. It is a part of a 13-year initiative to turn Haiti into an international tech hub by 2030. Haiti Tech Summit has welcomed keynote speakers such as Jack Dorsey-founder of Twitter, President of Haiti- Jovenel Moise, Ben Horowitz- Investor in Facebook, etc.
The event announcement was made on the eve of Haiti's 2010 earthquake anniversary and was shared by over 423,000 supporters within 24 hours.

Top 3 Reasons to Attend:
Top Prizes: Startup Founders can pitch for prizes at the Startup Pitch Showcase.

Global Publicity: Get featured in global press. Over 40+ media representatives will be in attendance. Media partners include Fast Company, Inc. Magazine, Black Enterprise, Ebony Magazine and more.

Amazing Insights: Hear speaker insights from Airbnb, Google Launch Pad, Uber and 40+ companies on the state of global startup ecosystems trends and insights happening in Ai, VR, Block Chain, Space and more.