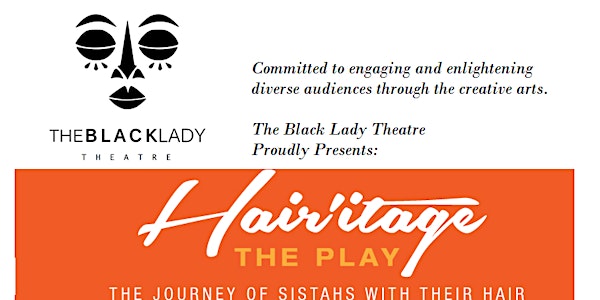 HAIRitage is moving to Times Square! Get Tickets at www.HAIRitageThePlay.c...
Location
The Black Lady Theatre
750 Nostrand Avenue
Brooklyn, NY 11216
Description
For Ticket information please call 917 887 1717
The Black Lady Theatre will present Playwright and director, Niccole Nero Gaines, latest play, Hair'itage The Journey of Sistahs with Their Hair, on stage starting Mother's Day Weekend (May 12th, 2017). The Black Lady Theatre is located at 750 Nostrand Avenue, Brooklyn, NY 11216. Tickets are available online for $25.00 General admission.
Hair'itage The Play uniquely tells the evolution of the Black woman's hair. Six "sistahs"- with different styles and grades of hair share how their hair has defined them, their love lives, self-image, and careers. Funny, deep, inspiring, and sometimes sexy, Hair'itage opens a deeper conversation around Black femininity, social perceptions, and how hair impacts the lives of Black women. Playgoers leave in awe – empowered, some even share tears of joy, as they can relate to the storyline from a personal perspective. Hair'itage is a journey that women and Men, from all walks of life, socio-economic backgrounds, and cultural backgrounds will enjoy.