Description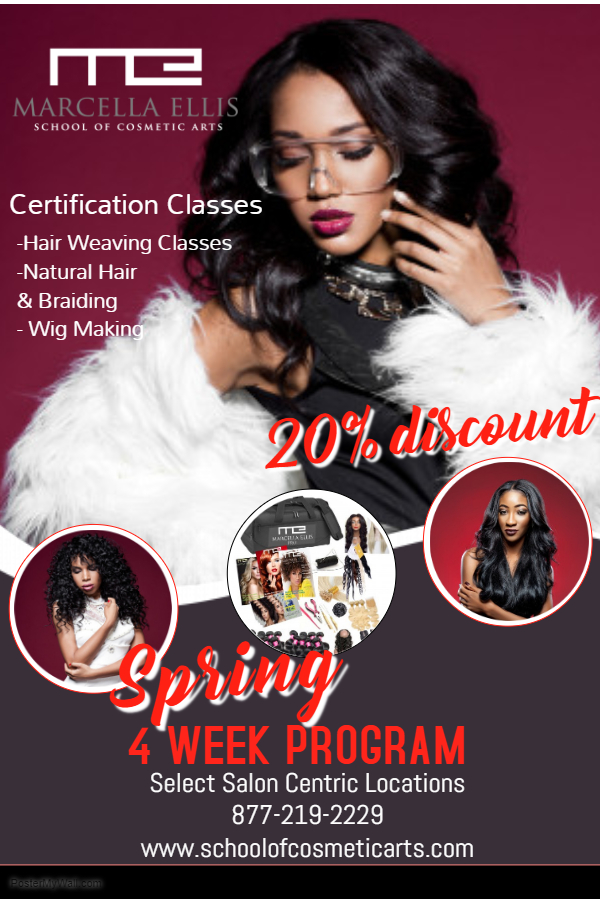 CLASSES ARE HELD EVERY SUNDAY FOR 4 WEEKS
SUNDAYS 12PM - 4PM
HAIR WEAVERS PROGRAM
* Laying the perfect foundation
* Multiple Braiding Patterns -Full and partial (with net, without net)
* Lace and Silk Base Closure/ 360 closure
* Properly attaching the lace frontal

* Zig -Zag Stitching Double Lock Stitch
In Addition:
You will learn the skills you need to build and maintain a customer base. You will learn in theory how to troubleshoot procedures, how to problem solve all hair types, how to provide the installment techniques in more than one method of attachment, from license and certified professional instructors.
We are registering students for our upcoming SPRING SEMESTER 2019! Our hair weaving program is only 4 weeks and I am giving a huge discount to those who can register today! The normal tuition price for 4 weeks of certification training is $800.00 if you choose the early bird registration you will receive the discount. We only have 5 spaces for early bird registration so register fast! Register now for only $450 for this 4 WEEK program. The class will be held in Alexandria, VA at SalonCentric professional wholesale distribution center. This is the best investment you will ever make to learn hair extensions and be certified! Immediate returns on your investment! All supplies included in your registration. You will need to bring a mannequin and stand, pen and notebook, all other supplies will be provided by your instructor to use while training.
Discounted payment $450- Please bring your mannequin and stand, pen and notebook. You will use class supplies to train.
Full tuition payment $800- Please bring your mannequin and stand, pen and notebook. You will receive a personal hair extension kit to use in class and is yours to keep.
If you pay the $800.00 full tuition you will receive a personal extension kit to use in class. Call or text for more information. 877-219-2229
Please register early we will not accept any last minute registrations. Class ratio is 10 students to 1 certified licensed instructor.
All instructors have over 10 years experience in the field of cosmetology, licensed and certified by the state and are employees of:
Marcella Ellis School of Cosmetic Arts
Cosmetology Licensed School in the state of VA
703-261-6313
www.schoolofcosmeticarts.com