[HAIR] US - A talk about black women's hair at work
[Hair] Us - A Roundtable Talk About Black Women's Hair at Work
About this event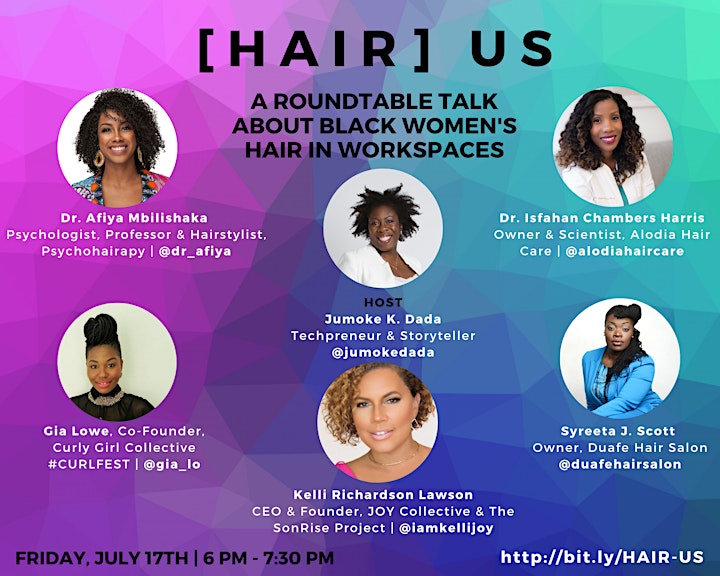 You are invited to a roundtable discussion about black women's hair.
On July 3, 2019, The Crown Act was signed to combat discrimination against race-based hairstyles in the workplace in California. On July 4, 2020 women across the nation celebrated a National Crown Day campaign to mark one year since the legislation was passed and raise awareness.
On Friday, July 17th, join a panel of experts for a discussion about hair in the workplace as they touch on hair health, work culture, consumer marketing, and legislation.
You are encouraged to attend if you are an employee, employer, colleague, diversity and inclusion leader with interest in learning more about black women's hair.
#HairUs
______________________________________________________________________________________
ABOUT THE SPEAKERS:
Dr. Afiya Mbilishaka is a therapist, professor, research-scientist, hair historian, and hairstylist. She is the owner of Ma'at Psychological Services, a private practice in Washington, DC focused on promoting balance and restoring order to the lives of her clients. She is an Assistant Professor of Psychology and Psychology chair at the University of the District of Columbia that focuses on understanding and using traditional African cultural rituals for contemporary wholistic mental health practices. She is a graduate of the University of Pennsylvania. She studied the psychological significance of race within lives and earned a Ph.D. in Clinical Psychology from Howard University at the age of 26. She is the former Association of Black Psychologist DC chapter president.
Dr. Mbilishaka innovated the practice and research of, "PsychoHairapy," where she uses hair as an entry point for mental health services in beauty salons and barbershops, as well as through social media. She is the principal investigator of the PsychoHairapy Research Lab and has been a research advisor to over 30 students. Dr. Mbilishaka has published over 20 peer-reviewed journal articles, 7 book chapters, and 2 books. She has presented at over 40 universities and conferences. Dr. Mbilishaka has been identified as a subject matter expert by the Senate and House of Representatives, testifying nationally on the behalf of the CROWN Act, an anti-discrimination law to protect Black hair. She has now gone international, leading cultural and mental health-focused trips to Cuba and to various African countries. Dr. Mbilishaka is a natural hairstylist at N Natural Hair Studio in Silver Spring, Maryland where she loves creating art with locs, twists, and afros.
Dr. Isfahan Chambers-Harris earned her B.S. in Biology from the City University of New York- Medgar Evers College and Ph.D. in Bio-Medical Sciences from Morehouse School of Medicine, Cardiovascular Research Institute. Dr. Isfahan officially began her medical career as a postdoctoral fellow at Vanderbilt School of Medicine. She conducted genetic research on autoimmune disease, Sarcoidosis. While at Vanderbilt, Dr. Isfahan also earned her Master's in Public Health, which allowed her to focus on diseases that affect disadvantaged populations. After earning her Masters, she went on to become a Presidential STEM Fellow at the National Institutes of Health (National Institute of Allergy and Infectious Diseases) in Bethesda Maryland.
For years, she battled hair breakage and scalp damage from chemical straighteners. Desperate for a solution, she utilized her science/medical expertise to develop the Nourish and Grow Healthy Hair and Scalp Oil, her first product. Inspired by her hair transformation and her desire to help other women with their hair, she took 3 years to meticulously create the full Alodia line, officially launching in 2017. Alodia is an eco-luxe brand that features a full line of all-natural products and customized style kits designed to make the growth and maintenance process simple, specifically for textured hair types.
Named one of Essence Magazine's 50 Founders to Watch, Gia Lowe is an innovative visionary and purpose-centered leader with over 10 years of experience in business development and marketing strategy. As founder & principal of Glowe Group Consultancy and co-founder of the Curly Girl Collective & CURLFEST, Gia believes that relationships are one of the most valuable currencies in the economy of a thriving business. Her work in designing partnerships and marketing strategies, stands at the intersection of beauty, culture, equity and economic justice. With a culturally congruent methodology, Gia has executed partnerships with industry leaders such as Unilever, Target, Netflix, and BET, leading to authentic connections between brands and consumers.
Gia's dynamic career spans industries including Risk Management, Marketing, Non-Profit, and Tech. Earlier in 2020, she launched GloweTribe, a brave space designed for a brigade of high achieving women to master the art of standing by their own sides in the areas of wealth, wellness, and accountability.
Kelli Richardson Lawson is an Emmy Award-winning creative visionary and purpose-driven business leader with over 30 years of global experience in brand building. As founder and CEO of JOY Collective, Kelli believes her company is "inspired and committed to creating JOY for our clients, our community and the world." JOY Collective's current clients include Dove (including leading The CROWN Act movement to "Create a Respectful and Open World for Natural Hair," WW (formerly Weight Watchers), the U.S. Naval Academy, GTB/Ford, Tory Burch and many more.
Kelli's distinguished career spans multiple industries, including Consumer Packaged Goods, Media and Entertainment, Book Publishing and Technology. Her leadership across consumer insights, marketing, advertising, communications, special events, public affairs, and sales translated to exceptional results for powerhouse brands including Procter & Gamble (P&G), BET Networks (Viacom) and Dell. In addition to driving volume, share, and ratings increases for P&G and BET, respectively, Kelli created multiple award-winning creative campaigns.
Earlier in 2020, Kelli launched "The SonRise Project," a safe space for parents of children who struggle with mental illness and addiction. A proud mother of two teenage sons, Kelli has experienced these challenges first-hand. Driven to make a difference, she hosts weekly calls at "SonRise" (Sundays at 9 am ET) to allow experts to share knowledge with parents who can listen and learn from one another.
Since 2001, Duafe has been a trendsetter in holistic hair care, with Duafe. Receiving a "BEST OF PHILLY" award for the stylists' expertise and excellence in customer service for 2 consecutive years. Duafe is an elite designation for holistic natural hair care, having its styles featured in O Magazine, Essence, Ebony, Philadelphia Magazine, Business Week, Vogue, Black Enterprise, and Rolling Stone. I can still remember my first paying client in my small bedroom in my Mother's house. Since then, we have had celebrity clientele come to Duafe. We have done hair for event-goers for The Nobel Peace Prize, The Grammy's, and The Kennedy Center Honors. Duafe's clientele list is the who's who of politics, film, literature, and music, including - Janet Jackson Smokey Robinson, Ava Duverney, Jill Scott, Ty Tribbett, Questlove, and Sonia Sanchez. And that's all great...but we most enjoy our everyday clients who have remained loyal through all of our ups and downs. I'm still the young girl in her bedroom doing hair for the women on my block.
________________________________________________________________________________________
ABOUT THE HOST:
Jumoke K. Dada, Techpreneur & Storyteller, Tech Women Network + HUE Tech Summit
Jumoke is best described as a visionary and techie whose sweet spot lies at the intersection of innovation, entrepreneurship, goodwill, and girl power.
With over 15 years of experience working in corporate I.T., she provides technology consulting services and creates tools and experiences for women interested in careers in technology. Passionate about educating women and girls, she is an international public speaker and tech contributor for ForbesWomen. During the summer she gives back to college-bound girls by hosting a beauty drive and send-off event called Project ALOE. Visit her portfolio site dadaverse.org to learn more.