About this Event
Doors 7:30PM ✹ Show 8:00PM
$20 ADV ✹ $25 Day of Show ✹ 21+
ABOUT SUMMER SERIES AT INDUSTRY CITY▶
Created by the team behind Brooklyn venues The Bell House and Union Hall, City Farm Presents returns to Industry City for a second summer of outdoor shows in Courtyard 1-2! From June-September, this season features an expanded schedule with more than 35 concerts and dance parties. Audiences can expect to discover a diverse line-up featuring genres spanning rock, soul, electronic, jazz, world and beyond. This summer will introduce thoughtful artist curation to an already unique and creative space, bringing a fresh take on the New York City outdoor concert experience. For more information, visit our Website or the City Farm Presents Facebook, Instagram or Twitter.
All Summer Series shows are located at Industry City in Courtyard 1-2 (info and directions below).
Doors open one hour prior to performance unless otherwise noted.
VENUE ADDRESS ▶
Industry City - Courtyard 1-2
Entrance at 238 36th Street (Food Hall Entrance)
Brooklyn, NY 11232 | Google Maps
DIRECTIONS TO THE VENUE ▶
☞ BY CAR
There is a paid designated parking lot accessible via 2nd Avenue between 32nd Street and 36th Street
☞ BY PUBLIC TRANSPORTATION
D / N / R to 36th Street
B63 Bus to 36th Street
☞ BY BIKE
There are bike racks located throughout the Industry City campus.
There is a Citi Bike bike sharing station located at 2nd Ave between 36th Street and 35th Street, and another at the corner of 2nd Ave and 39th Street.
FOOD OPTIONS AT INDUSTRY CITY▶
Eat your heart out Brooklyn. From Korean comfort food to Instagram-famous Avocado toasts, Industry City's Food Hall is a delicious culinary gathering place in the center of campus. Stroll along Innovation Alley and beyond to discover other Brooklyn-based purveyors serving up local craft spirits distilled on site and some of the country's best BBQ.
Table 87 Pizza
Burger Joint
Ends Meat
Avocaderia
Taco Mix
Recently opened Japan Village (Building 4)
Hometown BBQ (Building 5 - Opening Soon!)
Click Here For Food Options Near Courtyard 1-2 in Industry City
VENUE BAR HOURS ▶
Our venue bar is open for all scheduled performances at doors, and in addition to:
Thursday-Friday: Opens at 4:00PM
Saturday-Sunday: Opens at Noon
✴ Happy Hour! ✴
Weekdays 4:00pm-7:00pm, $1 off all beer, wine and well!
RAIN OR SHINE POLICY▶
All Performances are Rain or Shine. In the event of dangerous weather we will be communicating updates on our website, Facebook, Instagram Stories and Twitter.
✹✹✹✹✹✹✹✹✹✹✹✹✹✹✹✹✹✹✹✹✹✹✹✹✹✹✹✹✹✹✹✹✹✹✹✹✹✹✹
ABOUT HAILU MERGIA ✹
Capping several successful years traveling the world performing to audiences big and small, Hailu Mergia will release his first new album in over 15 years, Lala Belu, on March 9.
Lala Belu has been a long time coming and builds on Mergia's remarkable career resurgence over the past few years. Beginning in 2013 with the reissue of his dreamy Hailu Mergia and His Classical Instrument followed by the enormous success of his seminal Ethio-jazz masterpiece Tche Belew and continuing with last year's widely acclaimed Wede Harer Guzo, Mergia has received considerable accolades from listeners
and press globally, including The New York Times, Pitchfork and The Wire. His old recordings are cherished revelations for Ethiopian music fans; however, Mergia's return to the stage has been just as inspiring and electrifying.
Mergia's vintage recordings are known for an inherently mysterious and worn-in quality, while his new recordings echo his band's 21st century live show with modern instrumental interpretations of crucial Ethiopian standards and Mergia's own original compositions. Tony Buck (drums) and Mike Majkowski (bass), who have backed Mergia on tour throughout Europe and Australia, form the bass-drums trio on the recording. Having played venues from Radio City Music Hall and the Kennedy Center to jazz festivals, rock clubs and DIY spaces all over North America, Europe and Australia, Mergia and ATFA want to document this moment in his landmark career with a snapshot of his current sound. Mergia has a strong awareness of how much has changed for him since his last studio record, selfreleased in 2003: "It is a very historical album for me. And I am extremely excited. All of it feels like a big comeback. A different kind of audience, playing with a different kind of band and working with a different kind of record company. The album is very different from all the albums I did after I left Ethiopia."
The trio recorded the basic tracks in London in 2016 at EMS4 and Mergia completed them, adding overdubs and overseeing mixing in D.C. at Cue Studios with engineer Javon Gant. The album was mastered by Jessica Thompson, who has painstakingly excavated audio and remastered all Mergia's recent reissues.
Since he emigrated from Ethiopia and built a life in Washington, D.C. around 1981—where he remains working as an airport taxi driver when he is not on tour—Mergia's career has followed a humble trajectory. He made a few recordings in America but they didn't easily reach fans back home. He kept making music on his own and with friends but after the early 80's his gigs in the U.S. mostly dried up. It wasn't until he began working with Awesome Tapes From Africa and putting together bands with the help of booking agents and musicians in Europe and the U.S., that he was able to chart a new path. With a broad audience of young listeners in diverse venues and distant locales, at age 71, Mergia is enjoying his comeback and is not slowing down.
ABOUT KASSA OVERALL'S "BLUE SWAMINI" FEATURING BRANDEE YOUNGER ✹
In Hinduism, a swami (Sanskrit: स्वामी svāmī [sʋaːmi}) is an ascetic or yogi who has been initiated into a religious monastic order. The meaning of the Sanskrit root of the word is '[he who is] one with his self.'
Kassa Overall channels this philosophy into his latest project, Blue Swamini. He is continuing a lineage of African American musicians with roots in the blues aesthetic who have sought to fuse their creativity with ancient spiritual traditions-- Alice Coltrane, Pharoah Sanders, Yusef Lateef, Ahmad Jamal, to name a few.
Overall is returning to this tradition at a crucial moment—musically, politically, and spiritually. Escaping from the divisive forces of social media and individualism, Blue Swamini is a deeply necessary meditation on universal oneness. The evolution of a practice, seeking balance and equality beyond the confines of race, gender, identity and religion.
The combination of harp, vibraphone, acoustic bass, and drums offers a wider sonic palette, an increased dynamic range often leaning towards ambient with tonal and atmospheric quality. With original compositions and new arrangements from the spiritual jazz tradition, the group's sound carves out a fresh space for itself in this current musical moment.
LINKS/PRESS:
https://www.kassaoverall.com/
https://www.instagram.com/kassaoverall/
https://www.facebook.com/kassaoverallofficial
https://www.youtube.com/watch?v=bfOzialZUhM
WGBO
"Kassa Overall is best known in jazz circles as a strong, adaptable drummer, with a history that includes affiliations with Geri Allen and Vijay Iyer. He has also earned a reputation for his work in experimental hip-hop, as a producer and spoken-word artist. Overall is now engaged in the process of merging all of his musical interests, notably through Time Capsule, a seven-month residency at The Jazz Gallery. "La Casa Azul" is a head-bobbing tune featuring the late trumpeter Roy Hargrove, who was honored on Tuesday with an epic celebration at Jazz at Lincoln Center. The track features Overall rapping, in a seductive key, while Hargrove's multi-tracked horn forms a scaffolding. (Don't miss the piano quotation of Hargrove's classic "Strasbourg / St. Denis," near the end of the track.)"
- NATE CHINEN
NEW YORK TIMES
"Kassa Overall's new album — the irreverently titled "Go Get Ice Cream and Listen to Jazz" — attests to the diverse musical identity of this drummer, producer and rapper. It's one of the few genuine-sounding, full-scope amalgams of contemporary hip-hop and jazz to surface in recent years. On "Who's on the Playlist," as the pianist Sullivan Fortner traces the chords to Miles Davis and Bill Evans's "Blue in Green," Overall, 36, daubs his snare drum with brushes, then adds a splatter of electronic percussion."
- GIOVANNI RUSSONELLO
CITY ARTS
"Overall, Overall's music bridges Coltrane-esque spiritual-quest jazz, Brainfeeder Records' trendsetting cosmic beat science, Shabazz Palaces' Afrofuturist art rap and his own special brand of unpredictable, alluring weirdness. It's all impeccably cool and endlessly compelling. The man excels not only in technical ability but in that rarer, perhaps more important realm of taste. He's one of those people who's not only good at everything he does but is often the only one doing the thing he's doing."
-JONATHAN ZWICKEL
Sign up for our newsletter! http://eepurl.com/geb4kf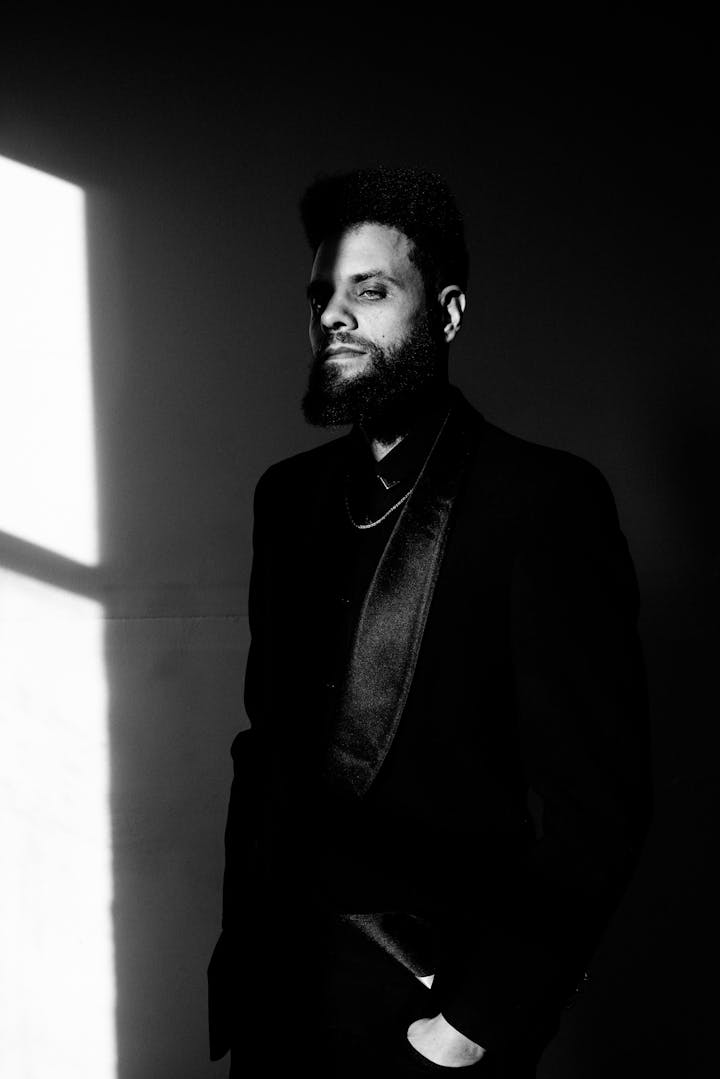 Performers
Date and Time
Location
Industry City
238 36th Street
Courtyard 1-2 (Food Hall Entrance)
Brooklyn, NY 11232
Refund Policy