HaHa-HipHop w/ Khaled TheComic & Khaled M

Wednesday, April 11, 2012 from 7:00 PM to 9:00 PM (CDT)
Event Details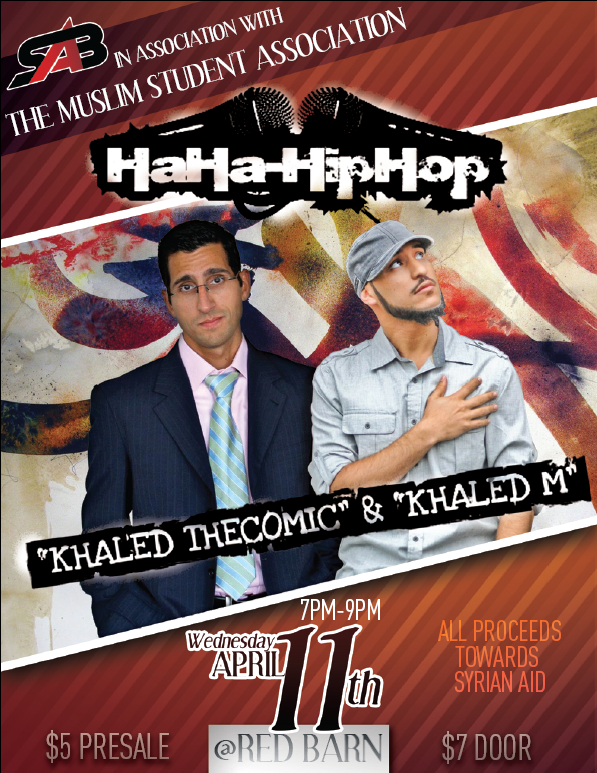 When & Where

Red Barn

Louisville, KY 40208


Wednesday, April 11, 2012 from 7:00 PM to 9:00 PM (CDT)
Add to my calendar
Organizer
Arab-issh
[

ABOUT ARAB-ISSH

]


1. Arab-issh [\'ar ?b i-ssh\ n, adj. v, adverb] 1. Arab-issh is the next generation of comedians calling the MidEast, Mediterranean, North Africa and/or South Asia their ancestral home.
These artists use comedy to discuss their lives, vision and experiences straddling two cultures while living in North America. With unique perspectives on mistaken and misunderstood identity,Arab-issh shares the scary, mundane and funny real-life situations with audiences and critics.

 
Origin: Chicago, 2010 Based out of Chicago, Arab-issh has established a platform for the next generation of "brown" to "cafe olé" comics on the local, national and international stages. Comprised of its core member: Khaled; Arab-issh uses a variety of forms and flavors including stand-up comedy, sketch comedy and comedic writing as methods for comedic expression. Arab-issh also works to cultivate and encourage new talent across the US and Canada.
Related forms and uses
Arab-issh also Arab-ish, adjective, noun "Hey that guy looks Arab-issh, let's get his number!"
Arab-issh, verb, "You need to keep it real and let them know about that Arab-issh!"

Arab-issh, adverb, "That woman? She's Arab-issh – smart, beautiful, down to Earth AND she'll treat you right."
HaHa-HipHop w/ Khaled TheComic & Khaled M