Hadoop in Finance Day Chicago

Tuesday, September 18, 2012 from 8:00 AM to 6:30 PM (CDT)
Event Details
Date: Tuesday 18th September 2012, 8:00am to 6:15pm.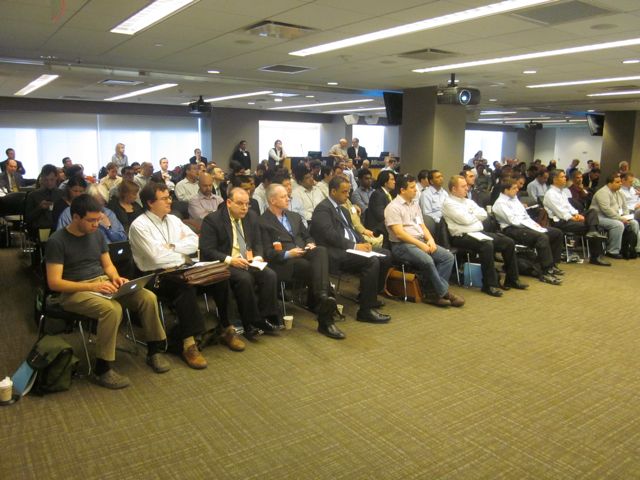 Venue: Microsoft's Offices, Chicago, IL.
Registration: http://hadoopinfinancechicago.eventbrite.com/
Past attendees: Bloomberg, JPM Chase, Citigroup, Morgan Stanley, NASDAQ, ING, Blackrock, Wells Fargo, ... , hedge funds, HFT shops, Hadoop vendors, ... , and more. Check out the feedback from the New York event in March at the bottom of this page.
~~~ AGENDA ~~~
08:00-08:45: Registration and time to mingle.
~~~ PART 1: Big Data in Finance ~~~
08:45-09:00: Welcome Address ~ Michael Dokich, Microsoft & Andrew Sheppard, Fountainhead.
09:00-09:30: Big Data in Finance, By the Numbers ~ Andrew Sheppard, Fountainhead.
Data in finance is growing quickly, driven by a number of factors from increased trading volume to new and far-reaching regulatory mandates. This talk will discuss (and quantify) where we are with big data in finance and, more importantly, where we seem to be heading.
09:30-10:00: Big Data in Finance, Challenges & Opportunities ~ Rick Fath, CME Group.
Find out how one company is meeting the challenges and opportunities of Big Data.
10:00-10:30: Break and time to mingle.
10:30-11:00: Big Data in Finance, A Regulator's Perspective ~ Andrew Sheppard, Fountainhead.
Big Data more and more falls under the purview of the regulators. You'd better understand the issues before embarking on that Big Data project.
"Hadoop in Finance Day", New York, March 2012
~~~ PART 2: Hadoop in Finance ~~~
11:00-11:30: Hadoop, An Overview ~ Jonathan Seidman, Cloudera.
Hadoop is more than a single tool, it is the hub in a wheel of complementary tools (Hive, Pig, HBase, Mahout and others). This talk gives an overview of the Hadoop tools set.
11:30-12:00: Hadoop's Place in Financial Services ~ Adam Gugliciello, Datameer.
Hadoop is already finding wide application in financial services; a trend that looks set to expand considerably in the coming years. This talk covers how Hadoop is currently being used with financial Big Data, and where it might find even wider application in the future. Basically, how financial Big Data fits together with Hadoop.
12:00-13:15: Book prizes.




Informal pizza & soda lunch.




Time to mingle.

~~~  Bonus lunch & learn sessions ~~~

MATLAB & Hadoop ~ Eugene McGoldrick, The Mathworks

A first look at methods of bringing MATLAB numerical analysis to large data through Hadoop.  During lunch, Eugene McGoldrick, Director of Development for Financial and Application Deployment from MathWorks, Inc. will discuss options for integration of MATLAB execution on Hadoop infrastructure. 

Big Data, An Integrator's Perspective ~ Jim Buonocore, Alliance Global.

Integrators of Big Data have the advantage of implementing projects across different areas of finance, and across different functional departments in large institutions. Often the challenges are more than just technical. Hear what one integrator has to say about the challenges and the opportunities and how to successfully integrate Hadoop and other technologies into your Big Data projects.
13:15-13:45: Hadoop in the Cloud ~ Abhishek Mehta, Tresata.
Big Data, many say, belongs in the Cloud. Hadoop will be there to receive it! This talk discusses the advantages of putting financial data in Hadoop in the Cloud.
13:45-14:30: Finance, Big Data and Hadoop ~ Panel Discussion, Tom Groenfeldt, moderator.
Viewpoints, opinions and Q&A with a panel of experts.
Slim Baltagi, CME Group.
Adam Gugliciello, Datameer.
Andrew Acosta, Chief Data Scientist, Milesius Capital.
Abhishek Mehta, Tresata.
Krishna Nimmagadda, MetaScale.

Ted Dunning, MapR.

Wenming Ye, Microsoft Evangelist for Big Data & HPC.

Ari Zilka, Hortonworks.

Carmen Taglienti, BlueMetal Architects.
14:30:15:00: Hadoop, Migrating and Managing Financial Data ~ Phil Shelley, MetaScale.
OK, so you've decided to put data in Hadoop. Now what? This talk covers some of the issues you will face as you move data to Hadoop and manage it there. Also, you need to integate Hadoop with other data (because not everything belongs in Hadoop), and this talk discusses the challenges and solutions of integrating with legacy data.
15:00-15:30: Break, and time to mingle.
 15:30-16:00: Hadoop Scalability and Performance ~ Ted Dunning, MapR.
Wherever you store and analyze your financial "Big Data" scalability and performance is key. Hadoop scales and performs well "out of the box", but there's much you can do to make the most of your hardware and improve both scalability and performance.
~~~ PART 3: Data Analysis Using Hadoop ~~~
16:00-16:30: Excel With Hadoop ~ Wenming Ye, Microsoft Evangelist for Big Data & HPC.
Excel is the de-facto front-end of choice in finance. From the trading desk to the risk department, Excel is ubiquitous; and for good reason, it's a data analysis tool that everyone knows how to use. This talk shows how to use Excel as a front-end to Big Data in Hadoop for financial analysis.
16:30-17:00: Data Analysis with Hadoop ~ Ari Zilka, Hortonworks.
Analysts are increasingly interested in new types of unstructured data – sentiments expressed online, and text from newswires and social networks, and others. Exploiting these new data sources is leading to new insights and new business opportunities. Hadoop forms a data 'refinery' that when integrated with traditional data warehouses and using Hadoop's ecosystem of analytical tools unlocks patterns that underly the data. 

~~~ PART 4: Case Studies ~ Financial Big Data & Hadoop ~~~
17:00-17:30: Hadoop: How VoltDB is Making Hadoop a More Productive Tool for the Enterprise ~ Scott Jarr, VoltDB.
Boost Hadoop by deploying a high-performance in-memory database and real-time analytics into the data pipeline.
17:30-18:00: Hadoop: Raw Data to Realtime Decisions ~ Carmen Taglienti & Phil Young, BlueMetal Architects.
Business intelligence solutions can leverage CEP (complex event analysis) with Hadoop to make informed decisions in real-time from operational and transactional data. Tools in the Hadoop ecosystem such as Hive and Mahout allow you to perform in-depth analysis using the full fidelity raw data to modify queries to adapt to changing business needs and newly discovered patterns.
18:00-18:15: Wrap up. Book prizes for best questions. Prize for questionnaire.
18:15 …     : Drinks reception hosted by Hortonworks and Microsoft. All welcome!
Note: The agenda and speakers is being finalized and are subject to change.
~~~ About Fountainhead ~~~



 

 

Fountainhead is a "Big Data" and "Big Compute" company that specializes in HPC & GPU for financial services and insurance.

 

The principals of Fountainhead are Didac Artes (photo right) and Andrew Sheppard (photo left) who, between them, have 45 years of experience working in finance in Europe, Asia and North America.

Andrew Sheppard

 

Didac Artes

 

You can check out Fountainhead by following these links (just use Google/Bing to search on the text string):

•  Nvidia / "GPUs in the Big Apple"

•  Forbes / "Supercomputing and High Performance See Growing GPU Adoption"

•  O'Reilly / "GPU Supercomputing for Finance"

•  North American Trading Architecture Summit / "Harnessing the power of GPU-architecture"

•  SC11 / "Supercomputing 2011 conference"

•  Meetup.com / "HPC & GPU Supercomputing Group of New York"

•  AMD Fusion 2012 / "Hadoop+GPU"
~~~ Feedback from "Hadoop in Finance Day", Mon 26th March 2012 in New York ~~~
"The Hadoop-in-Finance conference was a great hit."
-- Tim Child, 3dMashup
"Thanks again for the having me speak at the conference. I learned a lot."
-- Andrei Kirilenko, Chief Economist, Commodities Futures Trading Commission (CFTC)
"Thanks again Andrew for putting this great event together!"
-- Brad Sarsfield, Microsoft
"Nice mix of talks."
-- Bill Olik, ING Bank
"Excellent mix."
-- Tom Groenfeldt, Forbes Magazine
"Good presentations."
-- Chip Yang, NYSE Euronext
"Good sessions and speakers."
-- Jalil Vaidya, Wells Fargo
"Excellent event."
-- Tony Cuomo, SGI (Silicon Graphics)
"Excellent meet. Provided information about current status and future of Hadoop."
-- Mihir Patel, NYU-Poly, Finance and Risk Engineering Department
"Great event! Good variety of speakers."
-- Johnny Drandrall, KPMG
"Thanks!"
-- Christian Blanke, SSARIS (State Street)
"Very content rich event! Nicely done!"
-- Jaime Fitzgerald, Fitzgerald Analytics
"I am glad to have been exposed to so much information about Big Data and I met some great people."
-- Sarah Nagy, Quant Consultant
"Great event Shep. The 'Hadoop in Finance' event was awesome!  Thanks for putting that together. Thanks++"
-- Joe Cappelleri, ING Bank / Ionic LLC
"I wanted to thank you for inviting me to the conference today and for putting it together. It was interesting and useful (and well-run!)."
-- Adam Klein, Lambda Foundry
"... it was very useful and highly relevant."
-- Stuart Farr, Deltix Inc.
"Thanks for organizing the event!"
-- Shaun Connolly, Hortonworks
"This was a good session and it allowed me to give some of my internal customers a 'non-Tom Savarese' perspective.  Which is good, as it seems to be in line with much of our thinking."
-- Tom Savarese, JPMorgan Chase
"Thanks. It was a great meeting."
-- Gail Ennis, Karmasphere
When & Where

Microsoft Offices
200 East Randolph, STE 200
Chicago, IL 60601


Tuesday, September 18, 2012 from 8:00 AM to 6:30 PM (CDT)
Add to my calendar
Organizer
Fountainhead is a consulting, training and recruitment company that specializes in cutting-edge technologies applied to cutting-edge finance.