Description
Columbus Underground invites you to ring in the New Year in style at Hadley's Bar + Kitchen!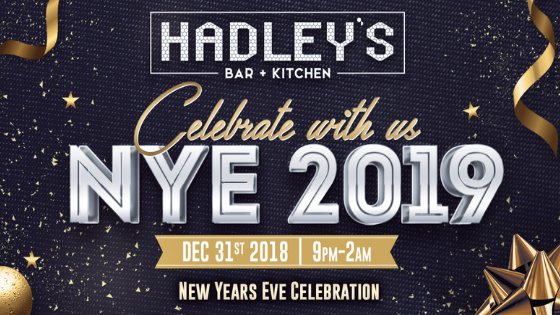 Ticket holders will be treated to beer, wine, and top-shelf drinks plus featured appetizers from the Hadley's menu and a DJ to keep the party moving all night. Each guest will be invited to welcome in 2019 with a champagne toast at midnight and the party won't stop until 2am.
Special all inclusive tickets for the first 50 guest at $75 with tickets increasing to $95. Don't miss out!
The open bar will be available from 9:30pm-12:30pm and passed hors d'oeuvres will be available until 11:30pm.
Hadley's Bar and Kitchen is tucked into a bustling stretch of South 4th Street, making it a great place to ring in 2018 Downtown. Since opening in August 2016, it has already exploded on the scene. Hadley's inspiration began with the hunt for the best burger, so genuine and satisfying that you can't wait to indulge in a cocktail or your favorite craft beer. This idea has catapulted a hip and satisfying menu that brings taste to the forefront of conversation. Get a taste of their satisfying menu and diverse drink offerings with your all-inclusive New Years Event Tickets!
Must be 21 years and over to attend.
For more information about Hadley's, visit www.hadleysbar.com.
Package operated in compliance with OAC 4301:1-1-58, and ORC 4301.21. Package begins at 9:30pm ETD. Management and Agents will be on hand to monitor intoxication of patrons as necessary. Consumption will be monitored by tickets distributed upon entrance. Shots, "on the rocks" and "neat" pours are excluded.
Hadley's reserves the right to refuse service. All tickets are nonrefundable. Please drink responsibly.
By purchasing a ticket to the event, you agree to be contacted by the Event host via e-mail about information regarding this event and future events. Your e-mail address will not be shared with any other entity.