Description
The DORO Restaurant Group is teaming up with Sub Edge Farm to offer a cornucopia of delectable summer and fall events! You can feed your appetite for fresh and hearty locally grown foods and quench your thirst for knowledge – and exquisite cocktails, beer and wine!
This first event features Chef John Medonis of Treva Restaurant & Bar.
---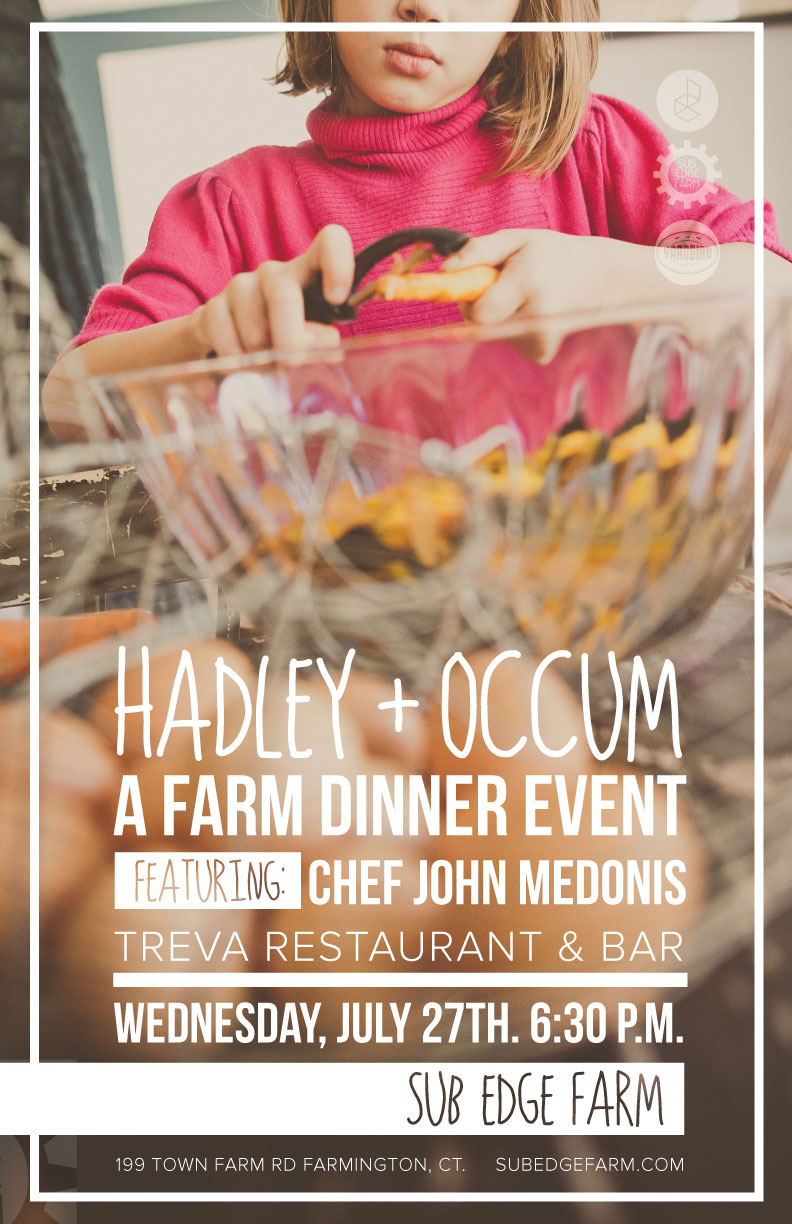 ---
HADLEY & OCCUM FARM DINNER SERIES
Join us for food and wine events celebrating the amazing foods grown right here in Connecticut. Sub Edge Farm teams up with the DORO Restaurant Group for extraordinary evenings including farm tours, beverage tastings, and a four- to six-course feast crafted by Chef Scott Miller, the pioneer of this areas Farm to Table movement, along with the Chefs of the DORO Restaurant Group including Owner Chef Dorjan Puka. Each meal will be handmade on site on in collaboration with Chef Eric Stagls' foodtruck, YARDBIRD & CO.
Hadley & Occum is an adventurous evening that celebrates and supports local farms. Every dinner begins with a farm tour by your hosts Rodger and Isabelle Phillips. Our host farm, Sub Edge, has many things in common with the DORO Restaurant Group including a commitment to using sustainable farming and business practices.
Hadley & Occum Dinners are not suitable for young children. Vegetarian meals are available if the request is made at the time of the reservation. No additional substitutions are available. Please bring or wear the appropriate layers. Additionally you will tour the farm before sitting for dinner and the terrain will be uneven, dusty and muddy so please wear sturdy comfortable shoes. High-heels, no matter how comfortable will result in a sinking experience. Sunscreen, parasols, sweaters and sunglasses are all appropriate accoutrements.
Each dinner is cooked from scratch and showcases that day's best produce. Because the ingredients are sourced daily from local farmers, ranchers and fisherman, each menu will be different and we are not able to provide one in advance. However, we can assure you that you will have an incredible dining experience with the most local, fresh and flavorful foods available!
---
FAQs
Where can I contact the organizer with any questions?
Email Scott Miller – smiller@dororg.com