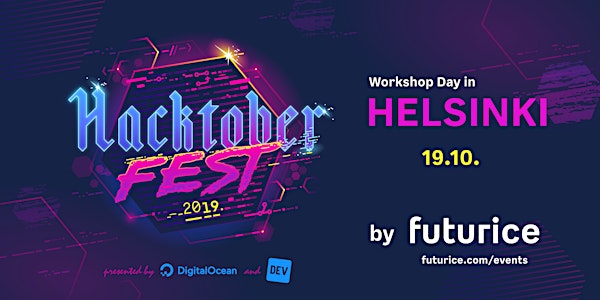 Hacktoberfest x Futurice Helsinki
Welcome to Hacktoberfest x Futurice Helsinki! This is a workshop with multiple tracks focusing on open source and open data.
When and where
Date and time
Saturday, October 19, 2019 · 11am - 4pm EEST
Location
Annankatu 34 B 34 Annankatu 8th floor 00100 Helsinki Finland
About this event
Do you want to contribute to open source but don't quite know how or what to do? We invite you to join us on Saturday, October 19th for a one-day workshop where you have an opportunity to meet fellow developers, learn about open source and start contributing to meaningful initiatives – or start building your own.
This event is in English.
Schedule:
11.00 Doors open
11.15 Welcome to Futurice & what is Hacktoberfest
11.30 Talk about open source development
12 - 15.30 Workshop tracks (see below)
15.30 Wrap up & thanks
Workshops
Track 1: HSL and their open data
Do you want to have an impact in the city you live in? Together with HSL, we are hosting a track where you get to learn what data HSL has to offer for developers to build solutions that affect them and their immediate living environment.
Track 2: codebar
We've been active in the local codebar community that helps people who belong to underrepresented groups in tech to learn programming and get into the industry. Their website and event management system is open source and during this track, you have an opportunity to work on improving that with the guidance of codebar organizers.
Track 3: Accessibility tools
At Futurice, we have people who care about accessibility. As part of our on-going work to improve our own work in building more accessible products and services, there are multiple open source tools being built to assist in that. Join this track to join the collaborative effort to make them better so we can all make accessible services in the future.
About Hacktoberfest
Hacktoberfest® is an initiative created by Digital Ocean in order to encourage contributions to open source. During October, if you sign up to the program and make 4 pull requests to public repositories in Github, you will earn yourself a t-shirt provided by Digital Ocean and DEV.
Hacktoberfest® is open to everyone in our global community. Whether you're a developer, student learning to code, event host, or company of any size, you can help drive growth of open source and make positive contributions to an ever-growing community. All backgrounds and skill levels are encouraged to complete the challenge.
About the organizer
We are Futurice, an outcome-focused digital transformation company. We help our clients solve their biggest challenges and empower them to make a positive impact on the world.
We discover and design the new. We are user-centric in developing, scaling, and sustaining solutions for digital transformation and co-creating a culture that makes innovation happen. We work across industries – from energy, retail, and construction to media, finance, and automotive and much more. We collaborate closely with our clients and work towards measurable and sustainable outcomes.
Founded in 2000, our team comprises over 800 diverse experts who represent more than 60 different nationalities. We have Nordic roots and a global mindset and operate across Europe.