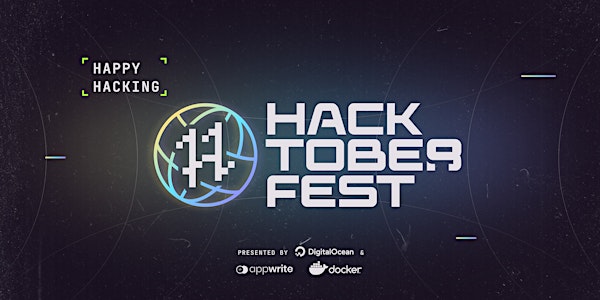 Hacktoberfest 2022 Kick-Off: Prepare to Hack
Celebrate open source software projects + sharpen coding skills with DigitalOcean, Appwrite, and Docker!
About this event
For the past 9 years, thousands of people—coders and non-coders alike—have participated in Hacktoberfest to support the projects they use and love, learn and practice skills that will enhance their careers, and meet new people who love open source as much as they do. Join DigitalOcean developers as we begin the month-long hacking event you've been waiting for.
How to Join
Register on [https://do.co/hf22live] to receive a link to join this virtual event.
Agenda
11:00 ET - Welcome + history of Hacktoberfest
11:15 ET - How to get started
11:25 ET - Let's make our first pull request! (Live demo)
11:45 ET - Best practices for maintainers + contributors
12:10 ET - Hacktoberfest quiz + prizes
12:30 ET - Wrap-up
Resources
Whether it's your first or fiftieth pull request, there's always more to learn! Take a look at resources that can help you create quality pull requests, keep your repositories pristine, and build on your open source knowledge.
Connect with the community, ask questions, and find projects
Connect with fellow open source maintainers and contributors — join the Hacktoberfest community on Discord.
Can't make it to this event?
See the Hacktoberfest Events List to join other events.
Event code of conduct
Hacktoberfest events are welcoming, open, and inclusive. Please read our Events Code of Conduct before attending.
About DigitalOcean
DigitalOcean simplifies cloud computing so developers and businesses can spend more time building software that changes the world. With its mission-critical infrastructure and fully managed offerings, DigitalOcean helps developers, startups, and small-to-medium sized businesses rapidly build, deploy and scale applications to accelerate innovation and increase productivity and agility.