Hacks/Hackers Seattle Demo 2011

Tuesday, March 29, 2011 at 6:00 PM (PDT)
Event Details
UPDATE: SCROLL BELOW TO SEE LIVE STREAM VIDEO OF THE 2011 DEMO BEGINNING AT 6:30 p.m.!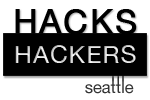 Hacks/Hackers Seattle Demo 2011

Tuesday, March 29, 2011
Meet and greet begins at 6 p.m. Demos begin at 6:30 p.m.
Tableau Software in Fremont
Join us on March 29 for our second Hacks/Hackers Seattle event!
Demo 2011 will showcase innovative tools and platforms that combine technology and journalism.
If you came to our Hacks/Hackers Seattle Kickoff in November, you definitely want to  check out Demo 2011, where you'll see and hear about some of the cool stuff Seattle's tech and media companies are creating. Expect a series of rapid-fire presentations and Q&As.

If you've never been to Hacks/Hackers event and you are a hack (journalist) or a hacker (engineer), come join us at our mindmeld.
We'll be serving up snacks, beer and wine. The event is free, but space is limited and our first event sold out, so RSVP today!
Want to show off your journalism-related product or service? We're taking applications to demo at the event through March 10. Apply here if you've got something hot to share with Seattle's hacks and hackers:
Demo 2011 presentation lineup:

Tableau Software, Ellie Fields
"A New Way of Visualizing Data Online: Tableau Public," a free software product that journalists and bloggers can use to create and publish interactive data visualizations. Fields will look at Washington State Census data and use Tableau's built-in geocoding to map it, put it in a dashboard and publish the visualization online. All in less than 5 minutes flat, no programming needed.

Intersect, Monica Guzman
"Curation in Real Time and Beyond," a demo of Intersect, a social platform where people connect through experiences they chart in time and place. Learn how how journalists can tap into the platform's context-adding features to curate rich stories from the experiences of a community--past and present.

Journalism That Matters, Brian Glanz
"Building An Online Unconference For Journalism," an open source publishing network with a social layer.

The Seattle Times, Heidi de Laubenfels
"Niche Sports Apps for iPhone," a look at development options, business models and user behavior lessons for The Times' pay-to-use Husky football app.

Microsoft FUSE labs, Sameer Halai
"myMontage.com," a flexible web-based service that makes it fun and easy to create and share a visual album of the web on the topics you care about. You can design your Montage around any topic you can imagine by adding content that pulls information from a variety of sources, including RSS feeds, Twitter, Bing News, and YouTube.
Follow us on Twitter at @HackHackersSEA for the latest. Event ha: #hhSEA


This event is brought to you by our host sponsor Tableau Software.
When & Where

Tableau Software
837 N. 34th Street, Suite 400
Seattle, WA 98103


Tuesday, March 29, 2011 at 6:00 PM (PDT)
Add to my calendar
Organizer
Technologists and journalists are coming together as reporting goes digital and Internet companies become media empires. Journalists sometimes call themselves "hacks," a tongue-in-cheek term for someone who can churn out words in any situation. Hackers use the digital equivalent of duct tape to whip out code. Hacks/Hackers tries to bridge those two worlds. It's for hackers exploring technologies to filter, visualize and distribute information, and for hacks who use technology to find and tell stories. Hacks/Hackers is a digital community of people who seek to inspire each other, share information (and code) and collaborate to invent the future of media and journalism.
Brainstorm 2011 Organizers:
Sharon Chan, technology reporter for The Seattle Times

Karen Johnson, online managing editor for Seattle Magazine

Jacob Caggiano, community cultivator for Seattle Journalism Commons