Description
Please note that this is an INVITE-ONLY event. Registration has now been closed!
-
HackMentalHealth is excited to present its next community event: a panel discussion on How to Start a Mental Health Tech Company.
We will be providing a space for founders and aspiring founders in the mental health tech space to learn from industry leaders who have extensive experience leading mental health startups.
You'll hear first-hand experiences about their startup journeys from Hopelab CEO - Margaret Laws, Affect Mental Health CEO - Sarah Seegal, and Modern Health CEO - Alyson Friedensohn.
This intimate event is exclusive to the HackMentalHealth community and will be invite-only to ensure the best experience for our attendees. Registration has now been closed.
Please reach out to bora.bk.kim@gmail.com for questions or more information.
Huge thank you to Hopelab for collaborating with HMH and hosting this event! We are excited to present our esteemed panel speakers below.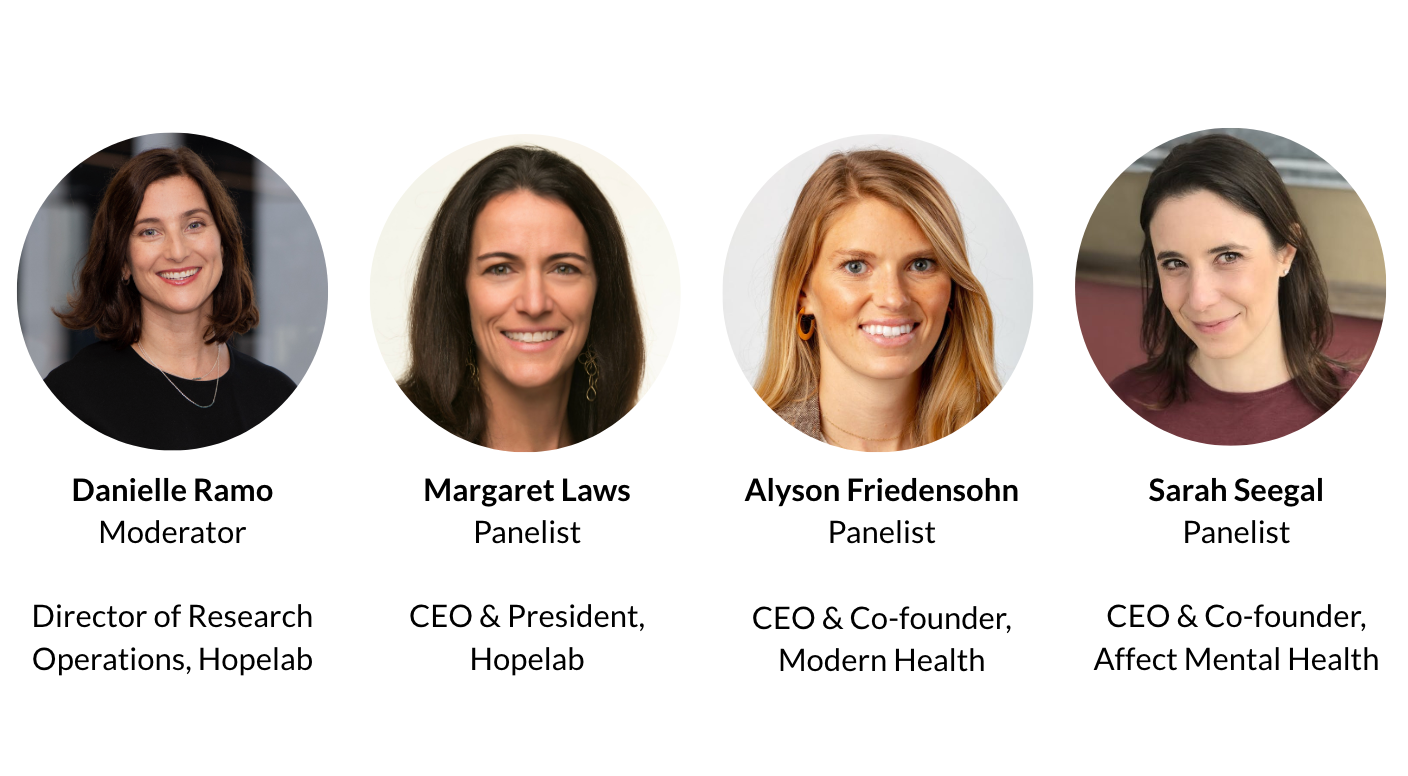 Moderator - Dr. Danielle Ramo, Director of Research Operations, Hopelab
Danielle Ramo, PhD is a clinical psychologist and research director at Hopelab, a social innovation lab designing science-based technologies to support adolescent health and emotional well-being. She is also Adjunct Associate Professor of Psychiatry at UC San Francisco, leading a research program at the intersection of substance use and digital mental health. She has published over 75 peer-reviewed publications and multiple book chapters in drug use and mental health, and received grants from the National Institutes of Health and the California Tobacco-Related Diseases Research Program. Dr. Ramo has written opinion pieces for outlets including the San Francisco Chronicle and Thrive Global, and regularly speaks to teens and parents about substance use and mental health in the digital age.

Panelist - Margaret Laws, President & CEO, Hopelab
Margaret is President and CEO of Hopelab where she leads a multidisciplinary team combining behavioral science, user-centered design and partnership with innovators to create technology products to help improve health and well-being for teens and young adults. Prior to HopeLab, Margaret spent 17 years at the California HealthCare Foundation in a number of roles, including Director of Public Financing and Policy and Director of the Innovations for the Underserved program. She founded the CHCF Health Innovation Fund, a mission-focused fund investing in health care technology and service companies that improve access to and lower costs of health care. Margaret holds a Master's degree in Public Policy from Harvard University's John F. Kennedy School of Government and an A.B. in English Literature from Princeton University. Margaret is a lecturer at the Stanford Graduate School of Business. She serves on the boards of Health Leads and Project Glimmer and is an adviser to Acumen America, United States of Care, Consejo Sano and a number of early stage healthcare care services and technology companies.
Panelist - Alyson Friedensohn, CEO & Co-founder, Modern Health
Alyson Friedensohn is the CEO and co-founder of Modern Health, a mental health benefits platform for employers. Friedensohn saw a need to dismantle the stigma associated with mental health and to offer a more proactive solution. A graduate of Y-Combinator, Modern health recently closed a $9mm Series A led by Kleiner Perkins with participation from Jared Leto (actor), Katrina Lake (Stitch Fix founder and CEO), and Frederic Kerrest (Co-founder and COO of Okta), bringing their total funding to $11.4mm. Prior to Modern Health, Friedensohn led Product Partner Operations at Collective Health and managed Operations at Keas (acquired by Welltok.) She obtained her bachelor's degree from The Johns Hopkins University, where she also received an athletic scholarship for playing Division 1 lacrosse.
Panelist - Sarah Seegal, CEO, Affect Mental Health
Sarah is CEO and cofounder of Affect, an incubator for mental health companies. Sarah is a serial entrepreneur in the mental health space with a background in healthcare economics and has worked in various mental health care settings (jails, foster homes, academic centers) before becoming the first employee for Breakthrough (telemedicine for behavioral health, acquired by MDLIVE), scaling One Medical Group (modern primary care) nationwide, directing clinicians at Lantern (CBT app), and consulting with companies like Lyra (founded by the former CFO of Facebook).
-
Hope to see you there!
Let's come together and innovate mental health.
For more information about HMH, please visit hackmentalhealth.care.
To join our distribution list, sign up here.