Event Information
Location
Intuit, Building 6
2750 Coast Ave
Mountain View, CA 94043
Description
Join us as Lean UX expert and author Jeff Gothelf shares advice from his latest book Sense & Respond on how companies can listen to customers and create new products continuously.
You're in the software business. You may not realize it yet but it's the only way you're scaling in the 21st century. Whether you're in retail, financial services or health care, no industry is immune. This includes agriculture.
In this rich, detailed case study Jeff will share the story of John Deere. The legendary American farm machine manufacturer, keenly aware and on top of the technological revolution, has built up a surprising Sense & Respond practice to help them innovate their product offerings — especially their tractors and combines.
However, Sense & Respond is not just a practice for product and design teams. It has significant management and leadership implications. As the case study will show, despite their deep understanding of customer needs, John Deere struggled to reconcile that feedback with their leadership agenda leading to some fascinating customer practices that left both the farmer and the company in sub-optimal positions. This vivid story will illustrate that even great product and design practices don't always influence corporate agendas while highlighting ways that leadership must engage to build a truly successful Sense & Respond loop.
Join us for dinner, a great talk, and inspiring conversations.
About Jeff Gothelf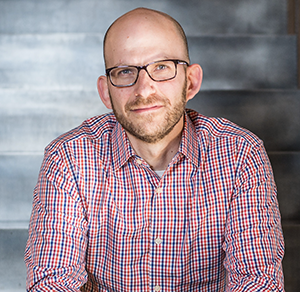 Jef Gothelff is the co-author of Lean UX and Sense & Respond, a speaker and organizational designer. Over his nearly 20 years in digital products and services Jeff has worked to bring a customer-centric, evidence-based approach to product strategy, design and leadership.
Jeff has worked in various roles and leadership positions at iXL, Fidelity, AOL, WebTrends, and TheLadders. Most recently Jeff co-founded Neo Innovation (sold to Pivotal Labs) in New York City and helped build it into one of the most recognized brands in modern product strategy, development and design. As a principal in Neo's NYC office, Jeff functioned as head of executive training, coaching, workshops and education. Jeff is regularly keynoting conferences, teaching workshops or working directly with client leadership teams across North America, Europe & Asia.
Jeff captured these ideas in his book, Lean UX: Designing Great Products With Agile Teams. In addition, his new management book, Sense & Respond, seeks to inspire organizational changes that support this new way of working.
You can check out Jeff's blog and find him on Twitter at @jboogie.
Raffle Prizes

After Jeff's talk, we will be raffling off several copies of Jeff's book Sense & Respond: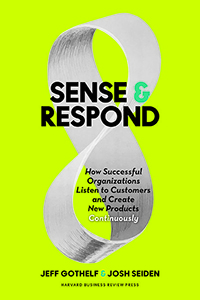 Schedule
6:30 to 7:00: Check-in, dinner, and networking
7:00 to 8:30: Jeff's talk plus Q&A
8:30 to 9:00: Raffle prizes followed by networking
Note: tickets are non-refundable.
About our Sponsors
Our sponsor UserTesting makes it easy to obtain user feedback on your product so you can improve your customer experience. Learn more at usertesting.com.
Our sponsor Coreography provides corporate video and webinar solutions. Learn more at coreography.com.
A big thank you to Intuit for providing the space for our event!
Date and Time
Location
Intuit, Building 6
2750 Coast Ave
Mountain View, CA 94043