Hacking the Gap Book Signing and Talk with Greg Voisen
Description
You're invited to meet the author, speaker, and entrepreneur Greg Voisen for his upcoming book signing and talk about his new book:
"Hacking the Gap-A Journey from Intuition to Innovation and Beyond"
On Thursday, November 2nd at 7:30 pm, Greg Voisen will be at Warwick's to discuss and share his new book Hacking the Gap. There is an opportunity for your book to be signed by Greg as well.
Greg Voisen is thought leader in the personal growth and human potential movement. Founder of Inside Personal Growth, a podcast program which reaches tens of thousands of people on topics including personal growth, business, wellness, mastery, and spirituality. Greg has interviewed over 630+ authors in these fields and has developed over 900 hours of recorded podcasts over the last 10 years. To listen and be inspired visit www.insidepersonalgrowth.com

His latest book, Hacking the Gap focuses on the journey of the entrepreneur and inventor and provides both practical and pragmatic advice on how to bring a new product or service to market. The book incorporates the years of knowledge Greg has compiled through his personal experiences in business and as a serial entrepreneur as well as the knowledge he has acquired through the interviews with hundreds personal growth authors, and business thought leaders through Inside Personal Growth.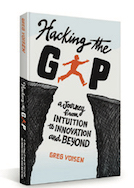 To learn more about the book please visit www.hackingthegap.com
This event is free and open to the public. We welcome everyone and look forward to seeing you there!
Reserved Seating is available when the book is pre-ordered from Warwick's for the event. Only books purchased from Warwick's will be signed. Please visit http://www.warwicks.com/event/greg-voisen-2017 or you can call the Warwick's Book Dept. on (858) 454-0347 or visit the store at 7812 Girard Avenue, La Jolla, CA 92037 for details.
Event date: Thursday, November 2, 2017 - 7:30 pm
FAQs
Where is Warwick's Bookstore?
7812 Girard Avenue
La Jolla
CA 92037
Do I have to bring my printed ticket to the event?
You should bring a printed copy of your ticket and if you register in advance with Warwick's you will receive a signed copy of the book.

How do I purchase the book?

Please contact Warwick's Book Department on (858) 454-037 for details on purchasing Hacking the Gap by Greg Voisen
Are there ID or minimum age requirements to enter the event?
There are no age restrictions on this event.