Description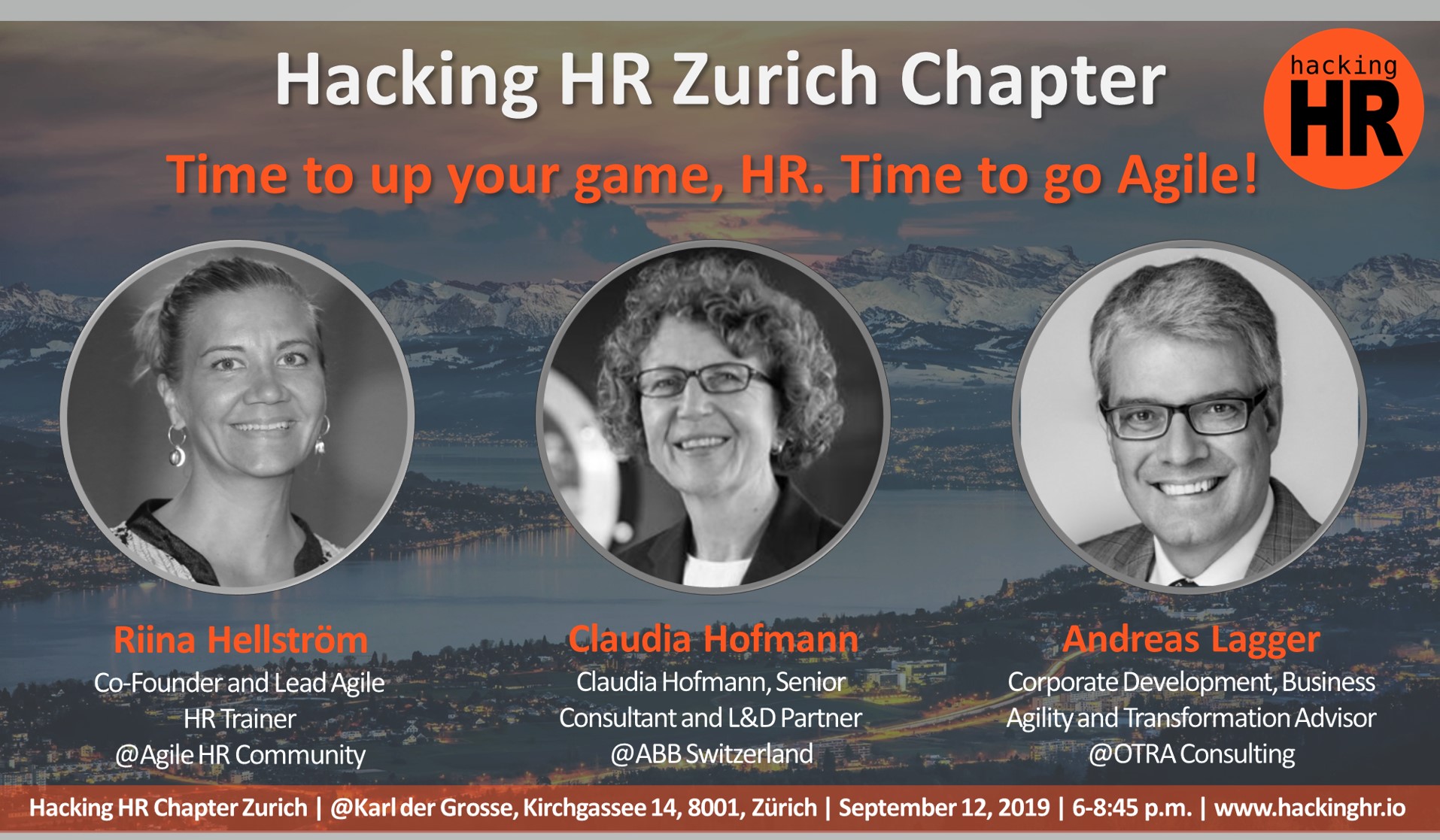 The fourth Hacking HR Zurich Chapter this year is happening on September 12th! We have co-created an interactive session where you can expect to learn, think, create, interact and reflect.
Speakers
Riina Hellström - Riina is the co-founder and lead Agile HR trainer at the Agile HR Community. Riina is bringing the international perspective of the Agile HR Community

Riina Hellström is internationally recognized as a brilliant agile & people professional. Riina is the CEO of People Geeks and the co-founder of Agile HR Community, with a passion in modernizing organizations. She is working with Agile enterprise transformation, Digitalization, and People Analytics and Agile HR. She is globally the first HR leader to achieve Certified Scrum Professional (CSP) and Licensed as a Scrum at Scale trainer.
Influencing people and organizations globally, she loves how her work changes peoples' lives.

Riiana will be the main facilitator and trainer for this session with different methods to sense the agility in the participants, to learn about agile principles, to explain about Agile HR and to get the participants think, create and share about different themes.
Claudia Hofmann - Claudia is a senior consultant and L&D partner at ABB in Switzerland. Claudia is bringing the learning perspective from within HR.
Claudia's passion and talent are to unlock the potential of those she works with. She is a lifelong student of leadership with an inner drive for excellence. Her leadership training sessions are commonly described as 'invigorating' and 'inspiring', she is renowned as a positive and passionate true professional, deeply intuitive and someone who lives by her core values of integrity, trust and friendship.
Claudia will share with us "Creative Agile Work Methods"
Andreas Lagger - Andreas is an advisor in Corporate Development, Business Agility and Transformation. Andreas is bringing the perspective of the organization and the business as a whole.
Andreas is a life-long learner, a challenger, an analyst, a designer, an experimenter. He is born for a VUCA world and he is helping organizations to transform their businesses, their mindset, their ways of working and operating, their organizations and their strategies to adapt to a fast-changing market, high demanding customers and to the needs of releasing the full potential of people in organizations. He has an extensive experience in projects, leadership and management consulting, combining hands-on experience, IT know-how and people and business acumen.
Andreas is bringing his keynote: "To be or not to be Agile"
Agenda
17:45 - 18:00 Welcoming participants
18:00 - 18:15 Introduction of speakers and workshop. Checking the Agile maturity in the room. By Nuria Rojo and Riina Hellström
18:15 - 18:40 Warming up with the airplane game - learning about lean-agile principles (people who may arrive late will not be able to enter the room while this game is being played)
18:40 - 19:15 "What is Agile HR?" - Introducing Agile HR by Riina Hellström
19:15 – 19:45 "Creative Agile Work Methods" – Sharing Agile methods for our daily work by Claudia Hofmann
19:45 – 19:55 "To be or not to be Agile" – Building bridges for an agile organization by Andreas Lagger
19:55 – 20:40 Theme tables/small group discussions around Agile HR themes by Riina Hellström
20:40 – 20:45 Wrapping up and closing

Important note: for people arriving late, door will be closed from 18:15 to 18:40 as a requirement of the workshop. You are able to join the sesion at 18:40
Looking forward to having you there