About this Event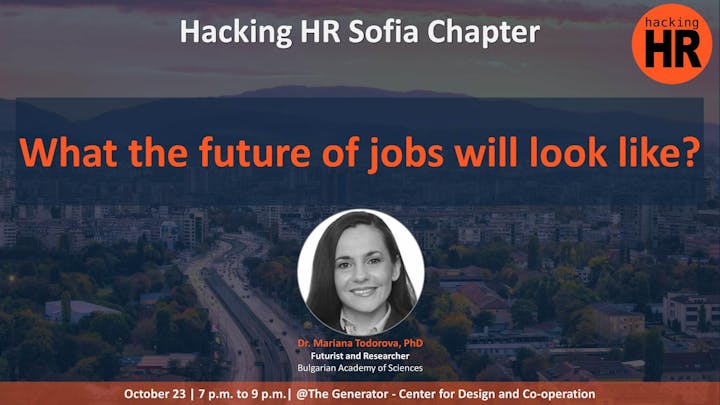 Are we ready for the disruption forces in the future of jobs?
What will be the impact of digitalization, robotization, automation an AI on working processes.
What jobs are going to disappear or transform themselves.
The speaker will provide her perspective on these issues.
Speaker
Dr. Mariana Todorova, PhD is a futurist and researcher at Bulgarian Academy of Sciences. Recently, her first book: "Future studies and counterfactual analysis. Seeds of the future", ,written together with the American futurist Theodor Gordon(who has been one of the engineers of Apollo Moon rocket) was published.
Todorova has been a Member of Parliament and Deputy Chair Person of her parliamentary group. She used to be an advisor to the President of the Republic of Bulgaria in the 2008-2012 period. Todorova has also specialized leadership in the US State Department, Harvard Kennedy School of Government, and Chinese Academy of Governance. Currently, Todorova is a Head of the Bulgarian Node of Millennium project and is elaborating a Blockchain platform for introducing liquid democracy.
-------------------
Generator is based in the former factory Vitosha and you can enter from Cherni Vrah blvd 47 Entrance: East floor 5
https://goo.gl/maps/skQBma5CcCy
🚎By public transport: Subway line 2 last station Vitosha.
🚗By car: Direction from city center, pass by Lidl and make the next available turn. There is a paid parking available. Another feasible option is to park in the nearby mall!
We are looking forward to meeting you!