Description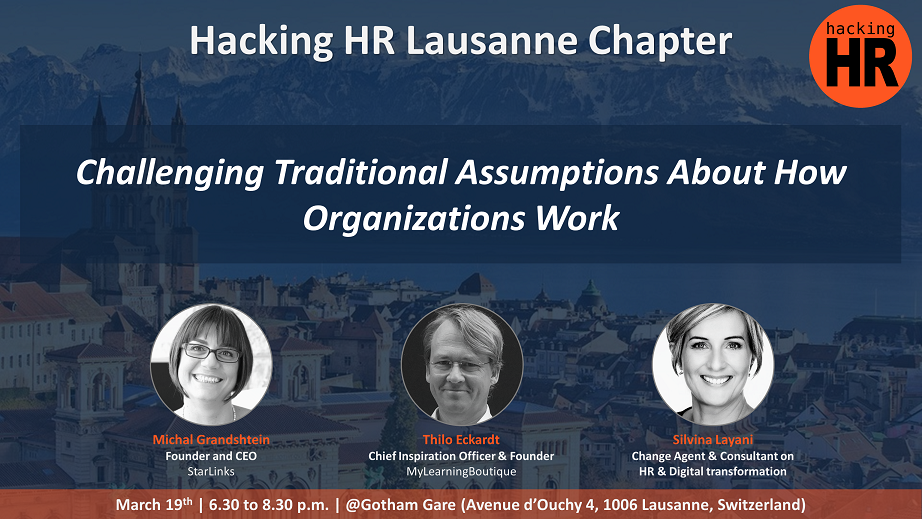 With rapid changes—both technological and in the organization of work – everyone is conscious of the need to review the approach to work.
Evolution is forcing modern organizations to look for ways to re-invent themselves to focus more on humans, whether these are their customers, partners or their employees. Nowadays companies need to provide memorable experiences versus a transaction-like exchange. Organizational models are being transformed and adapted to these new realities, to the continued urge for businesses to deliver financial results to shareholders and to younger generations' expectations of the workplace.
What can you expect from the Hacking HR Chapter?
Michal Grandshtein, Organizational Psychologist, Founder and CEO at StarLinks, will take you to an interactive session on:
"Deconstructing the dish of management"
We get it - new technologies are reshaping the work we currently do, and some jobs are suggested to disappear altogether. In fact, there are numerous lists out there rating jobs/skills on their level of ''irrelevance in the age of new technology". But one job remains untouched, and that is the job of management. Over the years we equated 'leadership' and 'management', and as leadership is needed today more than ever, we seem to see management as key to the transformation undergoing companies. In this workshop, Michal Gradshtein is going to question this underlying assumption, suggest the transformation is changing the relevancy of management, and engage participants in deconstructing 'management'. At the core of this joint exploration, participants will strip-down the managerial value proposition, and co-work to hack alternative paths leading to it.
Thilo Eckardt, Founder of MyLearningBoutique, will challenge and inspire you with his keynote on
"Learning while earning"
The challenge is everywhere the same: How can companies make sure that their investments in learning are paid back in business results and that they are leading to sustainable changes of behavior? In this session you will find out which success conditions have to be fulfilled and which barriers have to be overcome.

Who is speaking?
-> Michal Gradshtein | Organizational Psychologist, Founder and CEO at StarLinks
Michal Gradshtein is an organizational psychologist with a network perspective. Michal focuses on the relationships between people and perspectives as the core mechanism to drive performance, engagement, creativity, agility, and other desired outcomes for organizations. As an independent consultant, Michal helps organizations and their people create a culturally directed space for emergence; leverage existing network structures; and build inclusive mental models.
Michal is also the founder and CEO of the startup company StarLinks, which drives the networked organization bottom-up by providing people analytics directly to the people. Michal has work experience in global organizations such as P&G and Bosch PT, and in a variety of industries (e.g. communication, higher education, agriculture, and government). She holds an M.Sc. with honors in Organizational Psychology from The Illinois Institute of Technology (IIT) in Chicago.
-> Thilo Eckardt | Chief Inspiration Officer & Founder of MyLearningBoutique and mlb-consulting / Master lecturer at HEC Lausanne and EPFL
Thilo is the founder of MLB, a people-focused consultancy that is based in Lausanne and acting on a global scale. His mission is to develop companies and their managers in a rapidly changing world. Thilo was holding for about 20 years several executive and board functions in the international learning industry. Today his mission roles vary from consultant and trainer to coach and keynote speaker. His fields of interest are strategy, talent and leadership development, transformation and change management.
Thilo holds a PhD in cross-cultural marketing strategies and teaches on regular bases master students in several marketing courses at the EPFL and the HEC Lausanne.
Who is moderating?
-> Silvina Layani | Change Agent & Consultant on HR & Digital transformation- Keynote Speaker - Master Trainer at Independent
Silvina is a strategic business partner with 20+ years track record of delivering improved capacity, change, growth and transformation with a focus on talent development and employee engagement.
Born and educated in Argentina, Silvina moved to Europe in the late 90's. Throughout her career, she has worked for FMCG, Management Consulting, Industrial Manufacturing and Pharma companies enabling big corporate transformations.
A certified change management practitioner, Silvina has broad experience in HR and digital transformation and is passionate about helping the HR function craft its new mission and position itself as the transformation leader and the designer of human-centric work practices.
About Us
Hacking HR is a forum for collaboration, networking and discussion about how HR and technology come together to create the workplace of the future.
We are inspired by the intersection of HR and technology. We are curious about how HR and tech influence when, where and how we work, who we work with and what skills the organizational leaders of tomorrow will need.
Our purpose is to build a community of like-minded HR and tech professionals and enthusiasts interested in human development and technology and in how to make them work for the benefit of everybody.


Additional information
www.hackinghr.io | info@hackinghr.io