Description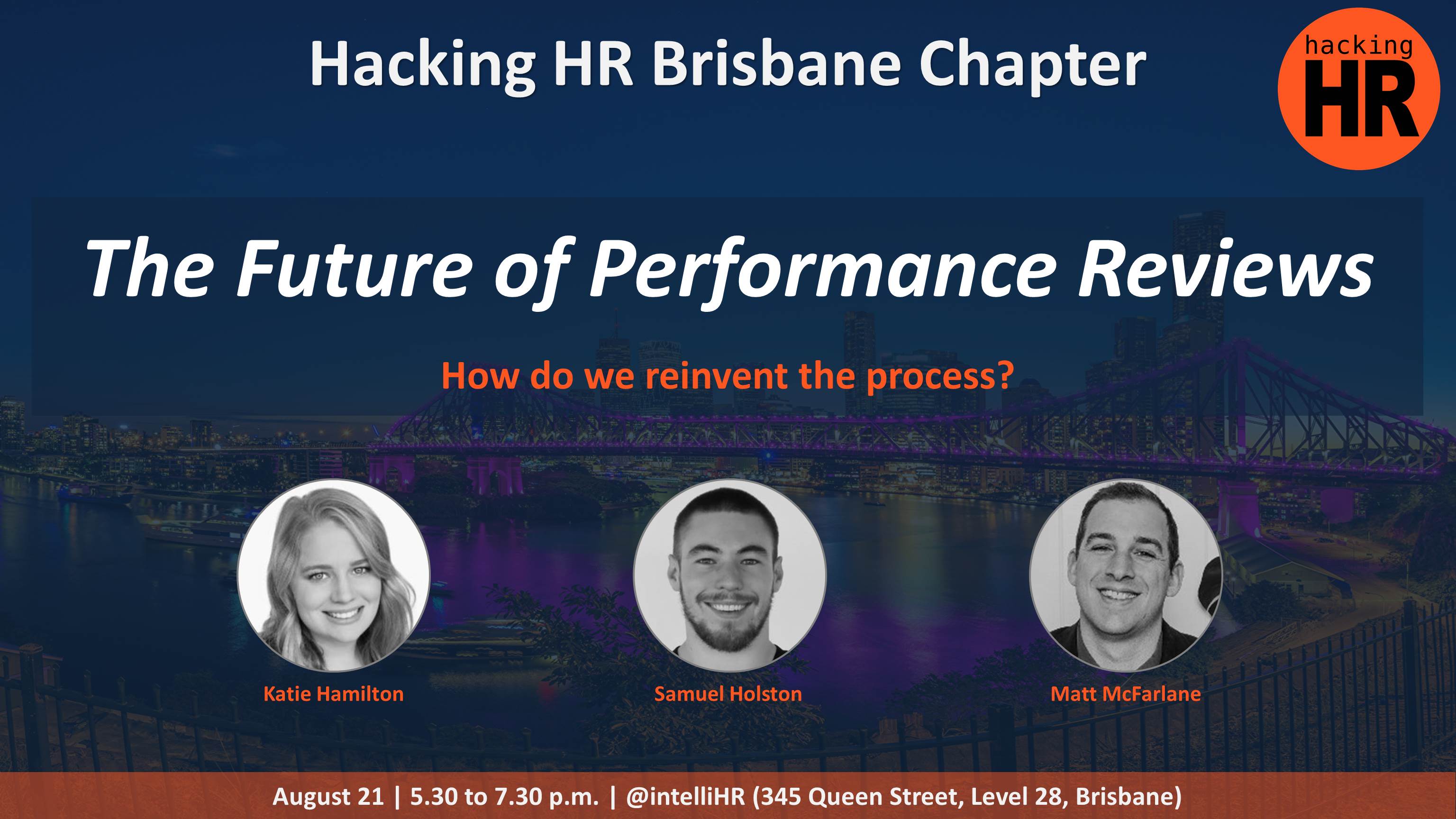 Let's face it, for decades, whenever we hear the term performance review, performance management or performance appraisal, there is always a slight disdain, fear or negative connotation involved. Whilst, the purpose behind these measures have always been built with the good intention of helping our team members improve at its core, it's often their experiences with the delivery that reinforce how the majority of us don't look forward to attending these sessions.
Tonight, we will be joined by three incredible speakers who all seek to redefine and reinvent the process for the better.
Speakers
Samuel Holsten (Customer Engagement Specialist at IntelliHR)
Samuel is a research-obsessed, Neuroscience-nerd who is part of the product development and growth team at intelliHR, where he is responsible for researching the science and theory behind HR best practices and strategies to be implemented into intelliHR. He spends his time sifting through academic papers and cutting edge reports, then tries to find practical ways to apply the insights gleaned (and build into software). Backward-looking performance management (and the dreaded performance review) are not actually correlated with higher performance, engagement or results. So what is HR to do?
Sam be sharing some of the research and findings we've had internally around shifting from the idea of reviewing performance to making performance an ongoing, developmental process with reduced subjectivity. Focusing on progressing performance from a hated management tool to a beloved employee-centric process. Sam will be sharing insights to help people partners move the conversation away from evaluation and more on agile goal setting, regular feedback, coaching and development in a practical way. Say Goodbye performance management; hello performance enablement.
Matthew McFarlane (People Operations Manager at Silver Rail)
Matt lives and breathes People Operations, driving to improve the experience for the People function and how their work touches the business. Matt's enjoyed his career across a range of industries, always working to shape them as much as they've shaped him, and taking something new along the way with him, touching on area's like; employer branding and talent acquisition, onboarding and performance appraisals, and more, as well as all the applications that enable them. Matt will be sharing his lessons learned on what has or hasn't worked for him in performance management across his experience, his thoughts on What seems to work, and what's working in general for businesses and how he is applying these insights to the teams at SilverRail
Katie Hamilton (Senior Consultant - Client Solutions & Experience Management at Davidson)
Katie has over 10 years' experience consulting with businesses on how to enhance their employee experience. Her obsession in this space shines through whenever she gets talking about people performance. For years, Katie has been underwhelmed by the archaic practices of business when it comes to creating an outstanding employee experience – and performance management is at the top of that list! So many are still stuck in the dark ages and are at risk of unintentionally racing to the bottom of their market. The few that are doing it well have two things in common; they invest in enabling their leaders to make the shift and they have a strong experience measurement strategy in place that incites the right action.
Agenda
5.30 pm - 6 pm Networking
6pm - 7pm Presentations
7pm - 7.30pm Networking