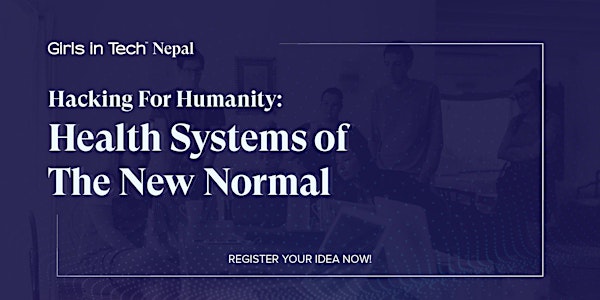 Hacking for Humanity (Design Thinking Workshop: Dec 5 | Build: Dec 2 - 20)
This December, be part of this year's Hacking For Humanity: Health Systems of the New Normal, a hackathon presented by Girls in Tech Nepal.
About this event
The coronavirus disease 2019 (COVID-19) pandemic has laid bare many of the structural challenges of the Nepalese health care system. The local healthcare infrastructure of Nepal has failed to prove itself promising amidst the chaotic pandemic. Therefore, Hacking for Humanity produced by Girls in Tech - Nepal is all about imagining how technology can salvage Nepal's health systems and also support Nepalese as we move towards the other side of the pandemic.
Hacking for Humanity : Health Systems of the New Normal aims to solve issues that will help us build a better healthcare system in Nepal. We aim to provide hackers the opportunity to choose from a broad spectrum of business problems to shape this vision.
Here's what will happen:
The hackers will be registering with a group of 2-5 people (including at least a female member) by the end of November. [Registration Link: https://forms.gle/hyTPHbcw2iK9zNv46]
The problems will be pitched to the hacker teams on Dec 1 and mentors will be assigned to each team.
Following that, the teams of hackers will choose a problem statement they want to work on by Dec 4.
A Design Thinking Workshop on Dec 5 will be hosted by the Girls in Tech - Nepal to guide the participants into creating ideas to solve their chosen problem.
The teams of hackers will brainstorm, problem-solve and prototype for 19 days, Dec 2 to Dec 19.
Finally, the teams will submit their project with respective requirements on Dec 20 on https://hacking-for-humanity-nepal.devpost.com.
Gather your gang, drive innovation and celebrate diversity in the tech community through the Girls In Tech Hack for Humanity!
Are you a developer, designer, product manager, marketing professional or someone who is keen to be a hacker? Register your spot now. Don't wait - this event always sells out!