Sales Have Ended
Registrations are closed
Thank you for your application. We will review your application and get back to you whether your submission received one of the 120 open spots for the hackathon within the next 4 weeks. We wish you best of luck! If you have questions in the meantime, you can contact us via info@hackingfemalehealth.de Best, Hacking Female Health-Team
Sales Have Ended
Registrations are closed
Thank you for your application. We will review your application and get back to you whether your submission received one of the 120 open spots for the hackathon within the next 4 weeks. We wish you best of luck! If you have questions in the meantime, you can contact us via info@hackingfemalehealth.de Best, Hacking Female Health-Team
Description
We proudly present Germany's first Female Health Hackathon.
Many common diseases look different in men and women, but still, treatment is unisex and ignores the individual needs of female patients. Our Female Health Hackathon taking place from November, 2nd to 4th in Berlin is designed to create new, interdisciplinary solutions to female health problems and develop business opportunities for future medical treatment. People from different disciplines will work together in teams for one weekend and collaborate on solving pressing healthcare issues in a tangible manner. We are not only providing you with relevant challenges from the field but also with Fraunhofer technology that can serve as a technological backbone for your idea.


Who should register?
Everybody is welcome to register who feels the need to transform female health.You don't have to have a background in medicine.
Patients, physicians, psychologists, nurses, technologists, researchers, designers, entrepreneurs, business leaders, scientists, students and government representatives.- just to name a few!
Once you are accepted, we will give you access to our plattform where your will be able to share your idea and form your own team or join other teams that are looking for a new member.


Have a look at our challenges, get the details about our hackathon and register for the event.
Challenge 1 | Improving therapeutic management for breast cancer patients
Contributions to this challenge could thus help provide more personalized pre and post cancer treatment and change the lives of many individuals for the better. In essence, your smart solution should provide an answer to the following question: How can digital technologies enable more personalized and effective breast cancer therapy by intensifying the connection between patient and doctors?
Challenge 2 | Portable diagnostics for sexually transmitted diseases and urinary tract infections in developing countries
In this challenge, we are looking for a tool to provide on-site or remote education, diagnostics and support to patients or healthcare professionals in absence of highly specialized doctors and/or laboratories. A good solution could be portable and/or able to connect patients and healthcare practitioners, as well as diagnostics experts across natural or political borders. Solutions delivered by this challenge could be of great help to humanitarian initiatives, making their work easier and more efficient by facilitating the access to healthcare facilities and solving the barriers present in stigmatized and oppressing societal structure.
Challenge 3 | Supporting women suffering from Endometriosis
In this challenge, we are looking for a tech-based solution to address one or more of the following: 1) early and accurate diagnosis of endometriosis, 2) facilitate patient-doctor communication, 3) support patients in managing the disease and eventual co-morbidities, 4) raise disease awareness (e.g. digital storytelling of patient's experience).
Challenge 4 | Using data to improve women's mental wellbeing
New technologies such as wearables, biofeedback, and the Internet of Things (IoT) promise to create new ways of collecting, analyzing, and managing all different types of data about movement, brain and muscle activity, nutrition and other vital parameters. Leveraging technology thus can not only help patients understand both emotions and their effects. More important, they can increase patients' sense of self-efficacy while providing doctors with long-term data for the development of more effective treatments. Solutions to this challenge should offer smart, cost-effective ways to improve the measurement, awareness and treatment of women's mental wellbeing.
Challenge 5 | Empowerment of ageing women through digital health
In this challenge, we are looking for a digital or tech-solution that tackles one of the typical geriatric conditions of women such as urinary incontinence, recurrent urinary bladder infections and pelvic floor instability with genital prolapse, as well as a decline of sexuality and sex drive. A modern healthcare system involves both, doctors and patients. We know that digital applications or innovative tech-solution have the potential to give individuals including elderly women an opportunity to participate actively in their own healthcare.


FURTHER INFORMATION: https://hacking-health.org/event/hacking-female-health/

If you have questions, you can contact us via femalehealth@gmail.com
OUR PARTNERS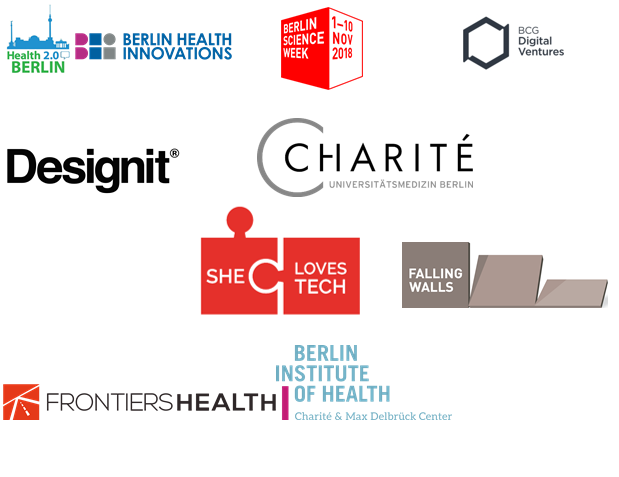 ORGANIZERS