Hacking Bias, in partnership with University of North Texas Health Science...
Description
This half-day workshop, delivered by BE MORE, is being hosted in partnership with The University of North Texas Health Science Center (UNTHSC) Institute for Patient Safety (IPS). The curriculum delves deep into the anatomy of unconscious bias, its evidence-based causes and its manifestations in decision-making. It also introduces participants to proven strategies that break individual and institutional biases through self-reflection and group exercises.
Lunch and light refreshments will be served.
---
Breaking Bias with the BE MORE Method™
Over the past several decades, the number diversity & inclusion trainings across the nation have increased dramatically. And yet, inequalities still persist in the workplace.
At BE MORE, we believe that if you want a different result, then you must take a different approach. Our approach is to address the root cause of inequality – unconscious bias.
Unconscious bias refers to the ingrained habits of thought that lead to errors in how people perceive, reason, and make decisions.
We've leveraged cutting edge science-based strategies to create our proprietary PRISM™ methodology, which has been shown to create effective, replicable, and scalable solutions to unconscious bias. Our training will help you:
Understand the anatomy of bias and its causes based on the most current science.
Identify where bias interferes with company performance and employee engagement.
​Learn and practice proven strategies to hack bias.
Learn more about how BE MORE hacks unconscious bias in this video.

---
Workshop Benefits
This training will help you unleash organizational performance through 4 key benefits:
ORGANIZATIONAL EFFICIENCY: Enhances employee productivity, employer brand, loyalty and company culture. Reduces attrition, liability and excess costs.
PROFESSIONAL JUDGEMENT: Enhances focus, attention, memory, critical thinking and problem solving. Reduces decision-making errors
INDIVIDUAL WELL-BEING: Enhances creativity and performance. Reduces depression, anxiety and stress.
TEAM DYNAMICS: Enhances social connection, emotional intelligence, cultural competency, communication, empathy and compassion. Reduces conflict and stereotyping.
---
Healthcare Spotlight: Imagine the possibilities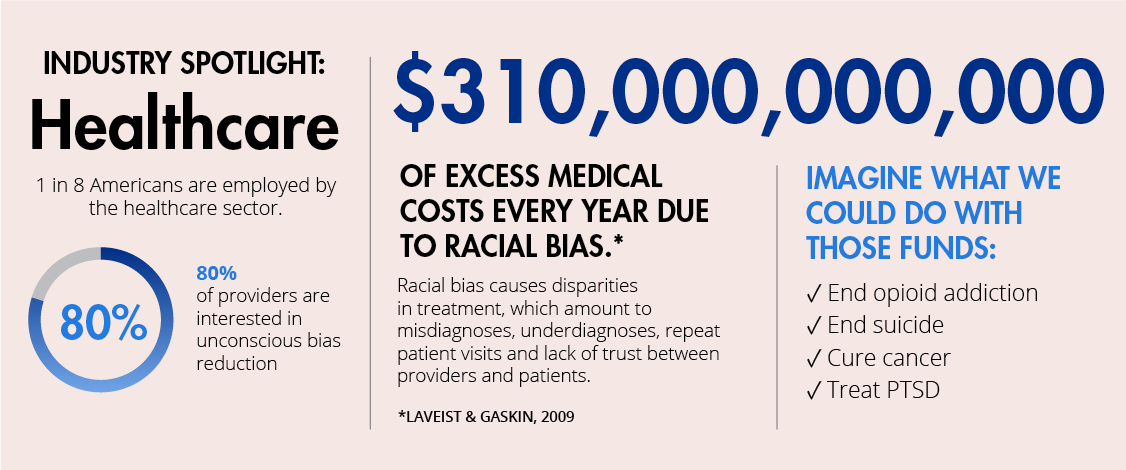 ---
Limited scholarships available
Scholarships are available for students or individuals who are not being sponsored by their company. In order to be considered for a discounted rate, please email us at info@bemoreamerica.org. Include the date of the workshop in the subject line and tell us why you want to participate.