Hackidemia Hack the City NYC at Alpha One Labs

Saturday, June 29, 2013 from 11:00 AM to 2:00 PM (EDT)
Event Details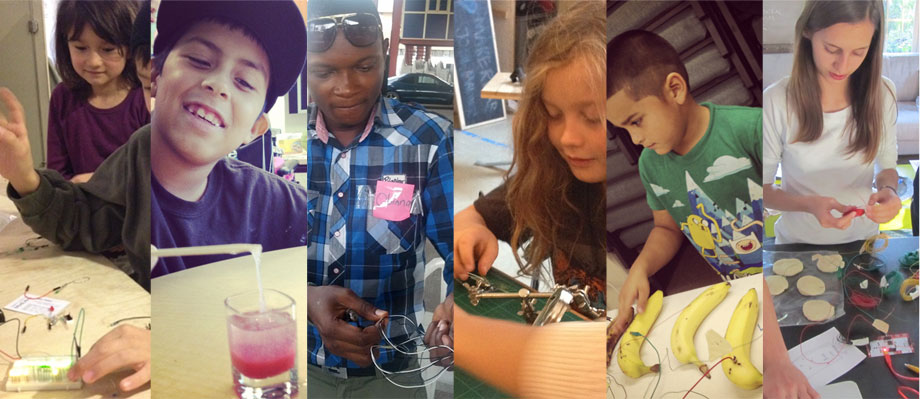 Why is it always the grown-ups who get to shape the future, when it's our kids who have to live there? That doesn't make any sense at all! Lucky for New York's little ones (and their folks), Hackidemia has a whole different take on architecting tomorrow–and it starts with a full day of hands-on workshops on Saturday, June 29th at Alpha One Labs in Greenpoint, Brooklyn.
Free for children ages 5 and up, Hack the City with Kids is designed to "give kids' imaginations a voice." Among other offerings, participants can learn how to design video games, turn flowers and fruit into a drum machines and keyboards, extract DNA from strawberries, and create paper electronics.
About Hackidemia
Hackidemia is a mobile invention lab that enables future changemakers to access and create a hands-on science, technology, art, engineering and design education that will enable them to solve challenges by developing and testing creative solutions and physical artifacts. 
We believe curiosity, empathy, and play can change the world.
For more information on Hackidemia and Hack the City with Kids, please visit http://hackidemia.com
About Alpha One Labs
Alpha One Labs hackerspace was founded in July 2009. Promoting radical inclusivity, Alpha One Labs aims to provide a fun, tool rich space for users of all ages and interests to work on projects together. 
Learn more at http://www.alphaonelabs.com .
When & Where

Alpha One Labs
657 Meeker Avenue
Brooklyn, NY 11222


Saturday, June 29, 2013 from 11:00 AM to 2:00 PM (EDT)
Add to my calendar