Description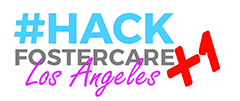 Come hear how LA's tech sector is helping LA County improve outcomes for foster youth and families in Los Angeles!

Whether or not you attended #HackFosterCareLA in April 2017, please join us in the conversation about what we as a community can do to ensure foster families and caregivers help children heal, develop and thrive!
To register, please click the green button (top-right of the page). To learn more visit www.hackfosterare.org/los-angeles or email us at info@hackfostercarela.org .