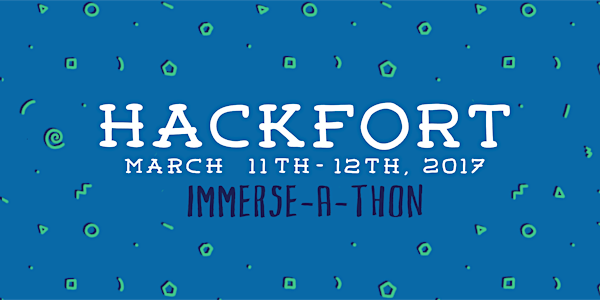 Hackfort Immerse-a-thon 2017
When and where
Location
Trailhead Boise 500 South 8th Street Boise, ID 83702
Description
In October of 2016 the Idaho Virtual Reality Council organized the state's first ever Immerse-a-thon. The event was a hackathon that asked teams to design content and applications specifically for virtual and augmented reality hardware. Support from leaders in the VR space such as Unity and HTC Vive as well the local organizations Boise Code Works and VYNYL helped make this largest hackathon event ever in Idaho. Now the IVRC is gearing up to do it all over again, but this time it is teaming up with Hackfort, Trailhead Boise, and a few new major sponsors like NVIDIA and Perkins Coie to make the 2017 Immerse-a-thon bigger and better.
Details
Theme
When
Saturday, March 11th and Sunday, March 12th
Where
Trailhead Boise – 500 S. 8th St. Boise, ID, 83702
Registration
Opens February 7th on Eventbrite

$25.00 registration fee per team
Prizes (more info)
Unity Plus Licenses

NVIDIA Quadro P5000 Graphics Card

VR1 Virtual Reality Arcade Sessions

One GDC 2018 All Access pass

A company formation package and up to four (4) hours of pro bono legal advice from Perkins Coie.
Perks
Rules
Not Your Average Hackathon

This isn't just a hackathon, this is an Immerse-a-thon. This is our special way of telling you that the event will be geared towards immersive technologies such as virtual and augmented realities. So be prepared to create projects that can be tested and showcased on VR head mounted displays.

Be Civil, Be Friendly, Be Awesome

You are developers and contributors to what is perhaps one of the most exciting and impactful technologies ever created. As pioneers it is up to you to promote the industry and encourage more people to enter the space. It is on all of us to cultivate a spirit of diversity that is accepting of hackers of every race, sexual orientation, religion, gender, and ability level. Any conduct that is contrary to this will result in the disqualification of the hacker from the event and his/her removal from the premises. So please use this event as an opportunity to teach, learn, build, fail, succeed, and most of all, have fun!

We Want Something New, Original, and Exciting

Don't be afraid to go for the longshot. This event is about pushing boundaries and identifying teams and individuals who have disruptive visions and are willing to make them a reality.

Don't Just Talk, Build

Of course we want to hear about great ideas, but ultimately we want to see you turn your ideas into something tangible. At the end of the day it's what you have built that will speak louder than your words.

If you have identified a potential project that fits within the theme of the event then we encourage teams to go through the ideation and wireframing process beforehand. This will allow your team to spend more time creating and less time trying to figure out what you want to build.

No Coding Before the Event

All projects must be entirely coded during the event. However, if needed, hackers may utilize open-source code, API's and frameworks. Prefabs and assets may be used as long as their use is fully disclosed, however it does look good if you are able to create some of your own original assets. If teams want to develop their own assets before the event that is OK as long as there isn't any coding involved. Bringing your own custom assets is no different than just buying ones right from the assets store.

Use Version Control Software

Using a version control software like GIT or Mercurial is a good idea. It will help you keep track of your code and verify its originality should your team make it to the finals.

Be Prepared To Show Us Your Code

If your team is selected as a finalist be prepared to show us your code. We want to make sure that your code is original and valid. This will be done by a judge selected by the Idaho Virtual Reality Council. Rest assured that your code and ideas belong to you and only you and will not be shared or distributed to any other parties.

Size Matters

Team size can range from 1 – 6 hackers. In order to maintain fairness we will not allow teams larger than this to participate.

If you are a lone hacker but still want to participate sign up anyway and we will do our best to connect you with other hackers that don't have a team.

Hackers may not officially be a member of more than one team, however it is permissible for a hacker to lend his/her expertise to another team's project if they choose.

To Participate in the Student Division

You must now be enrolled in an area high school, university, code camp, or have graduated within 12 months prior to the event. If you participate in the event as a student please be prepared to provide proof (student ID, school correspondence . . .).

Be Respectful of Trailhead Members

Trailhead members may be working in the front of the building during the event. Immerse-a-thon participants are guests of Trailhead and must be respectful of Trailhead members right to a relatively quiet workspace.
Project Scoring
Each team's project will be evaluated by a panel of judges in the following categories;
The idea (Is it good?) – 10pts

Design (Does it look good?) – 10pts

Functionality (Does it work well?) – 10pts

Originality (Is it unique?)- 10pts

Viability (Could the project become a real product?) – 10pts

Simplicity (Can the project be clearly explained in a few sentences?) – 10pts
The four quarterfinalists will be given the chance to present their project to the whole group at the end of the day on Sunday the 12th.
A semifinalist from each division will be selected and named at the end of the event.
The two semifinalists will be given the opportunity to present their projects at Hackfort, where the Grand Prize Winner will be announced.
Judges begin review at 5:00 pm Sunday (Specific timing is dependent on the number of participants)
Quarterfinalists announced and present at 6:00 pm
Semifinalists named at the end of the Immerse-a-thon at 7:00 pm
In the case of a tie, the team with the highest score in the category "could the project become a real product" will be declared winner. If the finalists tie once again, two independent judges not involved in the original judging process will be called upon to evaluate the projects.
Judges
Nick Crabbs – VYNYL
One of the founding partners in a 40+ man Web Development and Design agency. Office located in Boise, ID. Directly managed a network of clients and software developers and contributed to growing sales from $100k to $1.6M in our second year. Directly responsible for growing our team from 6 members in Jan 2014 to 42 members in March of 2016. Oversaw Pixel & Line's merger with 2 other software development agencies to become VYNYL.
Duane Mathes – Black Box VR
With over 10 years as a creative director in the gaming, mobile app and print industries and 5 years at Intel as a software engineer and UX lead, Duane has a unique talent of translating abstract creative concepts into actionable, real-world results. His core competency is in bridging the gap between strategic, artistic and technical teams. He takes personal and career development very seriously and is always learning. Duane has lived an adventurous life across 27 countries, speaks 3 languages (English, Mandarin and Indonesian), is the recipient of a Gold Award at Chinese International Industrial Fair (CIIF) for Excellence in Robotics, and has an enthusiasm and zest for life that he bring to all the teams that he works with.
Brett Adler – Retrolux
Brett has been developing websites and software solutions for over 20 years and started building mobile applications before the first iPhone was released. His clients and employers have ranged from small startups to Fortune 500 global enterprises. He is experienced with all stages of the software development life cycle and has built applications using a wide range of software development technologies.
Dan Thurber – Black Box VR
Inventor of things. From a young age, Dan has been experimenting with how to make products better from testing performance of the potato gun to improved optics on a telescope. Currently, Dan serves as Founder and President of IonVR, a mobile VR headset that nearly eliminates VR sickness and works with most every smartphone. In 2005, Dan began his career in IT infrastructure, which led to the formation of Digavise in 2011, with clients across a variety of verticals. Highlights include removing malware from an electron microscope for a large mining company, intranet security for an international investment firm, and identifying SQL vulnerabilities for large companies. After trying an early Oculus DK1, Dan began experimenting with VR, first making a wireless, battery operated Oculus using cloud infrastructure to send data. Using mobile devices soon followed. The first prototypes were built with cardboard and then Legos (dubbed the Blockulus). A year of optics research followed, leading to the current IonVR headset, with built-in hardware that nearly eliminates blur. Research and development continues in virtual reality to improve and enhance the growing industry.
Cody Rutty – Qbitz
Cody Rutty is an artist living and working in Boise, Idaho. For the past 15 years, Rutty has explored what he calls Iterative Abstraction, a process-driven form of drawing and painting that involves the communication between layering to both inform the evolution of works as well as communicate systems found in natural repeated processes. Rutty's work can be found in public and private collections throughout over 100 countries and all 50 states in the US. He is best known for large, abstract works and small intricate drawings and studies. He enjoys reading and playing piano, and is currently independently furthering his studies in computer science, virtual reality, and 3D modeling to incorporate new thought models into his work.
Contact
For more information please contact chuck@idahovirtualreality.com or visit the Idaho Virtual Reality website.