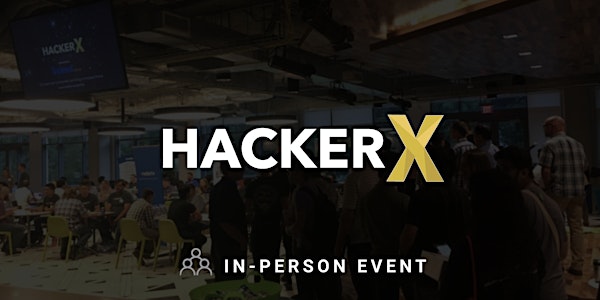 HackerX - Buenos Aires (Full-Stack) Employer Ticket - 06/29 (Onsite)
HackerX is an invite-only recruiting event for developers. We're active in >175+ cities globally with a community of over 100,000
Fecha y hora
jue., 29 de jun. de 2023 18:30 - 21:30 -03
Ubicación
Kin + Carta Cabildo 1507 Piso 10 Buenos Aires, 1426 Argentina
Política de reembolsos
No se emiten reembolsos
Acerca de este evento
3 horas

Entrada electrónica
You Get The Tickets, We Got The Talent
When you sign-up for HackerX our sourcing team does all of the heavy lifting to put the best candidates in front of you.
The developer list you receive with an average of 100+ candidates is the result of sorting through thousands of technical candidates by making sure they meet your rigorous experience standards and skillset before inviting them to the event.
Thereafter, we will facilitate introductions with candidates. After the event, you can follow up with any attendee without having to notify us. And more importantly, without paying any commissions or fees when hiring!
An Event That Doesn't Take Weeks To Prepare For
If you think that events can be tiring, stressful and take forever to prepare for, you are not alone! In fact, we are sure that you have sat through events with long, boring or irrelevant activities that took you forever to prepare for and didn't get you the value that you were hoping for.
As experienced event planners, we don't want you to go through all of that!
With thousands of events behind our back, you are getting an iterated and tested event format - featuring a simple agenda that allows you to attend with minimum preparation and get in front of 25+ senior candidates in just 3 hours of your time.
Reducing Companies Time To Hire With Events
Thousands of companies just like yours have attended, met and hired developers twice as fast vs. a traditional recruiting process with our global events. As a company, we started with small startups, but over time, we came to the realization that top developers don't want to meet two companies that are the same.
In fact, the reason why top developers choose to attend HackerX in the first place is that we bring companies from various industries and sizes together with the same purpose - hiring the best technical talent for their team, and doing so in just 3 hours.
What Recruiting Leaders Say About HackerX
"The event at OKTA was a huge success for us - we filled a Software Engineer in Test and Software Engineer for Performance roles with two excellent candidates."
JAN CHOI, SENIOR DIRECTOR OF PRODUCT - OKTA
"Razorfish and HackerX put together an event here in New York to recruit local technology talent. The uniqueness of their structure and the way they find talent to invite provides a very rewarding experience. We will likely partner again in other regions and internationally."
ANTHONY ONESCO, VP OF HUMAN RESOURCES - RAZORFISH
"HackerX is a great event that connects job seekers and employers seeking engineering talent. BitTorrent participated in 3 events and ended up hiring 3 engineers for key positions."
FARID FADAIE, SENIOR DIRECTOR OF PRODUCT - BITTORRENT
"HackerX has been very beneficial for TrueCar as it gives us an opportunity to meet and talk with prospective candidates. The casual environment puts the candidate at ease so they can represent themselves to the fullest. We have successfully hired several candidates!"
CHRIS MARTIN, MANAGER OF TALENT ACQUISITION - TRUECAR
Past Companies:
You Have Questions, We Got Answers
If you have any questions regarding event format, what to prepare, candidates, payment & billing, sponsoring or technical support, there is a chance we got the answer below.
If you don't find answers to your specific questions, please contact me at jonathan@hackerx.org
Event Preparation Questions
"What should I bring to the event?"
To make sure your company stands out, bring a roll-up banner, tablecloth as well as company swag to give away to developers. A laptop to access our developer list and note-taking materials are also recommended.
Our team will provide you with a small table card and rating sheets for notes on candidates for each one of your tables.
"Do I need to prepare anything before the event?"
You will need to bring with you the company materials listed above. You will also need the following:
- Review Event Instructions: Our team will send you two emails with all of the instructions before the event. Please make sure all of your attendees have access to this information.
- Candidate List: The morning before the event, you will receive our candidate list. Please make sure that all your attendees have access to the list and that you schedule some time to go over it before you arrive at the event.
- Updated Company Profile: We will send you a company profile form for you to fill out upon registering. This company profile will have a small description of your company, your company logo, programming languages and roles you are looking for and contact information.
Our team will share this information with developers on the day of the event. If you haven't received the company profile form before the event, please contact us and we will share it with you via email.
"Is there any additional information provided aside from this FAQ?"
Yes, our team will send you two emails before the event. The first one, two to four days before the event, and one on the day of the event (this last email will include the developer list).
These emails will be sent to the Ticket Buyer Email provided via Eventbrite. If you don't receive our emails, they may be in spam so make sure to mark us as safe to get them in your inbox.
If you haven't heard from us, please contact sales@hackerx.org and our team will be able to assist.
"How can I post a job on the HackerX job board before the event?"
You can create a HackerX Connect Account** through www.hackerx.org/connect and use the exclusive promo code sent to you upon sign-up to enjoy one free month in our platform. Upon signing up, you can post a job directly from your Dashboard.
Event Format Questions
"What is the agenda of the event?"
The event takes place on an after-work schedule, for most cities from 6:30 PM to 9:30 PM* to ensure great turnouts. Here's our agenda for most cities.
Before the event: You receive instructions from our team in advance on how to prepare your event materials and provide you with access to your developer list on the day of the event.
At 6:00 PM*: You arrive at our designated venue and set up your table. Make sure you bring a roll-up banner, a laptop, company swag and giveaways for developers.
At 6:30 PM*: Food and beverages are provided for all attendees (vegetarian and gluten free options included).
At 7:00 PM*: If you sign up as a sponsor, you get 6-7 minutes to address all attendees about your company's business, culture, technologies, and open positions.
At 7:20 PM*: You get to talk to each developer for 5 minutes. Our format allows for all developers to go through your company table and get to know about their experience and skills to see if they are a good fit for your organization.
At 9:00 PM*: You finish the speed-interviewing and get some time to do Open Networking to connect with developers without any time limit before the event closes.
The day after the event: Follow up with top candidates using our candidate list to schedule the next steps without having to liaise through us.
"What should I expect when arriving at the event?"
Please arrive at the venue on time so you have enough time to check in, set up your table, and network before the event starts.
Upon arrival our Events Team will be ready to check you in. Please let them know which company you are representing and get your name tag.
Once you are checked in our team will take you to your company table for the evening so you can set up your marketing materials and get everything ready before the event starts. Make sure you get some food and refreshments and a bathroom break before the event gets started!
"How many candidates will be at the event?"
This number depends on the overall turnout, usually we aim to get 80-125 developer registrations. Turnout rates can vary from 70% down to 50% in some markets, so expect anywhere between 40-70+ candidates.
It is worth mentioning that you will meet more candidates and get more engagement if you attend with 6 people vs. attending with a single attendee.
"How many companies will be at the event?"
Usually, 10-20 companies will be at the event interviewing developers, each company has its own table to conduct interviews and developers go from table to table chatting with recruiters.
"What's the format of the event?"
We use speed dating as our signature format for all our HackerX Events. The event also includes open networking and keynotes, for a total duration of 3 hours.
We open the event with sponsor company remarks and finish with open networking. All our events have approximately 2 hours of rapid interviews at your company table (each interview lasts between 5-7 minutes), and around an hour of open networking, before and after the rapid interviews.
"How are the interviews conducted?"
Our team will break down companies into two lines and developers go from beginning to end of these lines - spending 5-minutes chatting with each company at their table. Please make sure you do not go over the established interviewing time to ensure the session is smooth for all parties involved.
"I cannot find where the event is taking place or it just lists TBD in the location field, where is the event happening?"
We don't post a venue address on our event pages until we have all the details. Our Events Team may be currently working on the back end getting a venue confirmed and will send an update once it's finalized.
When signing up for our events, please use the venue details & address that our Event Organizer shares with you via email a few days before the event, since the venue information listed in your ticket may have changed.
"I signed up as a Sponsor, how do we go about our 6-7 minute speech?"
If you signed up as a Sponsor you will get 6-7 minutes to give a company introduction to all attendees right at the beginning of the event. For this presentation, make sure you contact our Event Organizer at the venue so we can get your speaker's name and job title to introduce them.
If you plan on using slides, please bring them in a USB thumb drive so we can put them up on a projector. You can also do an impromptu presentation without slides so don't worry if you don't have time to prepare slides.
Candidate Related Questions
"Where do you get your candidates from?"
Our sourcing team uses our own internal database in addition to leveraging targeted campaigns to find candidates across different platforms. We then sort and filter candidates to ensure developers meet our requirements before inviting them to attend.
Upon signing up to attend developers provide us with their profile information which will be shared with you on the day of the event via the developer list.
"What information is included on the Developer List?"
Our developer lists include all candidates': Names, Emails, LinkedIn Profile, Current Company, Current Job Title, Education, Years of Experience, and Programming Skills.
This list is shared with your attendees on the morning of the event.
"Where are your candidates located?"
For Onsite Events, all developers are living and working in the Metropolitan Area of the city listed in the event title. Metropolitan Areas vary from city to city, for that reason we ensure both companies and developers are within a reasonable commuting distance.
"I am looking for a specific programming language/role, how can I know if the event is worth attending?"
For common skills and frameworks such as Agile, SQL, JavaScript, HTML, Python, Java, CSS, jQuery, Node.js, .NET, React, C, PHP, and AngularJS, we will have dozens of developers with those skills and should not be an issue to find experienced candidates.
However, if you require a specific framework or skill not listed, please contact us at sales@hackerx.org with the openings that you need help with. Our teams can check the number of developers that match those skills before you sign up.
"How can I prepare for the 5-minute speed interviews with candidates?"
Preparation is key. Before you even get to the event, we recommend allotting at least an hour of your morning to review the developer list for the evening. This will allow you to assess which candidates are you interested in the most and craft a list of questions to ask.
Not all interviews are created equal, after witnessing thousands of interviews we have compiled a list of best practices:
- Write down the candidate's name and/or locate them in the developer list as soon as they sit: Speed interviews can feel very short, throughout the night you will probably speak with 30+ people, and after a few interviews it's easy to forgo writing notes, only to find out that you don't know who you need to follow-up with the day after the event.
To avoid that situation, make sure you have the candidate's name and contact details before starting to chat. If you are using a developer list, you can use that spreadsheet to write down notes directly, if you are using pen and paper, simply write down the interview notes below.
- Start with calibration questions: These types of questions are not only great ice-breakers but will provide you with a very good idea of where the conversation will progress from there. Some examples of calibration questions are:
Are you actively looking for a new role?
Some candidates are more active, some may be more passive. This question will allow you to assess the candidate's eagerness to move into a new position. The candidate's answer will let you know the approximate time to hire, their expectations and the overall direction of the conversation.
What would it take you to move into a new company?
This is a great variation of the question above.
Most candidates will not only answer if they are actively looking for a new role, but they will also give you some insights into what they would need to make that decision. This could be higher compensation, better job title, better work-life balance, remote work, challenging projects, better career prospects, etc.
Identifying these details early on can be the difference between a rejected offer or a hire at the end of the process.
What made you attend HackerX?
The answer to this query will give you the reason why they wanted to come to the event. Some people are eager to change jobs, others want to network with companies and developers alike, others want to hear bout new products or technologies etc. It's important to understand where each candidate is at before jumping into role-related questioning
- Prepare your company's elevator pitch: Unless you are a sponsor or a very well-recognized employer, most developers won't really have a lot of information about your organization. It's important that you have a 1-minute company pitch ready for candidates that covers the size, industry, and products/services of your business.
The best approach to this is to first introduce yourself, your job title, what you do and how long have you been in the organization and give the elevator pitch after.
- Write down role-related questions and keep those consistent throughout the night: When you finish your calibration questions, make sure that your role-related questions are consistent so you can compare candidate's competencies evenly, this will allow you to prioritize certain candidates over others as well as maintaining an equitable hiring process that considers technical competencies, communication skills, and overall culture fit.
"Five minutes is a very short time, how can I assess a candidate's fit with a short conversation?"
5 minutes may not be a lot of time, but if you follow our best practices, you will probably have a good picture of what candidates you want to do follow-ups with.
The reason why this approach works is that there's no pressure on either side because it's just five minutes. Candidates do not need to spend 30 minutes on a screening call, and you can reduce your time-to-hire substantially because we have already done the sourcing and screening for you.
"If we meet a candidate that is a good fit for our team, how do we go about taking the next steps?"
Our team provides you with the full list of developers on the day of the event, you may use the contact list to get in touch with any of the candidates and move on to the next steps in the hiring process.
You do not need to liaise with HackerX or pay fees or commissions in order to move forward with any of the candidates.
"Can we preselect candidates before interviewing them?"
The speed interviewing format does not allow for us to preselect candidates, since we want all candidates to speak with all companies. Even if a candidate is not a good fit initially, they may have a friend/coworker/neighbour/colleague that is the perfect fit for that position, so make sure you leave a good impression on all candidates and that you leverage their professional network.
"Can we get in contact with any candidate on the list?"
Yes, upon signing up for an event our candidates acknowledge our privacy policy and data sharing agreement which is GDPR compliant. As a registered employer, you may contact any of the candidates by any of the means provided on the developer list.
Keep in mind that candidates shall have the right to access, rectify, object, or erase any or all of their personal data at any time and that any data requests sent to you by HackerX or by the data subject shall be fulfilled by your company as the controller of that data.
"What is the success rate?"
The success rate varies by event and depends on many variables, many of those being outside of our scope. On average we see 20% of registrants reporting getting an offer as a result of the event, which means on average 20 offers per 100 registrants. That figure is substantially higher than a traditional career fair.
Billing Questions
"What currency do you use for tickets?"
All of our ticket prices are in US Dollars.
"I registered and paid via credit card through Eventbrite, can I get an invoice?"
Yes, our Billing Team will send you a receipt with your ticket purchase along with a link to a form where you can modify the billing details on your invoice. If you choose to modify those details, our billing team will send a new invoice with the updated details provided by you.
"I want to attend the event, but our company does not allow us to pay via credit card, can we use an invoice instead?"
Yes, to pay via invoice you will need to confirm with us the event that you want to attend as well as the ticket tier you want to purchase. You will also need to fill out the following onboarding form: www.hackerx.org/onboarding
Please email us with the event details and ticket tier at sales@hackerx.org upon completing the onboarding form.
"I registered to attend but I am not able to make it, can I get a refund?"
Ticket refunds are only possible if you request your refund 30 days before the event. Nonetheless, we understand that some circumstances do not allow that much notice.
If that is the case, please reach out to us with your specific request via sales@hackerx.org and our team will work with you to offer an alternative.
"We want to attend this event, but we are on a budget, do you offer any discounts?"
Yes, we have several discounts available:
- Early-Bird Discounts: Our early-bird tickets are sold at the very beginning of our event campaign and don't last long. If they are sold out, you won't be able to get this discount until the next event.
- Volume Discounts: If you want to attend multiple events, we can apply a discount to your final amount based on the number of events you want to attend. If you want to book multiple events, please contact me at jonathan@hackerx.org
- Startup and Non-profit Discounts: Discounts for start-ups are provided to companies with less than 25 employees. Please contact me at jonathan@hackerx.org and we will provide you with a promo code.
Acerca del organizador
HackerX started in 2012 with invite-only, face-to-face recruiting events that connect tech talent with some of the world's most innovative companies. Today we run over 300+ recruiting focused events in 125+ cities every year working with over 3,000+ tech companies worldwide